Watch: Tiny kitten rescued after getting head stuck in truck frame
ESCONDIDO, Calif. - An 8-week-old kitten is on the mend after the tiny animal got its head stuck in the frame of a truck in California. 
The driver of the truck was on the road on Monday and heard "meowing sounds" at a stop sign, according to the San Diego Humane Society. Upon further inspection, the driver discovered the female kitten with its head stuck in a hole in the frame of the truck.
RELATED: Watch: Police respond to calls for help, turns out to be 'very upset goat'
The truck driver contacted the San Diego Humane Society, whose staff members sedated the kitten and worked to safely extract the animal. 
"After sedating the kitten, they patiently used Q-tips to dislodge her head and free her from the tight spot," the humane society said in a post on Facebook about the ordeal. 
The kitten was then taken to the humane society's Escondido campus "for additional care, including pain medication, fluids, antibiotics and a good meal."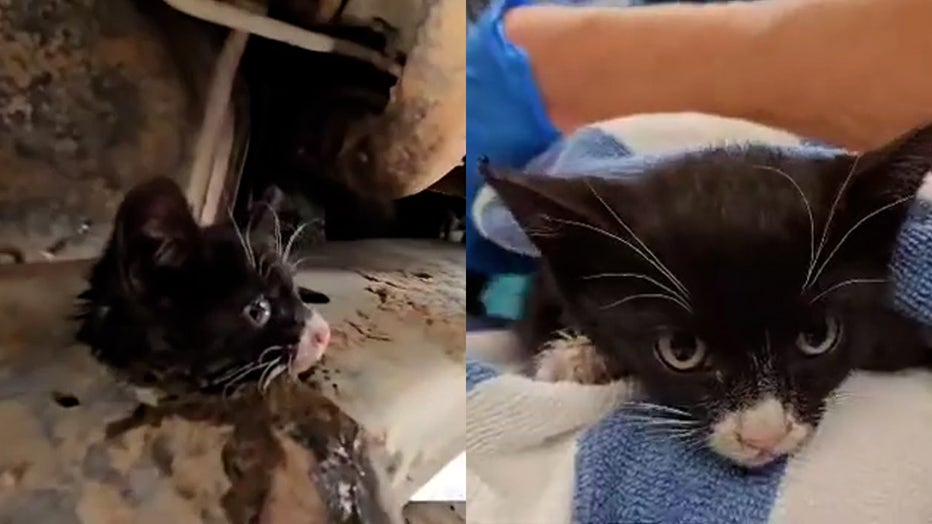 The kitten is pictured in screengrabs from a video shared by the San Diego Humane Society of the rescue. (Credit: San Diego Humane Society via Storyful)
The San Diego Humane Society shared a video that shows veterinary staff sedating the black-and-white kitten from underneath the truck, as well as her recovery at the Escondido campus.
"We are delighted that the kitten is now safe, with thanks to the driver for calling us, and gratitude to our dedicated Humane Law Enforcement and veterinary teams for their exceptional efforts in rescuing her," the humane society said. 
RELATED: Abandoned dog seen wandering Detroit streets with stuffed toy rescued, now receiving care
This story was reported from Cincinnati.