Starbucks Red Cup Day 2023: Here's how to get a free reusable cup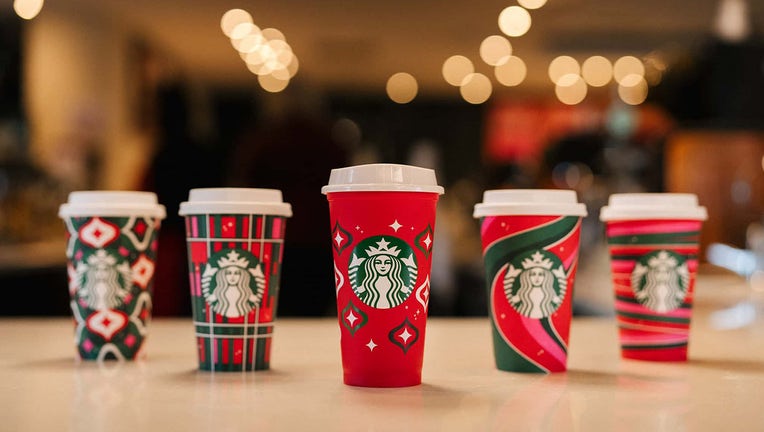 article
SEATTLE - Starbucks is holding its popular Red Cup Day – offering customers a free, reusable cup with certain purchases – as thousands of workers at U.S. stores plan to walk off the job in the largest strike yet. 
On Thursday, Nov. 16, the coffee giant is giving away free, limited-edition reusable red cups to customers who order a handcrafted holiday or fall beverage at participating U.S. stores. This includes those who order ahead on the Starbucks mobile app and delivery via DoorDash and Uber Eats, the company said.
Starbucks' seasonal red cups and holiday beverages returned to stores earlier this month. 
Customers who bring back their clean reusable red cup – or any clean reusable cup – into a participating U.S. store can receive a $.10 discount on their beverage, plus 25 Bonus Stars for Starbucks Rewards members who use the app, the company said. 
The annual Red Cup Day coincided with a strike among Starbucks workers at more than 200 U.S. stores on Thursday, which organizers said is the largest strike yet in the two-year-old effort to unionize the company's stores.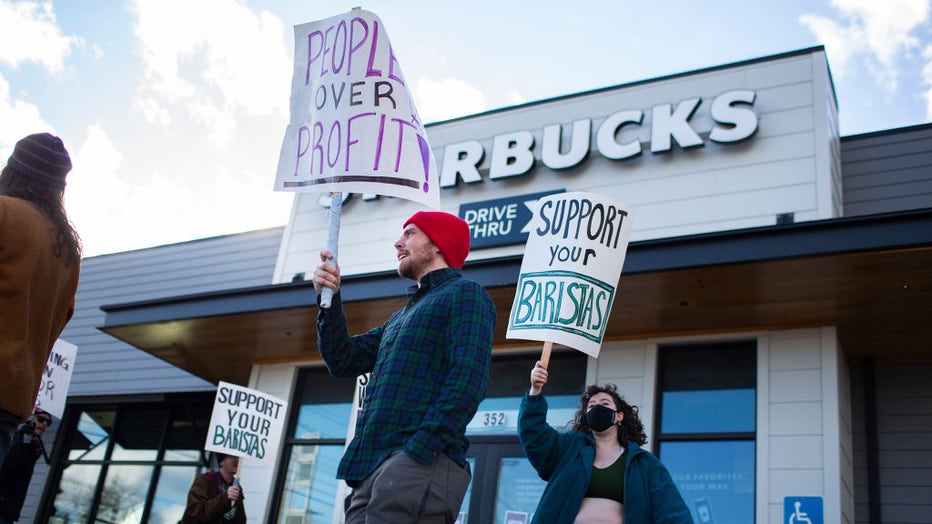 Starbucks workers in Biddeford, Maine, participate in the Red Cup Rebellion, a nationwide strike demanding the company fully staff union stores and bargain in good faith, on Nov. 16, 2023. The one-day strike was planned to coincide with the company's
RELATED: Starbucks holiday cups: Here's a look at this year's designs
How to get the free 2023 Starbucks reusable red cup
Customers who order a handcrafted holiday or fall beverage at participating Starbucks in the U.S. will receive the 16-ounce reusable red cup, but only while supplies last. Hot, iced, or blended drinks are included in the deal.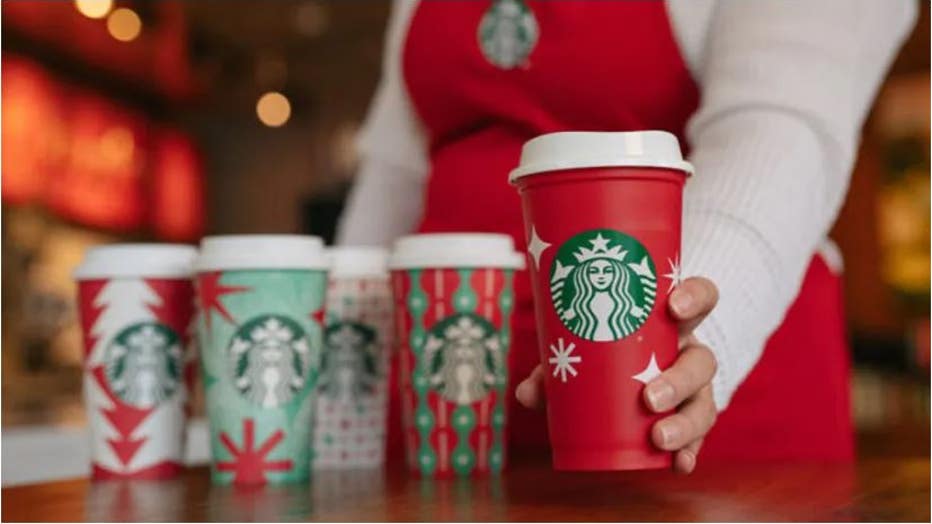 The 2022 Starbucks reusable red cup is pictured. (Credit: Starbucks)
Starbucks says such beverages in the deal include Apple Crisp Oatmilk Macchiato, Caramel, Brulée Latte, Chestnut Praline Latte, Gingerbread Latte, Gingerbread Oatmilk Chai, Hot Chocolate, Iced Apple Crisp Oatmilk Shaken Espresso, Oleato Gingerbread Oatmilk Latte , Peppermint Hot Chocolate, Peppermint Mocha, Peppermint White Hot Chocolate, Pumpkin Cream Chai Tea Latte, Pumpkin Cream Cold Brew, Pumpkin Spice Latte, Sugar Cookie, Almondmilk Latte, and White Hot Chocolate.
Starbucks Christmas Blend brewed coffee and Christmas Starbucks Reserve are not included in this offer, the company noted. 
Red Cup Day coincides with planned Starbucks worker strike
The Workers United union chose Starbucks' annual Red Cup Day to stage the walkout since it's usually one of the busiest days of the year.
The union said it was expecting more than 5,000 workers to take part in its "Red Cup Rebellion." Around 30 stores also staged walkouts on Wednesday.
Neha Cremin, a Starbucks barista in Oklahoma City, told the Associated Press that she was striking to protest understaffing in stores, especially during promotions like Red Cup Day. Cremin said workers are already overwhelmed filling delivery orders, drive-thru orders, mobile orders and in-store orders; promotions add another layer of stress.
"Understaffing hurts workers and also creates an unpleasant experience for customers," Cremin said. "Starbucks has made it clear that they won't listen to workers, so we're advocating for ourselves by going on strike."
Thursday's strike was the fifth major labor action by Starbucks workers since a store in Buffalo, New York, became the first to unionize in late 2021. Workers at 110 stores walked out last year on Red Cup Day; most recently, a strike in June protested reports that Starbucks had removed Pride displays from its stores.
But the strikes have had little impact on Starbucks' sales. For its 2023 fiscal year, which ended Oct. 1, Starbucks reported its revenue rose 12%,to a record $36.0 billion.
RELATED: Starbucks CEO rolls out 'triple shot' strategy for growth
On Wednesday, Starbucks downplayed any potential impact of the strike, saying it would occur at a "small subset" of the company's 9,600 company-owned U.S. stores.
"We remain committed to working with all partners, side-by-side, to elevate the everyday, and we hope that Workers United's priorities will shift to include the shared success of our partners and negotiating contracts for those they represent," Starbucks said in a statement.
RELATED: Starbucks increases US hourly wages and adds other benefits for non-union workers
At least 363 company-operated Starbucks stores in 41 states have voted to unionize since late 2021. The Starbucks effort was at the leading edge of a period of labor activism that has also seen strikes by Amazon workers, auto workers and Hollywood writers and actors. 
At least 457,000 workers have participated in 315 strikes in the U.S. just this year, according to Johnnie Kallas, a Ph.D. candidate and the project director of Cornell University's Labor Action Tracker.
Starbucks opposes the unionization effort and has yet to reach a labor agreement with any of the stores that have voted to unionize. The process has been contentious; regional offices with the National Labor Relations Board have issued 111 complaints against Starbucks for unfair labor practices, including refusal to bargain. Starbucks says Workers United is refusing to schedule bargaining sessions.
Starbucks noted that it has started bargaining with the Teamsters union, which organized a Starbucks store outside of Pittsburgh in June 2022. But the two sides have not reached a labor agreement. The Teamsters didn't say Wednesday whether workers at the unionized store would also be striking.
Relations between Starbucks and Workers United have grown increasingly tense. Last month, Starbucks sued Workers United, saying a pro-Palestinian post on a union account damaged its reputation and demanding that the union stop using the name Starbucks Workers United. Workers United responded with its own lawsuit, saying Starbucks defamed the union by suggesting it supports terrorism and violence.
This story was reported from Cincinnati. This Associated Press contributed.