'One Chip Challenge' products to be pulled from store shelves following teen's death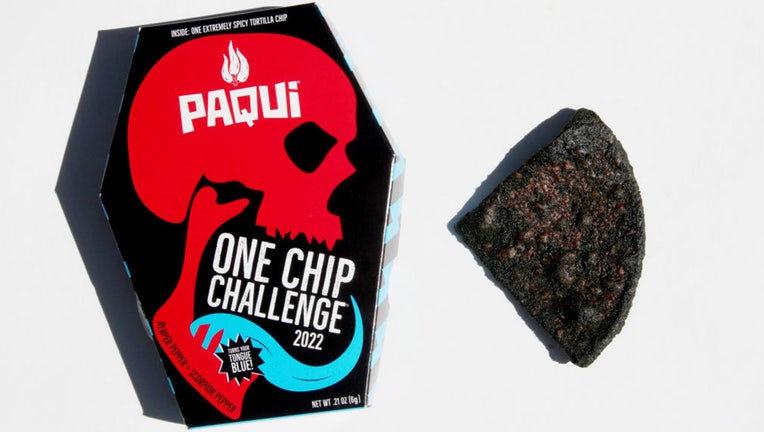 article
Paqui, the makers of the viral "One Chip Challenge," announced on Thursday it will begin pulling "One Chip Challenge" products from store shelves, according to the company's website. 
The company highlighted that the "One Chip Challenge" was "intended for adults only, with clear and prominent labeling" on the package, and that the chip was not intended for children or anyone who may have sensitivity to spicy foods or may have food allergies. 
The chip is also not intended for anyone who may be pregnant or may have any underlying health conditions. 
"We have seen an increase in teens and other individuals not heeding these warnings. As a result, while the product continues to adhere to food safety standards, out of an abundance of caution, we are actively working with our retailers to remove the product from shelves," the website adds. 
Paqui is offering refunds on any of the company's single-serve "One Chip Challenge" products. For anyone who may require a refund, they are asked to call 1-866-528-6848. 
News of the company pulling "One Chip Challenge" products from store shelves comes less than a week after a Massachusetts teen allegedly died after taking part in the viral social media trend. 
Harris Wolobah, 14, began to feel sick after partaking in the "One Chip Challenge" at school on Sept. 1. Wolobah's family said the teen started to feel better once he was picked up from school but was later found passed out by his brother. 
Wolobah was taken to a local hospital where he was pronounced dead. 
The teen's family believes the aftermath of the "One Chip Challenge" contributed to his death. 
While results of the autopsy are pending, a cause of death has not been confirmed. 
Following Wolobah's death, Worcester Public Schools is offering grief counseling emotional support for students and staff members. 
"It is with a heavy heart I share that we lost a rising star, Harris Wolobah, who was a sophomore scholar at Doherty Memorial High School. As a mother and educator, I cannot imagine how hard this is on his family, friends and teachers," Worcester Schools Superintendent Rachel Monarrez said in a statement Sunday. 
"My heart goes out to all who knew and loved him," Monarrez added. 
The Paqui chip challenge, which is promoted on the company's website, tests an individual's ability to eat the chip and hold out on drinking any liquids to limit or relieve the burning sensation. 
"How long can you last before you spiral out," the company asks potential buyers online. 
The chipmaker's website also warns of adverse medical effects after eating the chip and advises those who eat it to seek medical attention if they experience "difficulty breathing, fainting or extended nausea."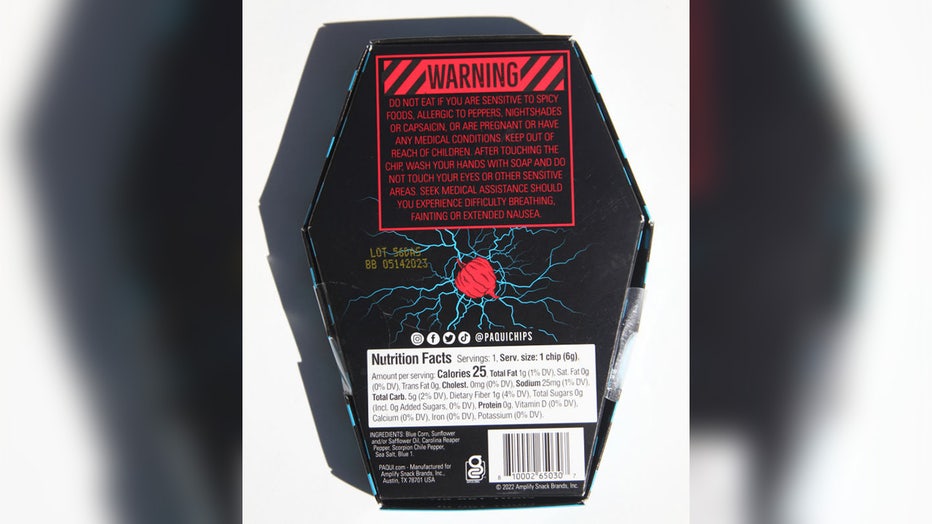 FILE - A recent social media trend has caused some children to vomit, sweat profusely and their tongues turn blue after participating in the One Chip Challenge.  (Sarah Dussault/MediaNews Group/The Mercury News via Getty Images)
"After touching the chip, wash your hands with soap and do not touch eyes or other sensitive areas," the brand said online. 
According to the website, the chip offered this year by the company contains Carolina Reaper Pepper and Naga Viper Pepper for a "truly twisted experience." 
FOX News contributed to this report. This story was reported from Los Angeles.