Nevada lawmakers question worth of subsidizing proposed Oakland A's stadium on Las Vegas Strip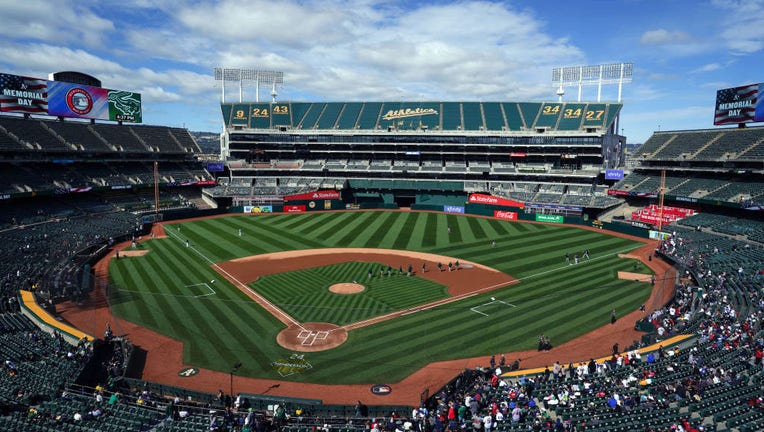 article
CARSON CITY, Nev. (AP) - Nevada lawmakers questioned whether a proposal to subsidize a new MLB stadium with tax credits and bonds would further boost Las Vegas' economy, or serve as a handout for a big business that could strain government resources.
In a committee hearing on Monday — likely the only before a vote on the proposal to help fund the Oakland A's potential stadium on the Las Vegas Strip — the Republican governor's chief of staff and the Democratic treasurer both said it would provide tax revenue and well-paying jobs while further aiding Las Vegas' transformation into a sports city.
But lawmakers questioned whether an A's stadium on the site of the Tropicana Las Vegas would be worth it. They cited an MLB team with the worst record in baseball, financed in-part by a county and state struggling to fund public services including schools, which rank toward the bottom in national student-teacher ratios and per-pupil funding.
"Regular citizens see us having a conversation and a discussion around funding a stadium," said state Sen. Dina Neal (D-North Las Vegas). "Yet, we don't have enough revenue to fund and give a 20% (salary) increase to teachers."
Stadium subsidies for teams in cities from Buffalo, New York, to Arlington, Texas, have sparked similar heated discussions in statehouses across the country in recent years. A last-minute bill in Nevada's 2016 special session paved the way for $750 million in public assistance for Las Vegas' Allegiant Stadium, home of the Raiders. T-Mobile Arena, home to the Las Vegas Golden Knights, opened to the public that year with no public assistance.
Like in many stadium financing arrangements, public assistance would not go directly toward constructing facilities but through bonds underwritten by the county and credits that could otherwise go into state general fund revenue.
RELATED: Oakland A's announcer suspended for using racial slur during broadcast
The A's plan would authorize up to $380 million in public assistance for the potential $1.5 billion retractable-roof stadium in a special tax district, mainly through $180 million in state transferable tax credits and $120 million in bonds mostly from Clark County. The county also would contribute $25 million in credit toward infrastructure costs. The proposal would not directly raise taxes.
Presenters projected $900 million in annual construction wages and $17 million in tax revenue from operations each year in a study run by firms including Goldman Sachs, and funded by the Athletics. They said the state's general fund would increase from the project.
"This is a good investment," said Steve Hill, president of the Las Vegas Convention and Visitors Authority, adding that Las Vegas' tourists would help fill the stadium. "There will be more money available at both the state and local level, if this deal is done then if it's not."
RELATED: Oakland A's sign agreement to purchase land for Las Vegas ballpark
Lawmaker questions from a multitude of concerns in the bill that lawmakers said could have an outsized effect on their communities. This included how a lack of recent success from the Athletics could affect attendance, traffic along the Strip, compatibility with the nearby airport and the integrity of the metrics that they used to gather projection numbers.
Some lawmakers flatly said they were not in favor of the bill, or indicated that the proposal is a hard sell.
"The Raiders came to this state with a huge fan base. We had a lot of people that would make the travel to California to see the Raiders," said Assemblywoman Daniele Monroe-Moreno (D-North Las Vegas). "I don't see that happening for the A's."
In testimony, building trade unions and commerce organizations said the construction would provide access for local employment. Many brought up positive revenue, new jobs and the potential to make Las Vegas the "sports capital of the world."
Those in opposition echoed lawmakers' concerns about funding a stadium while many public initiatives don't receive funding.
The stadium would be on the southern end of the Las Vegas Strip, at the current location of the Tropicana Las Vegas casino resort. Las Vegas would become the smallest TV market in Major League Baseball and the smallest market to be home to three major professional sports franchises. The 30,000-seat capacity would make it the smallest MLB stadium.
The stadium financing bill was introduced late Friday night after more than a month of speculation, as the A's move away from Oakland appeared increasingly imminent. As of Monday night, it is already the most-commented on proposal this session with over 2,200 opinions online — over three-quarters of which are in opposition.
With less than a week before legislative session adjourns on June 5, the plan faces an uncertain path in Nevada's Legislature. On Thursday, Democratic leaders said financing bills, including for the A's, may not go through if Republican Gov. Joe Lombardo follows through on threats to veto several Democratic-backed spending bills if his legislative priorities are not addressed.
___
Stern is a corps member for the Associated Press/Report for America Statehouse News Initiative. Report for America is a nonprofit national service program that places journalists in local newsrooms. Follow Stern on Twitter: @gabestern326.