Oakland A's announcer suspended for using racial slur during broadcast
KANSAS CITY, Mo. - The Oakland Athletics have indefinitely suspended Glen Kuiper for apparently using a racial slur during a live broadcast Friday night, Fox News reported. Kuiper has apologized for his wording saying it was essentially a slip of the tongue.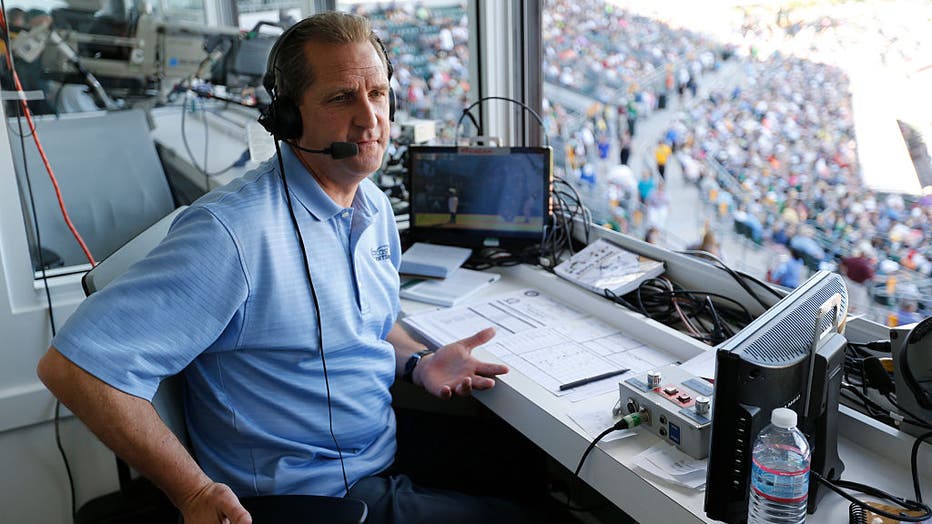 MESA, AZ - MARCH 8: Broadcaster Glen Kuiper Jr. of the Oakland Athletics works from the pressbox during the game against the Chicago White Sox at Hohokam Stadium on March 8, 2015 in Mesa, Arizona. (Photo by Michael Zagaris/Oakland Athletics/Getty Ima
Kuiper was in Kansas City calling a game between the Oakland A's and the Kansas City Royals when he seemingly said the n-word during a pregame segment. 
"We had a phenomenal day today," Kuiper said. "[N-word] League Museum and Arthur Bryant's Barbeque."
Kuiper was referring to Kansas City's Negro Leagues Baseball Museum, which pays tribute to the Black players who played before Major League Baseball ended its policy on segregation. He has since apologized.
"A little bit earlier in the show, I said something that didn't come out quite the way I wanted it to," Kuiper said ahead of the sixth inning. "And I just wanted to apologize if it sounded different than I meant it to be said. I just wanted to apologize for that."
Kuiper will not be on the air until a review of the incident has been completed, the San Francisco Chronicle reported. 
"The language used by Glen Kuiper during today's pregame broadcast is unacceptable," the A's Communication Department tweeted. "The Oakland Athletics do not condone such language. We are working to address the situation."
Meanwhile, the Negro Leagues Baseball Museum President Bob Kendrick said in his own statement that he forgives Kuiper for the error. 
"I'm aware of the unfortunate slur made by Glen Kuiper. I welcomed Glen to the NLBM yesterday and know he was genuinely excited to be here…while I don't pretend to know Glen's heart, I do know that my heart is one of forgiveness…" the statement read.
Kendrick asked others to forgive Kuiper as well.
Kuiper has called the A's games for the past 18 years.