McDonald's, 'Loki' team up to unveil new sauce, unlock Marvel Studios content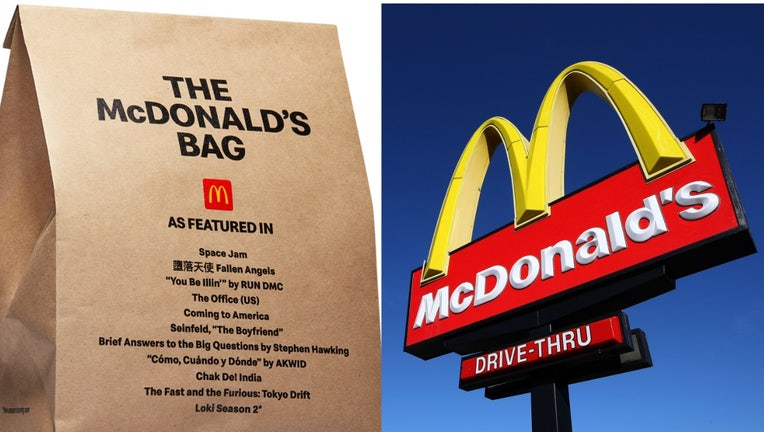 article
CHICAGO - From classic movies to binge-worthy comedies, McDonald's has been famously featured in entertainment for decades, inspiring its latest menu item: the "As Featured In Meal." 
The fast food giant said the meal, available starting August 14, is a nod to different McDonald's menu items that have been talked about in specific movie or television scenes. 
McDonald's announced the brand will also be featured in Marvel Studios' new season of the "Loki" television series. 
The meal will include a choice of 10-piece Chicken McNuggets, Quarter Pounder with Cheese or Big Mac Sandwich, along with fries, its newly-branded sweet n' sour sauce (inspired by "Loki") and a medium soft drink. 
"It's not only our real-life fans who have a go-to order, for decades our favorite movie and TV characters have, too," said Morgan Flatley, the global chief marketing officer and head of new business ventures at McDonald's. "The As Featured In Meal is our biggest Famous Order yet, celebrating the most memorable McDonald's references across the world of entertainment."
With McDonald's having a special role in Marvel Studios' upcoming second season of "Loki," the company said it is also giving fans a sneak peek at the series with a themed AR experience on Snapchat. When fans scan the newly branded sweet n' sour sauce lid on Snapchat, they can unlock custom content developed by Marvel Studios exclusively for McDonald's fans.
You can order the "As Featured In Meal" for a limited time via the McDonald's App, in-restaurant or drive-thru at participating restaurants around the globe. 
RELATED: McDonald's to debut new spinoff restaurant concept called CosMc's next year
Last month, McDonald's revealed it is working on a spinoff restaurant called CosMc's. 
CEO Chris Kempczinski told analysts on an earnings call that the small-format concept restaurant will have "all the DNA of McDonald's, but its own unique personality." 
The name of the new restaurant stems from a six-armed alien character that appeared in the company's advertisements from the 1980s. 
McDonald's will debut the new concept in a "small handful of sites in a limited geography beginning early next year," a company spokesperson told FOX Business. 
This story was reported from Los Angeles. FOX Business contributed.