'Burner' recounts chaotic festival experience after muddy mess: 'It was like cement'
Burning Man attendees are on their way home after the festival's organizers lifted a driving ban that had trapped tens of thousands of people in the middle of the Nevada desert. 
Over the weekend, people were told to shelter in place and conserve food, water and fuel amid heavy rainstorms. Both the airport and entrance of Black Rock City, Nevada, where the event is held, were closed because of the conditions. 
Burning Man attendee Griffin Kirsch spoke with LiveNOW from FOX about the experience. Kirsch escaped the mess by walking three miles through ankle-deep mud. 
"Whether you tried to ride your bike, walk on your feet or drive your car, everything just basically got caked with cement-style mud. So it was a disaster for a little bit there," Kirsch said.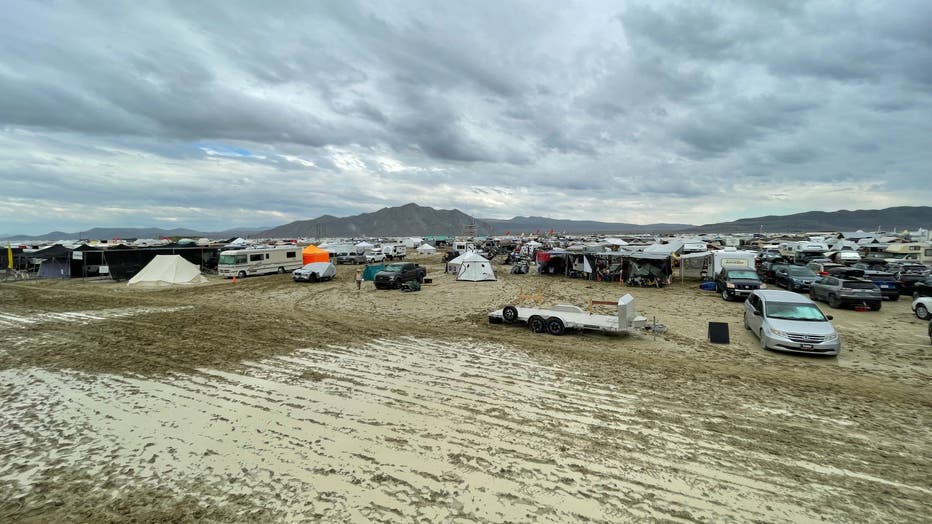 Camps are set on a muddy desert plain on September 2, 2023, after heavy rains turned the annual Burning Man festival site in Nevadas Black Rock desert into a mud pit. (Photo by Julie Jammot/AFP via Getty Images)
RELATED: Drone video shows Burning Man flooding in Nevada desert
Burning Man is an annual celebration of free spirits. Nearly 80,000 artists, musicians and activists visit the Black Rock Desert every year to build a city of colorful themed camps, decorated art cars and guerilla theatrics in preparation for the ceremonial burnings of a towering, faceless effigy and a temple dedicated to the dead.
This year's festival saw more than a half-inch of rain, bringing flooding and foot-deep mud in some spots. 
"(Burning Man) is just a big, flat landscape with really fine playa dust. And it's typically known for its wind and dust. But this time it's known for the wet, saturated playa dust that became mud," Kirsch said. 
This was Kirsch's fourth time attending, and he says he had a leg up on the other attendees because he actually lives in the area. So he was able to get a ride out relatively easily after hiking to the main road Saturday afternoon. 
Meanwhile, thousands of others waited for the mud to clear, only to get caught in hours-long traffic.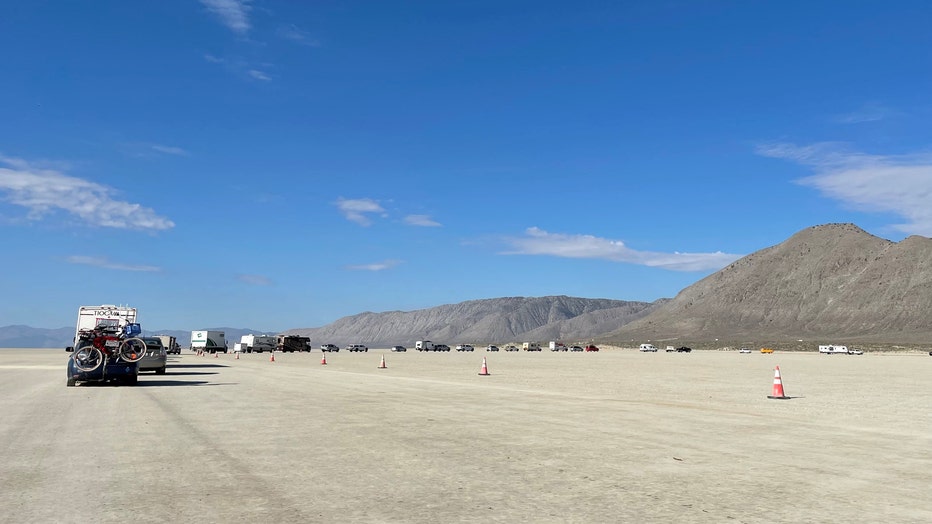 Vehicles line up to leave the site of the annual Burning Man Festival on September 5, 2023, after heavy rains turned the site in Nevada's Black Rock desert into a mud pit. (Photo by Julie Jammot/AFP via Getty Images)
RELATED: Burning Man 2023: Revelers begin exit after flooding left tens of thousands stranded 
"That (exit) process normally takes 12 hours when there is no issues. And I think this time, you know, it's extending over multiple days. You know, the traffic can be 18 hours long," Kirsch said. "And I just decided early on that I didn't want to be part of that. So I walked out about three miles in the mud, which was relatively simple, but just took a little longer than normal and went to the freeway and had a friend pick us up."
Burning Man emphasizes self-sufficiency, and many burners arrive in Black Rock Desert with limited supplies, expecting to face challenges in the form of brutal heat, dust storms — or torrential rains.
Kirsch for sure has to return to the playa to pick up his truck and trailer, but he says the muddy disruption probably won't deter him from returning to the main event in future years. 
This story was reported from Detroit. The Associated Press contributed.