Burning Man festival soaked by monsoon downpours, leaves tens of thousands stranded in muddy mess
BLACK ROCK CITY, Nev. - Heavy monsoon rainfall has caused flash flooding in the Desert Southwest, stranding tens of thousands of participants at the annual Burning Man festival in remote western Nevada who have been forced to remain confined to their respective camps, unable to venture beyond the muddy sludge.
On Friday, event organizers told the more than 73,000 attendees to batten down their camp and stay prepared for adverse weather conditions continuing through the night and into Saturday.
During their stay at Burning Man, attendees must be fully self-sufficient by bringing all their essential living needs. Cell phone service is essentially non-existent, and only a select few can access satellite internet for updates.
"Don't operate generators or other electrically powered instruments that are standing in water. Cover or secure anything electrical," event organizers warned in an evening statement Friday.
Attendees were also advised to preserve their food, water and fuel and seek a safe and warm shelter. The streets surrounding the festival, usually dry desert terrain, were now puddles and ruts, making it more difficult for people to move around.
The FOX Forecast Center said between 0.8 and 1.0 inches of rain fell in the area, based on radar estimates.
SUDDEN DUST STORM STRANDS BURNING MAN FESTIVALGOERS IN NEVADA DESERT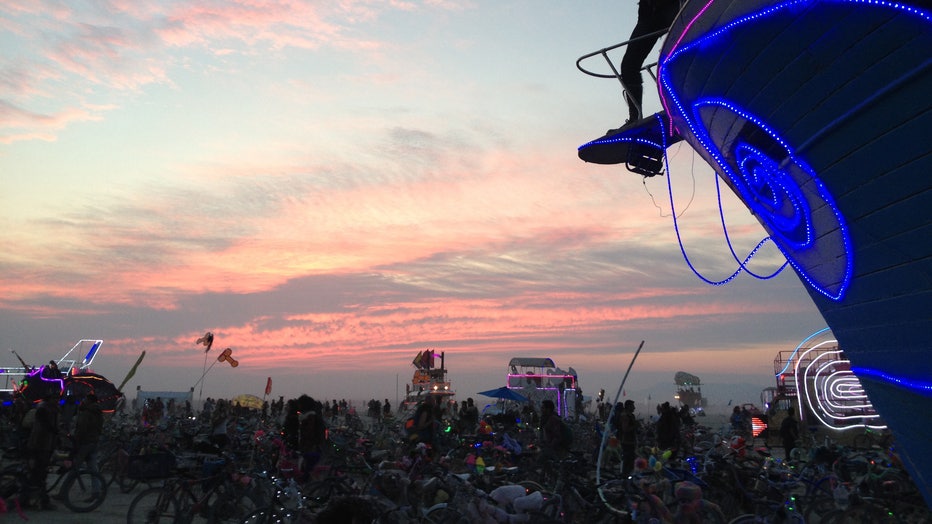 Art cars congregate at the Robot Heart DJ booth at sunrise on Saturday. (Photo by Jordan England-Nelson/MediaNews Group/Orange County Register via Getty Images)
The gate and airport in and out of Black Rock City were closed due to heavy rainfall, according to event organizers who informed FOX Weather that it will remain closed as of 9 a.m. Saturday.
"Ingress and egress are halted. No driving is permitted until the playa surface dries up, with the exception of emergency vehicles," spokesperson Dominique Debucquoy-Dodley said.
The National Weather Service in Reno said showers and thunderstorms could occur after 2 p.m. Saturday, with more showers likely and possibly a thunderstorm on Sunday.
The event known as Exodus marks the official end of the festival on Monday. Prior to the official start on Aug. 27, the gates were closed for several days due to the remnants of Hurricane Hilary flooding the area.
The annual event's home, Black Rock Playa, was formed from the remnants of Lake Lahontan, which disappeared around 9,000 years ago.
The organizers of the Burning Man festival have encouraged attendees to bring goggles or face coverings due to the extreme weather conditions that have caused issues with blowing sand and dust in the past.
Last year during a western heat wave, the festival was almost ruined by a dust and wind combination. Visibility dropped to almost zero, causing concertgoers to wander aimlessly through Nevada's Black Rock Desert.