Biden gives commencement address at Howard University
WASHINGTON - President Joe Biden delivered the commencement address to Howard University's class of 2023 on Saturday.
Biden, the seventh sitting president to give the graduation speech at Howard, received the honorary Doctor of Letters during the ceremony.
"Because of you, I see a future. We can finally move away from the narrative … that the promise of America is a zero-sum game," Biden said. "Because here's the thing: you don't know where or what fate will bring you a win. You just have to keep going. You have to just keep the faith."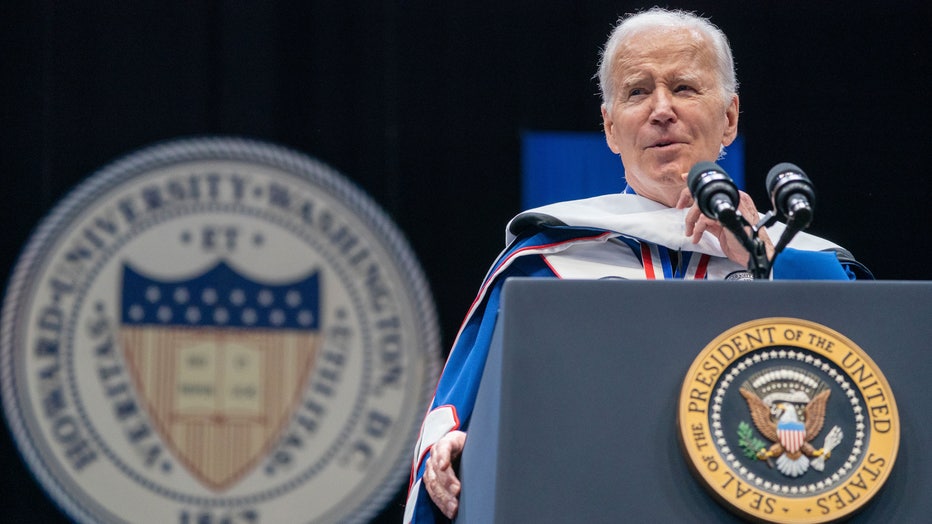 US President Joe Biden speaks during the Howard University commencement convocation in Washington, DC, US, on Saturday, May 13, 2023. Photographer: Shawn Thew/EPA/Bloomberg via Getty Images
Later this month, Vice President Kamala Harris, a Howard graduate, will be the first woman to deliver a commencement speech at a West Point graduation ceremony.
Harris will deliver the keynote address on May 27 at the U.S. Military Academy for the Class of 2023. Biden will deliver the commencement address at the U.S. Air Force Academy on June 1.  
READ MORE: Biden officially launches 2024 presidential campaign
Other Biden administration officials are also giving graduation speeches at historically black colleges and universities (HBCUs), including Urban Development Secretary Marcia L. Fudge at Florida A&M University in Tallahassee and Defense Secretary Lloyd Austin at Fayetteville State University in North Carolina.