Twitter logo changing from bird to 'X', Elon Musk says
Elon Musk said Sunday that he plans to change the logo of Twitter to an "X" from the bird, marking what would be the latest big change since he bought the social media platform for $44 billion last year.
In a series of posts on his Twitter account starting just after 12 a.m. ET, Twitter's owner said that he's looking to make the change worldwide as soon as Monday.
"And soon we shall bid adieu to the twitter brand and, gradually, all the birds," Musk wrote on his account.
The change isn't surprising given Musk's long history with the name "X," says Allen Adamson, co-founder of marketing consultancy Metaforce. The billionaire Tesla CEO tweeted last October that "buying Twitter is an accelerant to creating X, the everything app."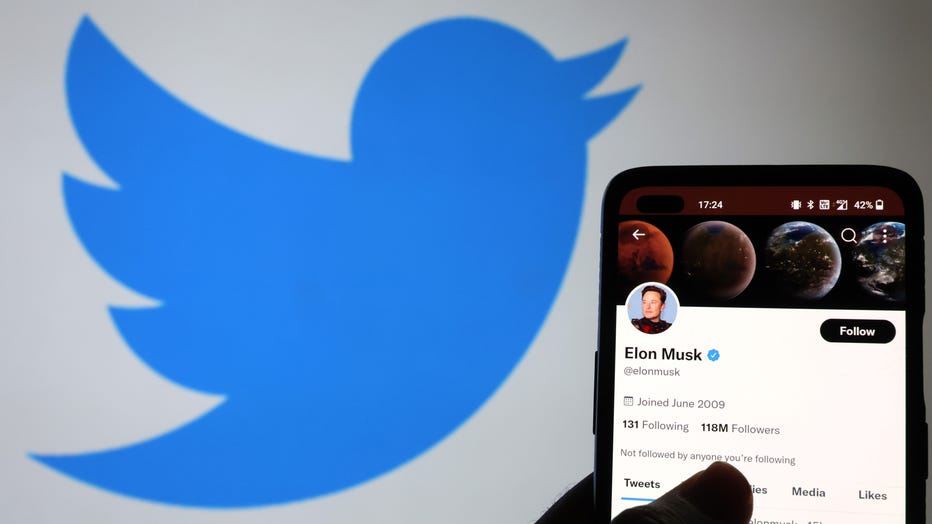 The Twitter account of Elon Musk is displayed on a smartphone with a Twitter logo in the background on November 21, 2022 in Newcastle Under Lyme, England. (Photo by Nathan Stirk/Getty Images)
Musk's rocket company, Space Exploration Technologies Corp., is commonly known as SpaceX. And in 1999, Musk founded a startup called X.com, an online financial services company now known as PayPal.
"Not sure what subtle clues gave it way, but I like the letter X," Musk tweeted Sunday.
But the change on Twitter was met with sharp criticism on the social media platform.
The change will be very confusing to a huge chunk of the Twitter's audience, which has been already souring on the social platform given a slew of other major changes Musk has made, Adamson said.
"They won't get it," he said. "It's a fitting end to a phenomenal unwinding of an iconic brand and business."
RELATED: Elon Musk hands down Twitter restrictions amid global outages
Earlier this month, Musk put new curfews on his digital town square, a move that met with sharp criticism that it could drive away more advertisers and undermine its cultural influence as a trendsetter.
The higher tweet-viewing threshold is part of an $8-per-month subscription service that Musk rolled out earlier this year in an attempt to boost Twitter revenue. Revenue has dropped sharply since Musk took over the company and laid off roughly three-fourths of the workforce to slash costs and avoid bankruptcy.
In May, Musk hired longtime NBC Universal executive Linda Yaccarino as Twitter's CEO.
Luring advertisers is essential for Musk and Twitter after many fled in the early months after his takeover of the social media platform, fearing damage to their brands in the enveloping chaos. Advertisers have cut back on spending partly because of changes Musk has made that has allowed for more hateful content to flourish and that has offended a wider part of the platform's audience.
Musk said in late April that advertisers had returned, but provided no specifics.
Musk's move to change Twitter's logo to an "X" also comes as Twitter faces new competition from Meta's new app, Threads, launched earlier this month. It has been seen as an alternative for those who have been souring on Twitter.
RELATED: Meta challenges Twitter with launch of rival app Threads
Threads is being billed as a text-based version of Meta's photo-sharing app Instagram that the company has said offers "a new, separate space for real-time updates and public conversations."
In the first five days of its launch, 100 million people had signed up for Threads, according to a post on Threads by Instagram head Adam Mosseri.