Trump lawyers urge judge to narrow rules on proposed protective order
WASHINGTON - Donald Trump's legal team told a judge overseeing the election conspiracy case against him on Monday that prosecutors' proposed protective order aimed at preventing the public disclosure of evidence is too broad and would restrict his First Amendment rights.
Lawyers for the early 2024 Republican presidential primary front-runner said in court papers that the judge should impose a more limited order that would bar the public release only of materials deemed "sensitive" — such as grand jury documents — rather than all evidence handed over by the government in the case accusing Trump of conspiring to overturn his 2020 election loss.
Prosecutors with special counsel Jack Smith's team quickly countered with their own filing accusing Trump of objecting to their proposal because he wants to be able to use the government's evidence to "try the case in the media rather than in the courtroom."
U.S. District Judge Tanya Chutkan said later Monday that she would hold a hearing on the dueling proposals, and that Trump would not have to attend.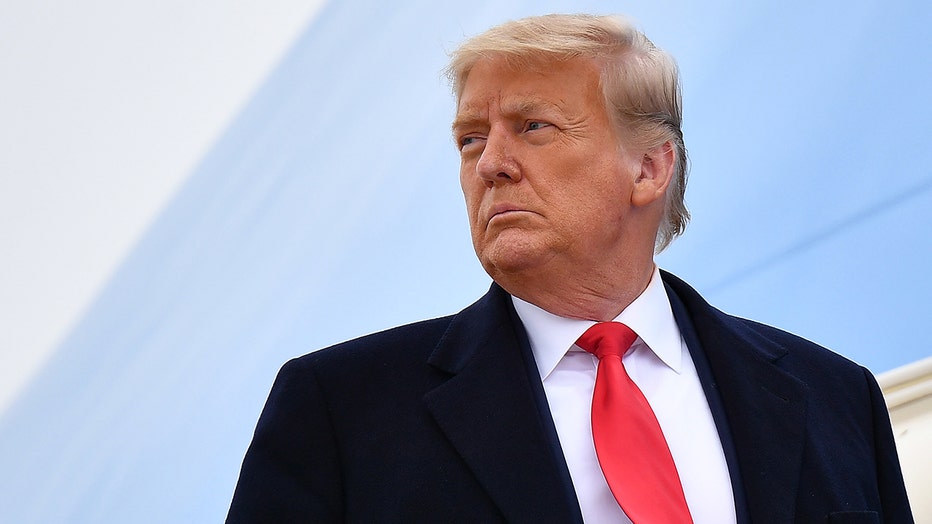 US President Donald Trump boards Air Force One before departing Harlingen, Texas on January 12, 2021. (Credit: MANDEL NGAN/AFP via Getty Images)
Prosecutors asked Friday for the protective order, which would impose rules on what Trump and his defense team can do with evidence shared by the government as they prepare for trial in the case unsealed last week.
Smith's prosecution team has said a protective order — not unusual in criminal cases — is particularly important in Trump's case because of his penchant for using social media. They have expressed concern that Trump could improperly share sensitive case information online that could have a "harmful chilling effect on witnesses."
In their filing Friday seeking the order, prosecutors included a screenshot of a post from Trump's Truth Social platform that same day in which he wrote, in all capital letters, "If you go after me, I'm coming after you!"
Trump's lawyers said citing that post to claim there's a danger that Trump might publish secret grand jury information was "a provocative claim when searching for headlines, perhaps, but one that falters under minimal scrutiny."
The former president's legal team said his post was "generalized political speech" and had nothing to do with the case. A Trump spokesperson said last week that the post was in response to "dishonest special interest groups and Super PACs."
Trump's lawyers, who have characterized the case as an attack on his right to free speech, told the judge that the need to protect sensitive information about the case "does not require a blanket gag order over all documents produced by the government."
"In a trial about First Amendment rights, the government seeks to restrict First Amendment rights," Trump's lawyers wrote. "Worse, it does so against its administration's primary political opponent, during an election season in which the administration, prominent party members and media allies have campaigned on the indictment and proliferated its false allegations."
RELATED: Trump indicted over efforts to undo 2020 presidential election
Trump's lawyers accused President Joe Biden of trying to capitalize on the indictment in posting what they called a "thinly veiled reference" to Trump's prosecution just hours before Trump's court appearance last week. They included a screenshot in their court filing of a tweet from Biden's campaign account, which included a video of the president drinking from a mug emblazoned with "Dark Brandon" — a meme featuring Biden with lasers for eyes. The caption said, "A cup of Joe never tasted better."
Trump's lawyers on Saturday had asked for an extra three days to respond to prosecutors' request for the protective order, saying they needed more time for discussion. But Chutkan who was nominated to the bench by former President Barack Obama, swiftly denied that request.
Prosecutors said that they are ready to hand over a substantial amount of evidence to Trump's legal team and that much of it includes sensitive and confidential information.
The prosecutors' proposed order seeks to prevent Trump and his lawyers from disclosing materials provided by the government to anyone other than people on his legal team, possible witnesses, the witnesses' lawyers or others approved by the court. It would put stricter limits on "sensitive materials," which prosecutors said would include grand jury witness testimony and materials obtained through sealed search warrants.
Prosecutors noted in court papers Monday that Trump has made several comments about the case on social media even since they filed their protective order request. They referenced one Trump post about former Vice President Mike Pence — a potential witness in the case — in which Trump called Pence "delusional."
Prosecutors said Trump's proposal aims to allow for the release of transcripts and audio recordings of witness interviews conducted outside the grand jury process.
"The Government has proposed a standard, reasonable order that will streamline the flow of discovery to the defendant while preserving the integrity of these proceedings. The defendant has proposed an unreasonable order to facilitate his plan to litigate this case in the media, to the detriment of litigating this case in the courtroom. Normal order should prevail," prosecutors wrote.
Trump has denied any wrongdoing in the case, as well as another prosecution brought by Smith that accuses him of illegally hoarding classified documents at his Mar-a-Lago estate in Palm Beach, Florida.
He has characterized all the cases against him as an effort to take down his 2024 campaign. His legal team has indicated that it will argue that he had relied on the advice of attorneys around him in 2020 and that Trump had a right to challenge an election that he believed had been stolen.
Trump pleaded not guilty last week to four felony counts, including conspiracy to defraud the U.S. and conspiracy to obstruct Congress' certification of Biden's electoral victory. The charges could lead to a lengthy prison sentence in the event of a conviction, with the most serious counts calling for up to 20 years.
It's the third criminal case brought this year against Trump, but the first to try to hold him responsible for his efforts to remain in power during the chaotic weeks between his election loss and the attack by his supporters on the U.S. Capitol on Jan. 6, 2021.
Smith also charged Trump in June with dozens of felony counts alleging the former president illegally kept classified records after he left the White House and obstructed government efforts to get them back. A new indictment recently unsealed in that case accuses Trump of scheming with Mar-a-Lago staffers to try to delete security footage sought by investigators.
Magistrate Judge Bruce Reinhart in that case imposed a similar protective order in June that prohibits Trump and his legal team from publicly disclosing evidence turned over to them by prosecutors without prior approval.
____
Richer reported from Boston.