Trump indicted over efforts to undo 2020 presidential election
WASHINGTON - Former President Donald Trump has been charged by a federal grand jury in connection with his efforts to undo the results of the 2020 presidential election on Tuesday, according to the Associated Press. 
The indictment focuses on schemes by Trump and his allies to subvert the transfer of power and keep him in office despite his loss to Joe Biden. It's the third criminal case brought against the former president as he seeks to reclaim the White House.
Trump was indicted on four counts including "conspiracy to defraud."
The 45-page indictment said Trump after his 2020 loss was "determined to remain in power" and perpetrated conspiracies that targeted a "bedrock function of the United States federal government: the nation's process of collecting, counting and certifying the results of the presidential election."
A Trump spokesperson likened the new indictment to "Nazi Germany in the 1930s, the former Soviet Union, and other authoritarian, dictatorial regimes," calling them "un-American."
Trump is to appear Thursday before U.S. District Judge Tanya Chutkan, a former assistant public defender who was nominated to the bench by President Barack Obama. She often has handed down prison sentences in Jan. 6, 2021, riot cases that are harsher than Justice Department prosecutors recommended.
Chutkan has ruled against Trump before in a separate Jan. 6 case.
The indictment filed against Trump on Tuesday details his alleged actions — and, at times, willful lack of action — surrounding the Jan. 6, 2021, riot at the U.S. Capitol by his supporters. The indictment also said Trump repeatedly refused to tell Jan. 6 rioters to leave U.S. Capitol.
Trump repeatedly lied about the election even after being warned off his false statements by top government officials, according to the indictment.
Prosecutors cited an example in Georgia, where Trump claimed more than 10,000 dead people voted in four days after that state's top elections official told him that was not true. Trump lost Georgia to Biden.
The Republican contended that there were 205,000 more votes than voters in Pennsylvania after his own acting attorney general told him that was not true. He alleged more than 30,000 noncitizens voted in Arizona even though his own campaign manager said that was false.
The criminal case comes as Trump leads the field of Republicans seeking their party's 2024 presidential nomination. It centers on the turbulent two months between Trump's November 2020 election loss and the Jan. 6, 2021, U.S. Capitol riot. Trump denies doing anything wrong.
Before the indictment was formally announced, Trump took to his official Truth Social account, calling the federal indictment "fake" and claiming it was a way to interfere with the upcoming 2024 presidential election. 
"I hear that Deranged Jack Smith, in order to interfere with the Presidential Election of 2024, will be putting out yet another Fake Indictment of your favorite President, me, at 5:00 P.M. Why didn't they do this 2.5 years ago? Why did they wait so long? Because they wanted to put it right in the middle of my campaign. Prosecutorial Misconduct!" Trump wrote. 
It's the second federal indictment for the former president, who was charged last month with 37 felony counts accusing him of illegally retaining hundreds of classified documents at his Florida estate, Mar-a-Lago. He has pleaded not guilty to those charges.
Trump faces new charges in that classified documents case, with prosecutors accusing him of asking a staffer to delete security camera footage in an apparent effort to obstruct the investigation.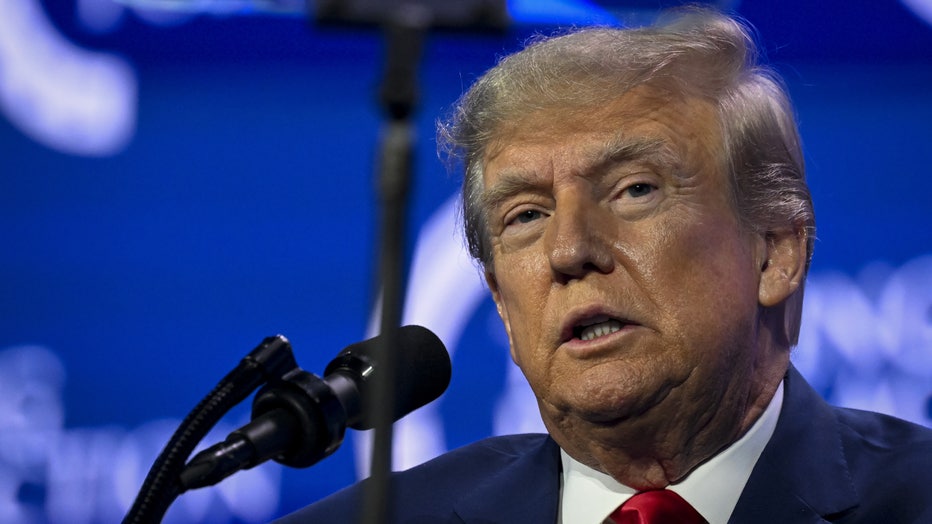 Former US President Donald Trump speaks at the Turning Point Action conference in West Palm Beach, Florida, on Saturday, July 15, 2023. (Photo: Eva Marie Uzcategui/Bloomberg via Getty Images)
Trump also pleaded not guilty on April 4 in New York state court to 34 felony counts of falsifying business records to hide reimbursements made for his role in paying $130,000 to the porn actor Stormy Daniels, who claims she had an extramarital sexual encounter with Trump years earlier.
READ MORE: Donald Trump once condemned Jan. 6 rioters. Now he's become one of their biggest supporters
Trump disclosed the potential new charges last month, when he posted on his Truth Social platform and said he received a target letter. Such a letter often precedes an indictment and is used to advise individuals under investigation that prosecutors have gathered evidence linking them to a crime. Trump also received a target letter before he was charged with mishandling classified documents.
Special Counsel Jack Smith, who is leading the investigations into Trump, has cast a broad net in his investigation into attempts by Trump and his allies to block the legitimate transfer of power to Biden in the days leading up to the Jan. 6 riot at the U.S. Capitol, when Trump loyalists stormed the building in a bid to disrupt the certification of electoral votes in Congress. More than 1,000 people accused of participating in the riot have been charged.
Smith's probe has centered on a broad range of efforts by Trump and allies to keep him in office, including the role played by lawyers in pressing for the overturning of results as well as plans for slates of fake electors in multiple battleground states won by Biden to submit false electoral certificates to Congress.
Prosecutors have questioned multiple Trump administration officials before a grand jury in Washington, including former Vice President Mike Pence, who was repeatedly pressured by Trump to ignore his constitutional duty and block the counting in Congress of electoral votes on Jan. 6.
RELATED: Trump says he's 'target' of criminal probe into efforts to undo 2020 election
Smith's team appears to be interested in a late night Dec. 18, 2020, White House meeting one aide has called "unhinged" in which Trump's private lawyers suggested he order the U.S. military to seize state voting machines in an unprecedented effort to pursue his false claims of voter fraud. In videos shown by the U.S. House Committee that investigated the Jan. 6 attack, one White House lawyer said he thought the idea was "nuts." Judges — including some appointed by Trump — uniformly rejected his claims of voter fraud.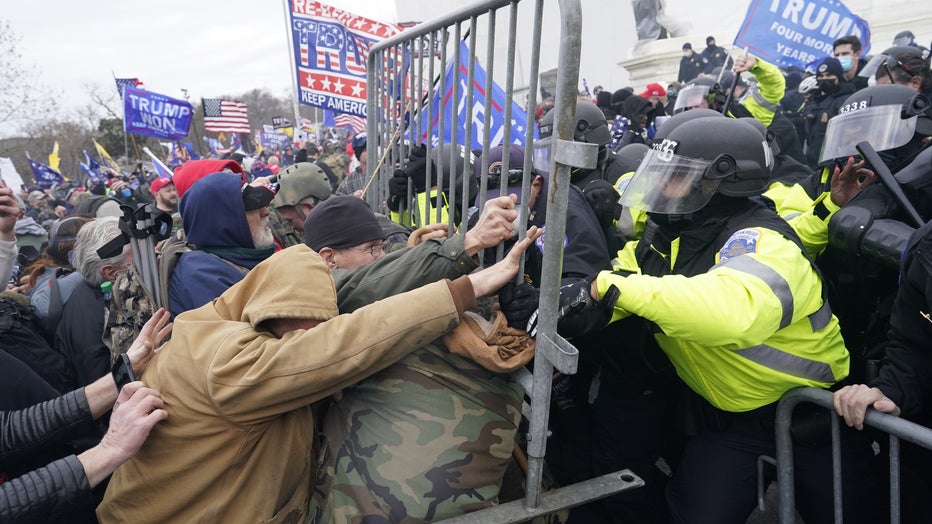 Pro-Trump protesters battle police on Capitol Hill on Wednesday, Jan. 6, 2021, in Washington, DC. (Kent Nishimura / Los Angeles Times via Getty Images)
They've also interviewed other Trump advisers, including former Trump lawyer Rudy Giuliani, as well as local election officials in states including Michigan and New Mexico who endured a pressure campaign from the then-president about overturning election results in their states. A lawyer for Giuliani, who participated in a voluntary interview, said he did not receive a target letter.
Trump has consistently denied wrongdoing and did so again in his social media post last week, writing, "Under the United States Constitution, I have the right to protest an Election that I am fully convinced was Rigged and Stolen. Just as the Democrats have done against me in 2016, and many others have done over the ages."
READ MORE: Rudy Giuliani should be disbarred for pursuing Trump's false election claims, panel says
Prosecutors in Georgia are conducting a separate investigation into efforts by Trump to reverse his election law in that state, with the top prosecutor in Fulton County signaling that she expects to announce charging decisions next month.
In his post, Trump wrote that "they have now effectively indicted me three times.... with a probably fourth coming from Atlanta" and added in capital letters, "This witch hunt is all about election interference and a complete and total political weaponization of law enforcement."
This is a developing story. Check back for updates. The Associated Press contributed to this report.