Trump says he's 'target' of criminal probe into efforts to undo 2020 election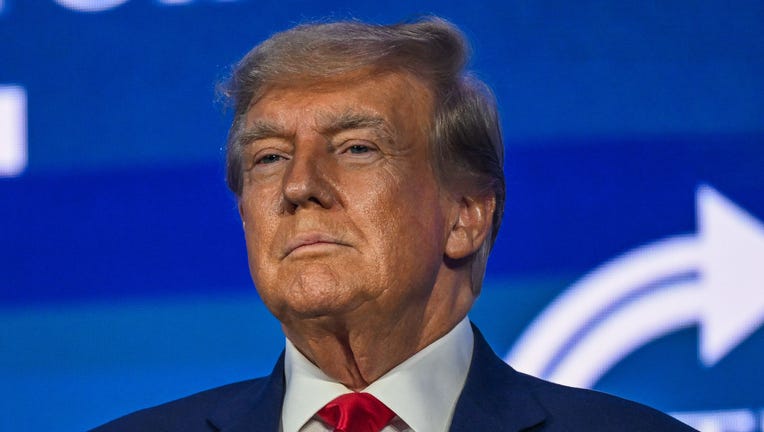 article
Former President Donald Trump said Tuesday that he has received a letter informing him that he is a target of the Justice Department's investigation into efforts to undo the results of the 2020 presidential election, an indication he could soon be charged by U.S. prosecutors.
New federal charges, on top of existing state and federal counts in New York and Florida and a separate election-interference investigation nearing conclusion in Georgia, would add to the list of legal problems for Trump as he pursues the 2024 Republican presidential nomination.
Trump disclosed the existence of a target letter in a post on his Truth Social platform, saying he received it Sunday night and that he anticipates being indicted. Such a letter often precedes an indictment and is used to advise individuals under investigation that prosecutors have gathered evidence linking them to a crime; Trump, for instance, received one soon before being charged last month in a separate investigation into the illegal retention of classified documents.
RELATED: Trump says he's been indicted in classified documents probe
A spokesman for special counsel Jack Smith, whose office is leading the investigation, declined to comment.
Legal experts have said potential charges could include conspiracy to defraud the United States and obstruction of an official proceeding, in this case Congress' certification of President Joe Biden's electoral victory.
Smith's team has cast a broad net in their investigation into attempts by Trump and his allies to block the legitimate transfer of power to Democrat Joe Biden in the days leading up to the Jan. 6 riot at the U.S. Capitol, when Trump loyalists stormed the building in a bid to disrupt the certification of electoral votes in Congress. More than 1,000 people accused of participating in the riot have been charged.
RELATED: Jan. 6 final House report: Trump 'lit that fire' of Capitol insurrection
Smith's probe has centered on a broad range of efforts by Trump and allies to keep him in office, including the role played by lawyers in pressing for the overturning of results as well as plans for slates of fake electors in multiple battleground states won by Biden to submit false electoral certificates to Congress.
Prosecutors have questioned multiple Trump administration officials before a grand jury in Washington, including former Vice President Mike Pence, who was repeatedly pressured by Trump to ignore his constitutional duty and block the counting in Congress of electoral votes on Jan. 6.
They've also interviewed other Trump advisers, including former Trump lawyer Rudy Giuliani, as well as local election officials in states including Michigan and New Mexico who endured a pressure campaign from the then-president about overturning election results in their states. A lawyer for Giuliani, who participated in a voluntary interview, said Tuesday that he did not receive a target letter.
Trump has consistently denied wrongdoing and did so again in his Tuesday post, writing, "Under the United States Constitution, I have the right to protest an Election that I am fully convinced was Rigged and Stolen. just as the Democrats have done against me in 2016, and many others have done over the ages."
Trump remains the Republican party's dominant frontrunner, despite indictments in New York arising from hush money payments during his 2016 campaign and in Florida, which seem to have had little impact on his standing in the crowded GOP field. The indictments also have helped his campaign raise millions of dollars from supporters, though he raised far less after the second than the first, raising questions about whether subsequent charges will have the same impact.
Asked about the letter during a press conference in South Carolina, Florida Gov. Ron DeSantis, Trump's most serious challenger, said he hadn't seen it and "can't speak about that," but delivered his most forceful critique to date of Trump's inaction on Jan. 6.
"I think it was shown how he was in the White House and didn't do anything while things were going on. He should have come out more forcefully," DeSantis said. However, he added, "But to try to criminalize that, that's a different issue entirely."
He was to travel to Iowa Tuesday, where he was taping a town hall with Fox News host Sean Hannity.
RELATED: Who is running for president in 2024? Meet the candidates
One purpose of a target letter is to advise a potential defendant that he or she has a right to appear before the grand jury. Trump said in his post that he has been given "a very short 4 days to report to the Grand Jury, which almost always means an Arrest and indictment." Aides did not immediately respond to questions seeking further information.
Prosecutors in Georgia are conducting a separate investigation into efforts by Trump to reverse his election law in that state, with the top prosecutor in Fulton County signaling that she expects to announce charging decisions next month.
In his post, Trump wrote that "they have now effectively indicted me three times.... with a probably fourth coming from Atlanta" and added in capital letters, "This witch hunt is all about election interference and a complete and total political weaponization of law enforcement."
Trump was indicted last month on 37 felony counts accusing him of illegally retaining hundreds of classified documents at his Florida estate, Mar-a-Lago. He has pleaded not guilty. A pretrial conference in that case was set for Tuesday in Fort Pierce, Fla.
This is a breaking news update.