Pinellas Sheriff's Office introduces new sticker to alert first responders of person with special needs
LARGO, Fla. - A new sticker has strong meaning for first responders in Pinellas County. 
The sticker is part of the Pinellas County Sheriff's Office's Respond With Care program that Sheriff Bob Gualtieri just launched. It's aimed at alerting and preparing first responders that someone with special needs may be in a home or a car that they're approaching.
An individual or someone in their family can request a sticker by calling PCSO's Crime Prevention and Community Awareness Unit at (727) 582-2222. Sergeant Amanda Sinni said deputies will then ask them a series of questions.
RELATED: Polk County Sheriff's Office creates autism decals for those with special needs
"We want to make sure they go to the right people who truly need them so there is that process in place," Sinni said.
She said its vital information for first responders – law enforcement, EMS or fire crews – to have just in case an individual isn't able to hear, communicate or easily move around. 
"If they're inside their house or have any kind of cognitive disability, our deputies will be made aware of that before they make contact and again," Sinni said. "It's mainly for safety reasons for both the deputies and the individual."
She recommends putting the sticker in a prominent place on your car or your home like near the front door of your home, and the left corner on the driver's side of a car.
MORE: Tampa police, firefighters hope stickers will speak for special needs patients who can't
Michelle Detweiler, the president and CEO of PARC Center for Disabilities, said the program is a great idea.
"It's wonderful, because the population that we're talking about is really an invisible population for many people and many people are not aware of how to approach," Detweiler said.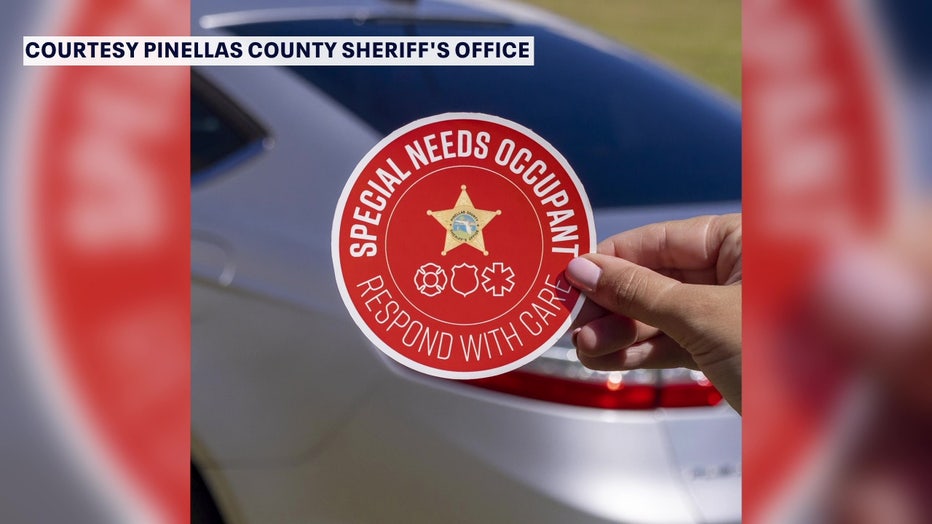 "Some people who might be on the spectrum don't like to be touched, need space in between them, so it's important for the training, and it's important for the person, whether it's law enforcement, to understand the population they're dealing with and to be able to speak to them in the correct manner, to be able to approach them in the right manner, so there's not a lot of fear involved and to help them with whatever they need help with," Detweiler said.
She said the stickers will build a stronger relationship between law enforcement and families of those with special needs.
"You come into a situation it may appear to be an abusive situation if you have a child that maybe self-harms or has behavior issues," Detweiler said. "If you don't understand the situation you're going into, it's very difficult to deal with the situation and to help the family who's obviously in a stressful situation."
READ: Super Bowl shines spotlight on Palm Harbor ESE students
Other agencies across the Tampa Bay area are also participating, Sinni said. Some will have their own stickers and own vetting process too. 
PCSO also has other programs that help people with special needs. Take Me Home is a voluntary enrollment program for "individuals with issues that impede communication," the sheriff's office said.
A deputy has access to photos and descriptions of the individual and contact information for a guardian if they get lost.
SafetyNet is another program. It provides trackable wristbands to people with a "a variety of cognitive needs that make them prone to wandering away from their caregivers," PCSO said.
Deputies and caregivers can track the person if they leave a safe area.