New video shows moment Chicago-area mother, daughter held hostage by Hamas were released
EVANSTON, Ill. - Two American nationals from Evanston who were held captive by Hamas have been freed by the terror group, and on Friday night, their family joyously spoke out.
Judith Raanan and her daughter, Natalie, were released Friday, according to US officials. They had been vacationing in Israel for the holiday season and were last seen staying near Gaza when the violence started.
A source with knowledge of the release told Fox News that the mother and daughter were released "on humanitarian grounds" following Qatari mediation efforts.
"In response to Qatari efforts, Al-Qassam Brigades released two American citizens (a mother and her daughter) for humanitarian reasons, and to prove to the American people and the world that the claims made by Biden and his fascist administration are false and baseless," Al-Qassam Brigades spokesman Abu Obaida said Friday.
Another source told Fox News they are now in the care of the Red Cross.
It was a heartwarming and joyous afternoon for the family and friends of Judith and Natalie. The two were seen in a photo obtained by FOX 32 Chicago with Israeli soldiers.
This ordeal began on October 7 when the militant group Hamas launched an unprecedented surprise attack on Israel, resulting in the abduction of 59-year-old Judith and her 17-year-old daughter.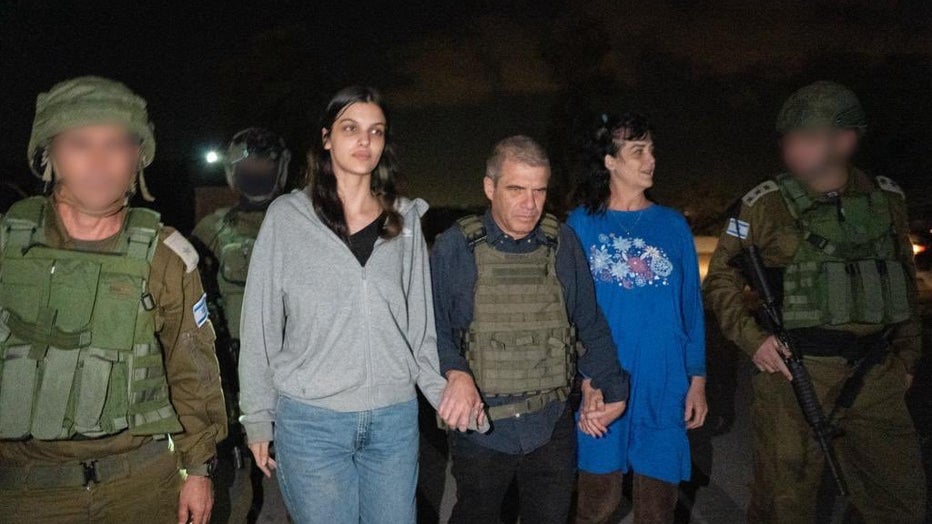 Judith Raanan and her daughter, Natalie, released by Hamas on Friday | Provided
"I'm going to hug her and kiss her, and it's going to be the best day of my life," said Natalie's father, Uri Raanan.
After almost two weeks of uncertainty, he knows his daughter Natalie and her mother Judith are safe.
"I haven't been sleeping for two weeks. Tonight, I am going to sleep good. I spoke with my daughter earlier today. She sounds very good, she looks very good, she was very happy and she's waiting to come home," said Uri.
Uri says he's been overwhelmed by the community's response while he processes the situation.
"I spoke earlier with President Biden. I thank him for his concern and for helping with the release of them," said Uri. "I spoke with Governor Pritzker, and he was nice and thanked him for his effort. Hopefully, I will see them next week."
Rabbi Meir Hecht of the Chabad of Evanston is also in joyous disbelief. He says this miracle proves that the countless prayers for Judith and Natalie worked.
"Continue your prayers because they are needed and we ask that you do something extra, something special, an act of goodness and kindness for all of the families who are suffering," said Hecht.
They continued by lighting candles to usher in Shabbat. Rabbi Hecht says they will not stop their support until Judith and Natalie return to the community's arms.
"When we see them, we will celebrate the greatest celebration, and hopefully, you will be there to celebrate with us," said Hecht.
Uri says Natalie and Judith seem to be in good physical health. Judith has a scratch on her hand. He says they are with the IDF and should be home early next week.
Furthermore, statements of relief and support poured in from around the United States, with President Biden and Governor JB Pritzker expressing their relief.
Rabbi Hecht, who organized most of the recent prayer vigils for the mother and daughter, expressed the immense excitement within the Evanston community.
"We are elated, and we have so much gratitude to the Almighty God. It's an incredible miracle. At the same time, I want to remind you that there are 200 hostages still being held in Gaza by Hamas terrorists and the hands of Hamas is not the most pretty place to be," said Rabbi Hecht.
President Biden released a statement on the release.
"Today, we have secured the release of two Americans taken hostage by Hamas during the horrific terrorist assault against Israel on October 7.  Our fellow citizens have endured a terrible ordeal these past 14 days, and I am overjoyed that they will soon be reunited with their family, who has been wracked with fear. These individuals and their family will have the full support of the United States government as they recover and heal, and we should all respect their privacy in this moment.
From the earliest moments of this attack, we have been working around-the-clock to free American citizens who were taken hostage by Hamas, and we have not ceased our efforts to secure the release of those who are still being held.  I thank the government of Qatar and the government of Israel for their partnership in this work.  Jill and I have been holding close in our hearts all the families of unaccounted for Americans. And, as I told those families when I spoke with them last week—we will not stop until we get their loved ones home. As president, I have no higher priority than the safety of Americans held hostage around the world."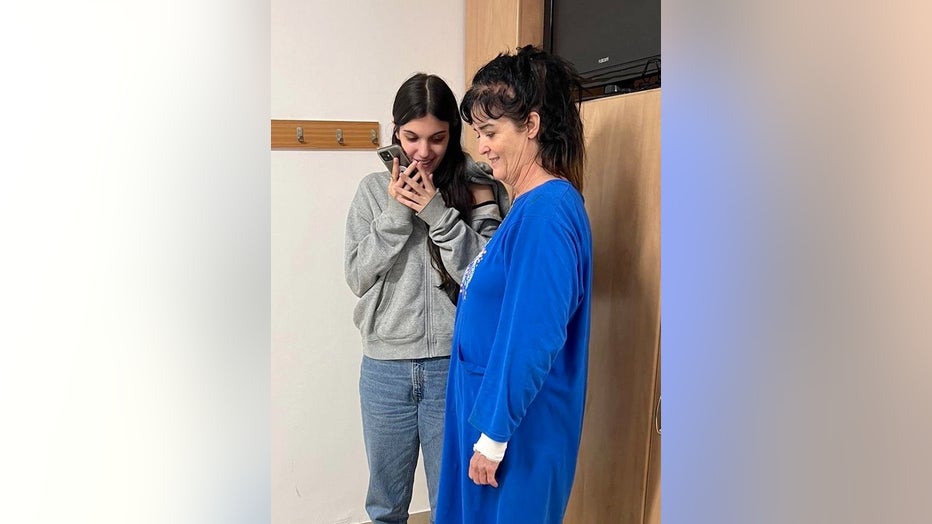 Judith Raanan and her daughter, Natalie, on the phone with President Biden | Provided
Illinois Gov. JB Pritzker also released a statement.
"I am incredibly relieved that Natalie and Judith Raanan of Evanston have been released from captivity in Gaza. In what was supposed to be a visit to their loving family in Israel, they were violently abducted by a terrorist organization. After being held against their will for nearly two weeks, they are now safe and receiving necessary medical treatment. I cannot wait to welcome them back home after demonstrating immense strength and bravery in the face of unthinkable terror. We must continue to advocate and pray for the safe return of those still held by Hamas. We will not let those who use terror as their weapon win.
The Prime Minister of Israel, Benjamin Netanyahu, released the following statement:
"This evening, Judith Tai Raanan and her daughter Natalie Shoshana Raanan were released by the terrorist organization Hamas. The two were kidnapped by the organization during the murderous surprise attack on Saturday, October 7, 2023, while they were staying in Kibbutz Nahal Oz as house guests. The Coordinator for the Captives and Missing Brig. Gen. (Ret.) Gal Hirsch, together with the IDF and security forces, received them at the border of the Gaza Strip, and the two are now on their way to a meeting point in an army base in central Israel, where their families are waiting to reunite with them. The Government of Israel, the IDF and the entire security apparatus will continue to do all they can, using any means available, to locate all those missing and bring home all the kidnapped."
U.S. officials say 32 Americans have been killed since Hamas launched a surprise attack on Israel on October 7, brutally murdering as many as 1,400 Israelis. Israel has confirmed at least 203 Israelis are being held captive by Hamas in the Gaza Strip. At least 11 Americans were unaccounted for as of Friday morning.
President Joe Biden has said securing the safe release of American hostages is a top priority of the U.S. government.
"To those who are living in limbo, waiting desperately to learn the fate of a loved one, especially to families of the hostages – You're not alone. We're working with partners throughout the region, pursuing every avenue to bring home those who are being held captive by Hamas," Biden said in remarks from Israel earlier this week.