Halloween horror: Bone-chilling blast of cold air to arrive in time for trick-or-treating
Frightful weather is in the forecast for parts of the U.S. during Halloween weekend, along with bone-chilling cold for next week's holiday.
The FOX Forecast Center is tracking an arctic air mass rushing down into the northern U.S. just in time for Halloween, threatening to push temperatures below freezing for trick-or-treaters and even create a white Halloween for some. 
The graphic below shows the spooky setup. Cold air from Siberia, Alaska, northern Canada and Greenland is coming down into the U.S. from different levels of the atmosphere.
"Eventually, we do get enough cold coming in from the Russian source, from the Canadian source that we start to see our temperatures near the freezing point right around the Great Lakes," FOX Weather meteorologist Amy Freeze said.
This setup will also contribute to the potential for a snowstorm to develop in parts of the central U.S. this weekend.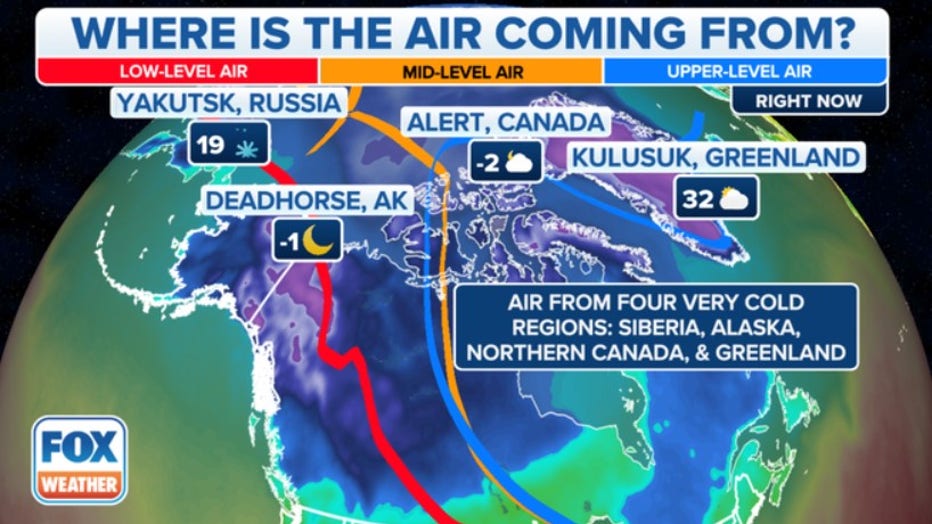 Frightening weekend chill
Take note, party planners: The Halloween chill begins this weekend.
WHY DO WE CARVE PUMPKINS ON HALLOWEEN?
Chicago will see about a 20-degree temperature drop between Friday and Saturday. 
Duluth, Minnesota, and Green Bay, Wisconsin, see lows near freezing by Sunday morning. 
According to the NOAA's Climate Prediction Center, much of the central and western U.S. is expected to dip well below average from Halloween weekend through early next week.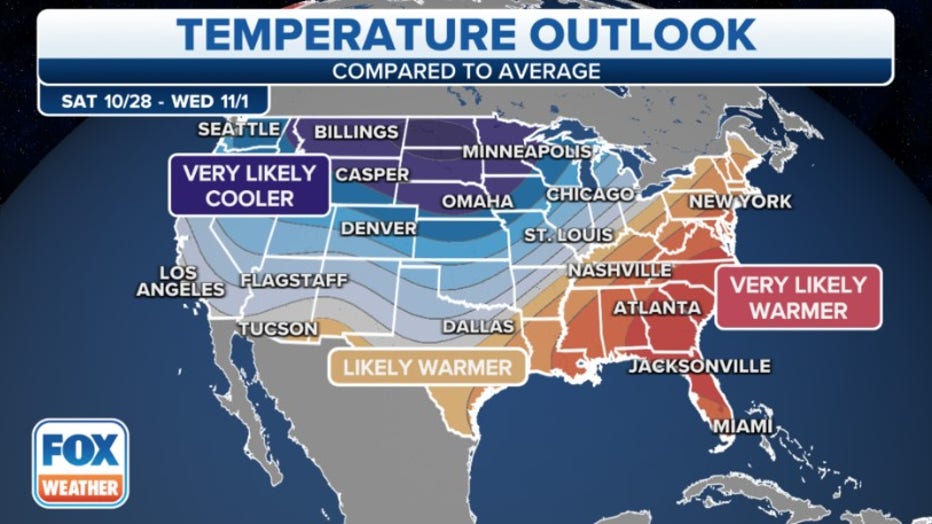 Hair-raising cold on Halloween
By Tuesday night, the cold weather will be in place from the northern Plains to the Northeast. 
The Great Lakes, Upper Midwest and Northeast are forecast to experience these horrific temperatures, requiring creative Halloween costume adjustments.
Green Bay, Chicago, Detroit and Pittsburgh will see lows at or just below freezing through Halloween night and into Thursday.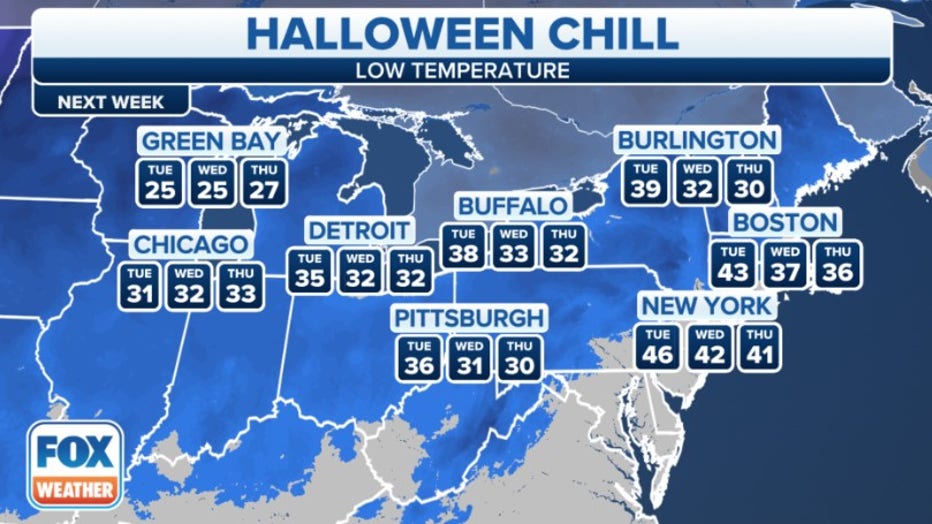 In the Northeast, the most significant temperature changes will likely not come after Halloween. 
New York City starts with high temperatures in the 70s this weekend, but by Monday, highs hold in the 60s before low temperatures bottom out in the 40s by the end of next week.
As the cold air descends deeper into the U.S., even places like Texas could feel temperatures drop below freezing, which would be very cold for this time of year, the FOX Forecast Center noted.
Spooky snow potential 
Dress like a ghost on Halloween and you might disappear if the snow sticks. A potential winter storm brewing for the weekend has the potential to produce at least light snowfall across portions of the central U.S.
The FOX Forecast Center is tracking rain, snow and mixed precipitation in the central U.S., but it's still too early to pinpoint exactly when the wintry weather will arrive and who will be the most impacted.
WHAT ARE THE ODDS OF A WHITE HALLOWEEN?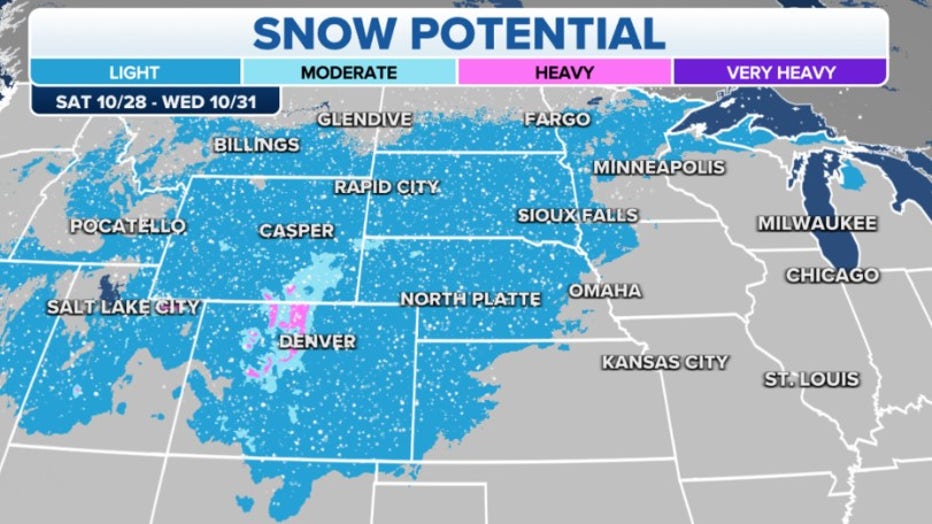 Farther east, places like Cleveland and Erie, Pennsylvania, and into parts of western New York could also see lake-effect snow beginning this weekend.
Snow for western New York around this time of year wouldn't be out of the norm. Buffalo averages its first snowflakes on Oct. 24, with the first measurable snow – at least 0.1 inches – by Nov. 8.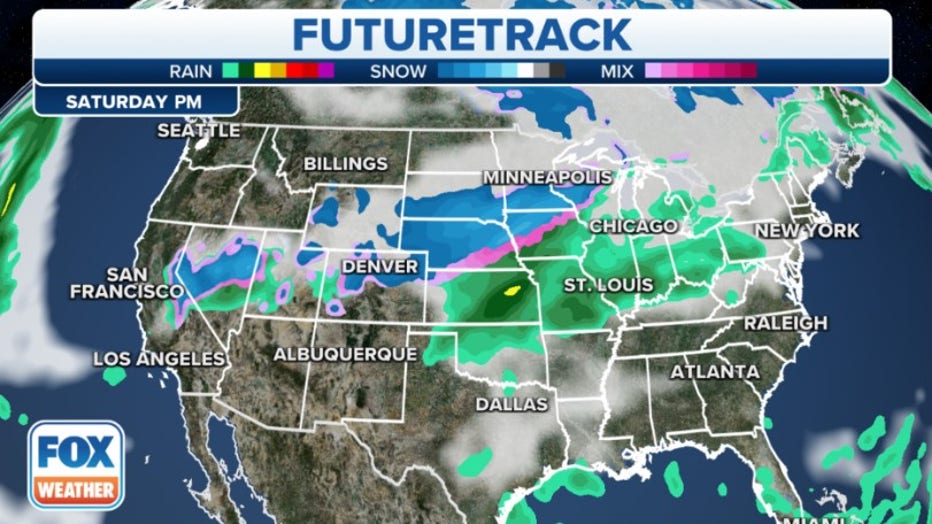 Read more of this story from FOX Weather.