Van Leeuwen is looking for an ice cream taster
Van Leeuwen, the ice cream company known for wacky flavors, is celebrating its 15th birthday with a contest that could land you the role of LICT: lead ice cream taster.
The Brooklyn-based brand said in addition to consulting on flavors, the contest winner will receive:
A three day, two night trip to NYC July 17-19 (includes flights and a stay at the Wythe Hotel)
Every flavor of ice cream Van Leeuwen produces shipped to your door
Free ice cream for a year
Direct line to the flavor master, Ben Van Leeuwen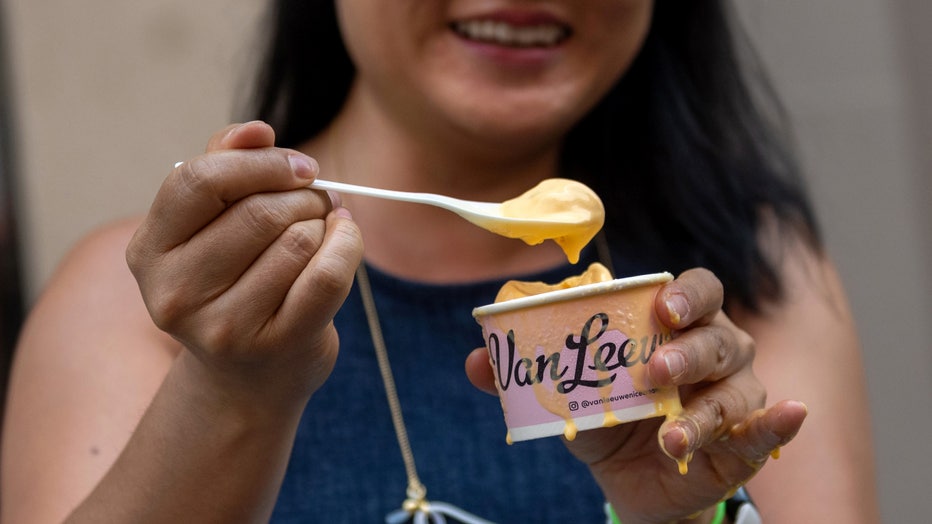 A womans Van Leeuwen new Kraft mac and cheese flavor ice cream melts due to the high temperatures at a popup truck near Union Square on July 14, 2021 in New York City. (Photo by Alexi Rosenfeld/Getty Images)
Applicants have to submit a video on the company's website answering the following questions:
Why do you love ice cream?
What's your favorite VL flavor?
Why do you want to be our LICT?
"Bonus points if you include Van Leeuwen or post on social media with the hashtag #LICTContest," Van Leeuwen said.
READ MORE: Häagen-Dazs turns classic ice cream flavors into breakfast treat
The deadline to enter is July 6.
In March, Van Leeuwen teamed up with Hidden Valley Ranch to launch a ranch-flavored ice cream. And last year, Van Leeuwen released a limited Grey Poupon dijon mustard ice cream to replace its spring Kraft Macaroni and Cheese and pizza ice creams. The company also makes more traditional flavors.