Secret Service spokesman on Jimmy Carter's health: 'Forever by your side'
ATLANTA - Secret Service spokesman Anthony Guglielmi responded Saturday to former President Jimmy Carter entering hospice.
Guglielmi said the agency, which has protected Carter and his family for decades, "will be forever by your side."
"Rest easy Mr. President. We will be forever by your side," Guglielmi stated in a tweet.
The tweet came after the Carter Center announced that the 39th president would spend his "remaining time" at home.
"After a series of short hospital stays, former U.S. President Jimmy Carter today decided to spend his remaining time at home with his family and receive hospice care instead of additional medical intervention. He has the full support of his family and his medical team. The Carter family asks for privacy during this time and is grateful for the concern shown by his many admirers," the center said.
JIMMY CARTER: THE CARTER CENTER NOW ACCEPTING 'MESSAGES OF SUPPORT' FOR FORMER PRESIDENT
The former president was diagnosed with cancer in 2015. He discussed his health at the Carter Center during a press conference in August of that year. He said that he had a small melanoma cancerous growth removed from his liver. He stated that the doctors believed the cancer had formed somewhere else and eventually spread to his liver.
Later that same day, he took an MRI that showed the cancer had spread to four places in his brain. He revealed during the conference that after hearing the news about his health, he thought he only had a few weeks left. "I was surprisingly at ease," he said. "I've had a wonderful life. I've had thousands of friends, and I've had an exciting, adventurous and gratifying existence." He remained positive and knew to follow the doctor's orders in hopes to try to extend his life.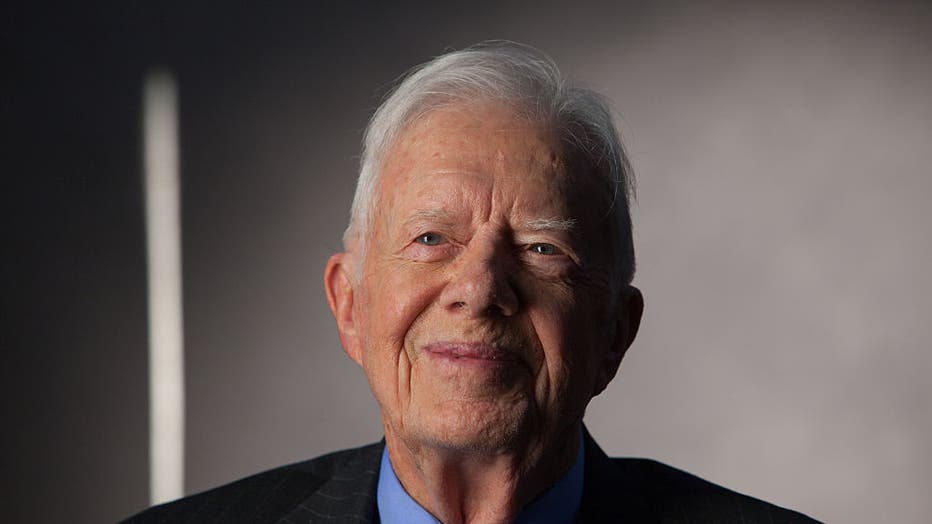 Former President Jimmy Carter interviewed for "The Presidents' Gatekeepers" project at the Carter Center, Atlanta, Georgia, September 14, 2011. (Photo by David Hume Kennerly/Getty Images)
A few months later, in December, he had announced that the cancer was gone. He had another MRI and said that the doctors did not find cancer in his brain.
US NAVAL ACADEMY RENAMES BUILDING IN HONOR OF JIMMY CARTER
In 2019, he had brain surgery after experiencing pressure in his head due to multiple falls.
The former president grew up in Plains, Georgia. He was the Democratic Party nominee for president in 1976 and served from 1977-1981. 
The Carter Center, a nonprofit and nongovernmental organization, was founded in 1982 by Jimmy Carter and the former first lady Rosalynn Carter. They partnered with Emory University "to advance peace and health worldwide," according to the website. 
Get the latest updates to this story on FoxNews.com