Maui wildfires: Emergency services chief resigns as death toll rises to 111
LAHAINA, Hawaii - The head of the Maui Emergency Management Agency, who has been heavily criticized for not activating disaster sirens during last week's wildfire response, resigned Thursday, citing health reasons.
Mayor Richard Bissen accepted the resignation of Herman Andaya effective immediately, the County of Maui announced on Facebook.
"Given the gravity of the crisis we are facing, my team and I will be placing someone in this key position as quickly as possible and I look forward to making that announcement soon," Bissen said in the statement.
RELATED: Maui Humane Society overwhelmed after wildfire; how you can help
As the death toll rose to 111 a day earlier, Andaya defended not sounding sirens as flames raged. Hawaii has what it touts as the largest system of outdoor alert sirens in the world.
"We were afraid that people would have gone mauka," Andaya said Wednesday, using a navigational term that can mean toward the mountains or inland in Hawaiian. "If that was the case, then they would have gone into the fire."
The system was created after a 1946 tsunami that killed more than 150 on the Big Island, and its website says they may be used to alert for fires.
Andaya was to take part in a meeting of the island's fire and public safety commission on Thursday morning, but it was abruptly canceled.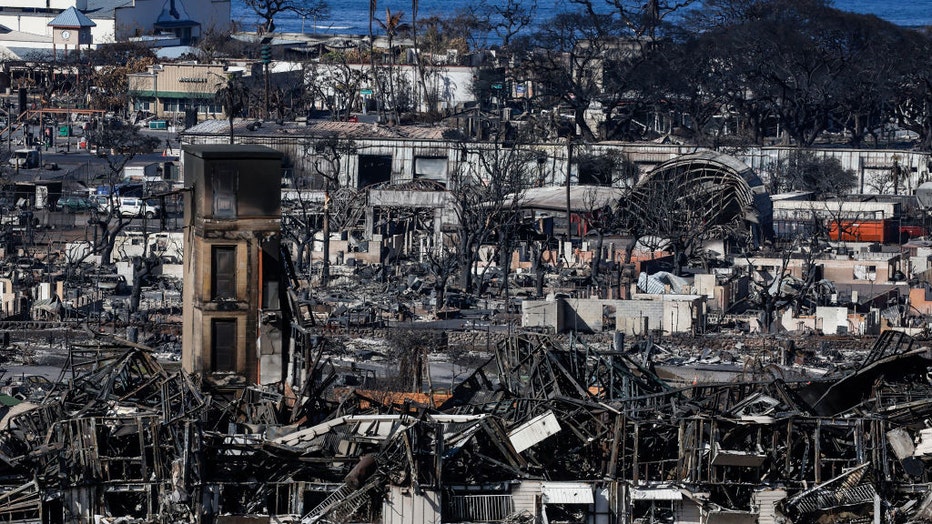 Homes and businesses lay in ruins after last week's devastating wildfire swept through town. (Photo by Robert Gauthier/Los Angeles Times via Getty Images)
Hawaii Attorney General Anne Lopez said Thursday that an outside organization will conduct "an impartial, independent" review into the government's response to the fires.
"We intend to look at this critical incident to facilitate any necessary corrective action and to advance future emergency preparedness," Lopez said in a statement. She said the investigation will likely take months.
Avery Dagupion, whose family's home was destroyed, said he's angry that residents weren't given earlier warning to get out.
He pointed to an announcement by Bissen on Aug. 8 saying the fire had been contained. That lulled people into a sense of safety and left him distrusting officials, he said.
RELATED: United Airlines pilot cuts Maui vacation short, flies tourists off island amid wildfires
At the Wednesday news conference, Gov. Josh Green and Bissen bristled when asked about such criticism.
"I can't answer why people don't trust people," Bissen said. "The people who were trying to put out these fires lived in those homes — 25 of our firefighters lost their homes. You think they were doing a halfway job?"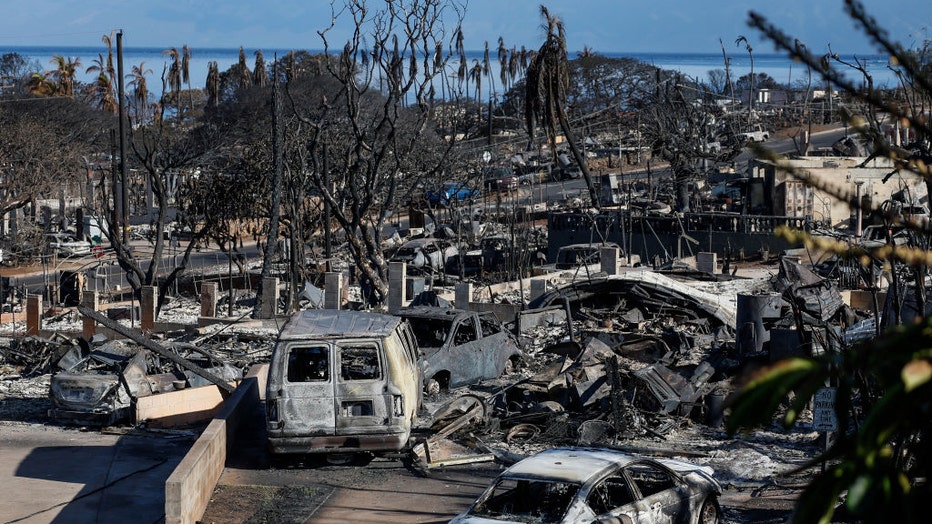 Homes on Nahale St. lay in ruins after last week's devastating wildfire swept through town. (Photo by Robert Gauthier/Los Angeles Times via Getty Images)
Maui residents whose homes burned in the wildfire that incinerated historic Lahaina and killed more than 100 people are steadily filling hotels that are prepared to house them and provide services until at least next spring.
Authorities hope to empty crowded, uncomfortable group shelters by early next week and move displaced people into hotel rooms, said Brad Kieserman, vice president for disaster operations with the American Red Cross. Hotels are also available for eligible evacuees who have spent the last eight days sleeping in cars or camping in parking lots, he said.
"We will be able to keep folks in hotels for as long as it takes to find housing for them," Kieserman said at a media briefing. "I am confident we'll have plenty of rooms."
RELATED: Pictures of Maui fire damage 'will shock you,' Hawaii governor says
Contracts with the hotels will last for at least seven months but could easily be extended, he said. The properties will be staffed by service providers who will offer meals, counseling, financial assistance and other disaster aid.
Green has said at least 1,000 hotel rooms will be set aside for those who lost their homes. In addition, AirBnB's nonprofit wing will provide properties for 1,000 people, the company said.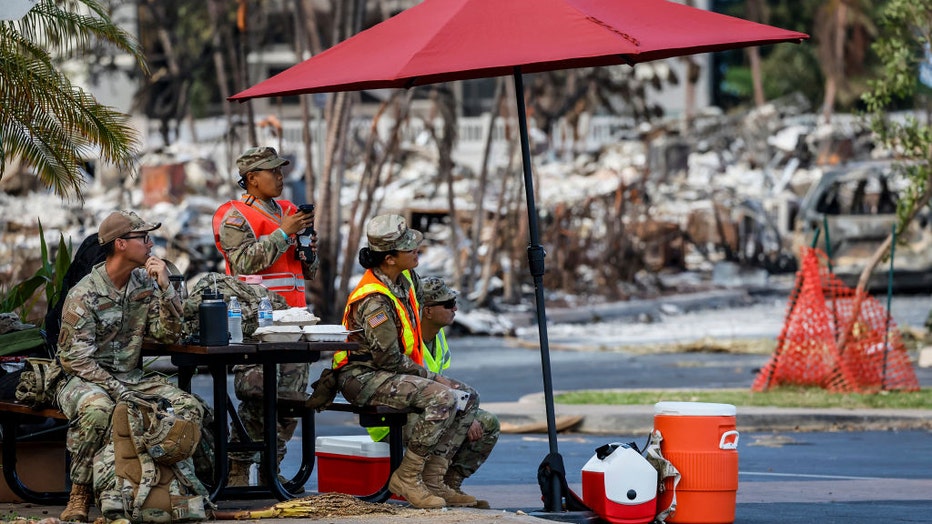 National guard troops stand guard on E. KuuAku Lane where a homes and businesses lay in ruins after last week's devastating wildfire swept through town. (Photo by Robert Gauthier/Los Angeles Times via Getty Images)
The governor has also vowed to protect local landowners from being "victimized" by opportunistic buyers when Maui rebuilds. Green said Wednesday that he instructed the state attorney general to work toward a moratorium on land transactions in Lahaina, even as he acknowledged the move would likely face legal challenges.
"My intention from start to finish is to make sure that no one is victimized from a land grab," Green said at a news conference. "Do not approach their families saying they'll be much better off if they make a deal. Because we're not going to allow it."
Since flames consumed much of Lahaina just over a week ago, locals have feared that a rebuilt town could become even more oriented toward wealthy visitors, according to Lahaina native Richy Palalay.
Hotels and condos "that we can't afford to live in — that's what we're afraid of," he said Saturday at a shelter for evacuees.
The cause of the wildfires, the deadliest in the U.S. in more than a century, is under investigation. But Hawaii is increasingly at risk from disasters, with wildfire rising fastest, according to an Associated Press analysis of FEMA records.
The local power utility faced criticism for leaving power on as strong winds from a passing hurricane buffeted a parched area last week, and one video shows a cable dangling in a charred patch of grass, surrounded by flames, in the early moments of the wildfire.
"Facts about this event will continue to evolve," Hawaiian Electric CEO Shelee Kimura wrote in an email to utility customers Thursday. "And while we may not have answers for some time, we are committed, working with many others, to find out what happened as we continue to urgently focus on Maui's restoration and rebuilding efforts."
Meanwhile, signs of recovery emerged as public schools across Maui reopened, welcoming displaced students from Lahaina, and traffic resumed on a major road.
The search for the missing moved beyond Lahaina to other oceanside communities that were destroyed. Searchers had covered about 45% of the burned territory by Thursday, the governor said.
Corrine Hussey Nobriga, whose home was spared, watched crews sifting through ash and debris looking for human remains. While some of her neighbors raised questions about the absence of sirens and inadequate evacuation routes, Nobriga said it was hard to lay blame for a tragedy that took everyone by surprise.
"One minute we saw the fire over there," she said, pointing toward far away hills, "and the next minute it's consuming all these houses."
The ongoing search was marred by intermittent cellphone service and misleading information on social media. There were also challenges finding people who may be in hospitals, hunkered down at friends' houses or in unofficial shelters that have popped up. Many people made fliers and were going door to door in search of loved ones.
Judy Riley, who has been working with families seeking relatives, said false leads and a sense that "no one is in charge of the missing" have contributed to a sense of despair.
"If you are looking for the missing, it's easy for people to slip through the cracks," she said.
___
This story has been updated to correct the spelling of the name Nobriga in one instance.
___
Kelleher reported from Honolulu and Weber from Los Angeles. Contributing to this report were Associated Press journalists Michael Casey in Concord, New Hampshire; Jennifer McDermott in Providence, Rhode Island; Seth Borenstein in Washington, D.C.; and Heather Hollingsworth in Kansas City, Missouri.
___
Associated Press climate and environmental coverage receives support from several private foundations. See more about AP's climate initiative here. The AP is solely responsible for all content.