Maui Humane Society overwhelmed after wildfire; how you can help
In the wake of the deadly wildfire in Maui, some residents may have been separated from their pets amid evacuations. 
The Maui Humane Society said it is expecting "an inundation of hundreds of animals" that have been injured or lost as the wildfires scorched neighborhoods and wildlife. 
The humane society has set up a Facebook group to help reunite lost pets with their owners as well as a fundraiser to get lifesaving medical supplies as well as other necessities for displaced animals.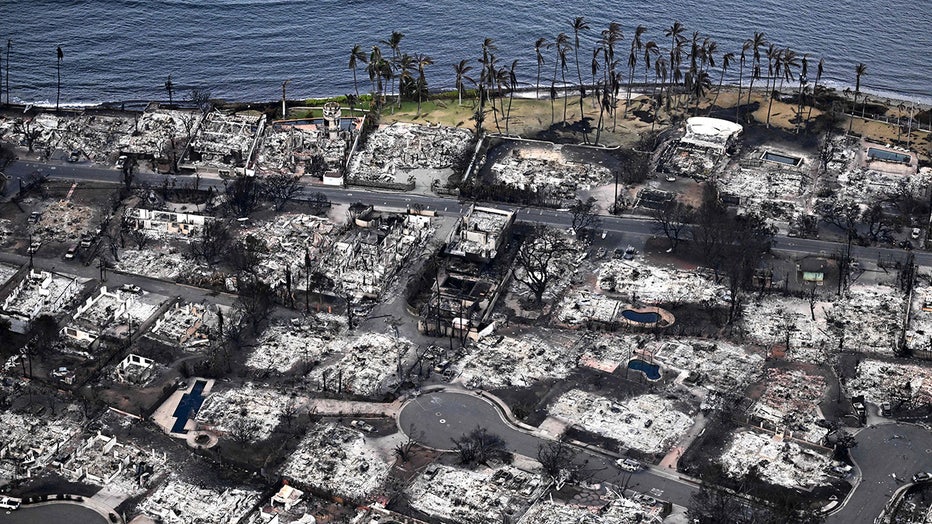 An aerial image taken on August 10, 2023 shows destroyed homes and buildings burned to the ground in Lahaina in the aftermath of wildfires in western Maui, Hawaii. (Photo by PATRICK T. FALLON/AFP via Getty Images)
RELATED: At least 36 killed on Maui as fires burn through Hawaii; thousands race to escape
Here's how to help from afar (or from nearby)
For those who wish to help, whether they live in Hawaii or anywhere else in the world, the Maui Humane Society is asking for donations for much-needed supplies to keep up with the influx of animals either injured, lost or both. 
Needed supplies include food, litter, crates and much more. 
Those wishing to help can donate directly to the humane society's website by clicking here or items can be purchased from the shelter's Amazon wish list here. 
And for those who are able to bring supplies straight to the shelter, they are welcome to do so. 
Fosters are needed
The Maui Humane Society was already over capacity before the wildfire ravaged the island, so "SOS Dog Fosters" are desperately needed, the non-profit said on its Facebook page. 
Lost or found pets
For anyone who may have found a lost pet or are looking for one, the humane society has started a group called Maui Fires Pets Help Group. 
Anyone who may have found a lost pet is asked to report them to www.petcolovelost.org. 
What happened in Maui?
The fast-moving wildfire that started on Tuesday left behind a wasteland of obliterated neighborhoods and landmarks charred beyond recognition on the Hawaiian island of Maui. 
The fire was fueled by a dry summer and strong winds from a passing hurricane and took Maui by surprise, racing through parched growth covering the island and then feasting on homes and anything else that lay in its path. 
Hawaii Gov. Josh Green said Thursday that 53 people were killed in the devastating Maui wildfires, and the death toll will likely continue to rise. 
RELATED: How to help those impacted on Maui, Big Island 
The Hawaii toll could rise, though, as rescuers reach parts of the island that had been inaccessible due to obstructions of the three ongoing fires, including the one in Lahaina that was 80% contained on Thursday, according to a Maui County news release. More than 270 structures have been damaged or destroyed, and dozens of people have been injured, including some critically. 
The Associated Press and Storyful contributed to this report. This story was reported from Los Angeles.