One year without Roe v. Wade: Here's where abortion laws stand in your state
Saturday, June, 24, marks one year since the Supreme Court overturned Roe v. Wade, the 1973 decision that provided a constitutional right to abortion.
Twenty-five million women of childbearing age now live in states where the law makes abortions harder to get than they were before the ruling.
Decisions about the law are largely in the hands of state lawmakers and courts. Most Republican-led states have restricted abortion. Fourteen ban abortion in most cases at any point in pregnancy, while 20 Democratic-leaning states have protected or expanded access to abortion.
READ MORE: Abortion providers scramble amid 'decimation' of access in US South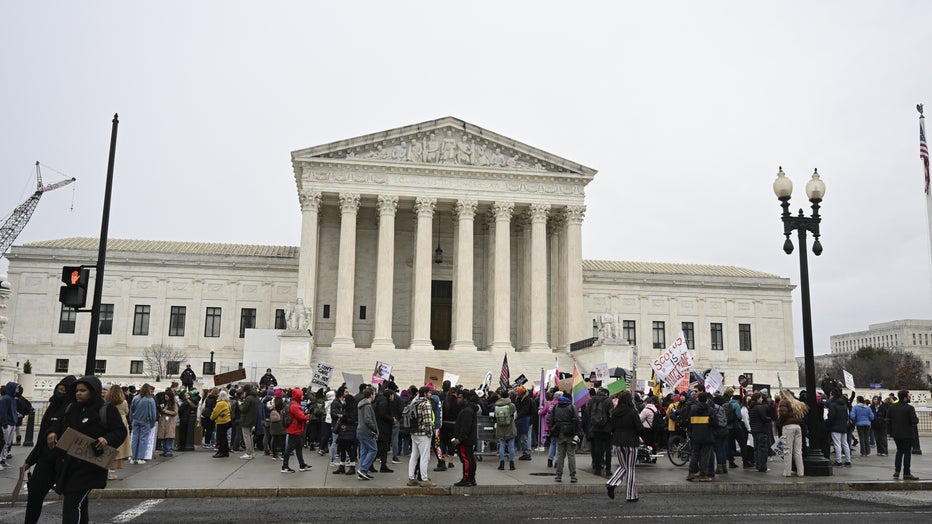 Pro-abortion and anti-abortion activists rally near the US Supreme Court in Washington, DC, USA, 22 January 2023. (Photo by Celal Gunes/Anadolu Agency via Getty Images)
Here's a look at where abortion laws stand in each state. 
INTERACT: Tap on the map for a quick glance at each state's status, or scroll down for a more detailed look at your state.
Alabama
In Alabama, it's a felony to perform an abortion at any stage of pregnancy with no exceptions for rape or incest. There is an exception in cases where the woman's health is at serious risk. The penalty is up to 99 years in prison.
It's one of the nation's strictest abortion bans.
Alaska
Abortion remains legal in Alaska. The state Supreme Court has interpreted the right to privacy in the state constitution as encompassing abortion rights.
Conservatives thought a constitutional convention could change that, but voters overwhelmingly rejected the notion in November of last year.
Arizona
Abortions are currently allowed in Arizona in the first 15 weeks of pregnancy under a 2022 law.
A pre-statehood, 1864 law in Arizona imposes a near total ban on abortions, providing no exceptions for rape or incest and allowing abortions only if a mother's life is in danger, but courts have held that the law cannot be enforced.
Arkansas
A law Arkansas approved in 2019 banning nearly all abortions took effect when the U.S. Supreme Court struck down the 1973 Roe decision. Arkansas' ban only allows abortions to save the life of the mother in a medical emergency.
California
Abortion is legal in California until viability, generally considered to be around 24 weeks.
California has sought to become a safe haven for reproductive rights in the year since Roe v. Wade was overturned.
The state has partnered with law firms and advocacy groups to create a hotline that provides access to information and pro bono services for people who need legal help related to abortion.
Legal experts also offer guidance about compliance amid shifting restrictions in various states, advice about protecting sensitive health data and support for amicus briefs to advance reproductive rights.
Colorado
Abortion remains legal in Colorado at all stages of pregnancy.
In April, the state's governor signed a series of laws that enshrine abortion rights in Colorado and seek to protect women who travel from out-of-state to get an abortion in the Centennial state.
Visits to Colorado's abortion clinics have increased by about a third since the Supreme Court ruling and wait times for an appointment have increased from one or two days up to three weeks, according to state lawmakers.
Connecticut
Abortion remains legal in Connecticut until viability, generally considered to be around 24 weeks.
A law protecting abortion providers from other states' bans took effect in July 2022. It created a legal cause of action for providers and others sued in another state, enabling them to recover certain legal costs. It also limits the governor's discretion to extradite someone accused of performing an abortion, as well as participation by Connecticut courts and agencies in those lawsuits.
Delaware
Access to abortion is codified as state law in Delaware. Abortion is legal until viability.
In 2022, lawmakers also passed legislation protecting people who travel from outside the state for an abortion and the health care workers who perform them.
It's one of several blue states that launched a helpline providing free legal advice about abortion access to people who live in and outside the state.
Florida
Abortion is banned after 15 weeks in Florida, but a law signed by Gov. Ron DeSantis in April  could further restrict abortions to six weeks of pregnancy pending the outcome of a court case.
The six-week ban will take effect only if the state's current 15-week ban is upheld in an ongoing legal challenge that is before the state Supreme Court, which is controlled by conservatives.
READ MORE: DeSantis criticizes Trump for implying Florida abortion ban is 'too harsh'
The law contains some exceptions, including to save the woman's life. Abortions for pregnancies involving rape or incest would be allowed until 15 weeks of pregnancy, provided a woman has documentation such as a restraining order or police report.
Georgia
Georgia prohibits most abortions once a "detectable human heartbeat" is present, about six weeks.
That means most abortions in Georgia are effectively banned at a point before many people know they are pregnant.
The law includes exceptions for rape and incest, as long as a police report is filed, and allows for later abortions when the mother's life is at risk or a serious medical condition renders a fetus unviable.
Georgia's ban first took effect in July 2022, and was briefly put on hold by a judge in November before the Georgia Supreme Court reinstated the ban a few days later. The state's high court has yet to rule on a legal challenge to the so-called fetal heartbeat law.
Hawaii
Hawaii legalized abortion in 1970, three years before Roe v. Wade. The state allows abortion until a fetus would be viable outside the womb. After that, it's legal if a patient's life or health is in danger.
In March, Hawaii's governor signed legislation expanding access to abortion and protecting local health care providers from prosecution by out-of-state authorities.
The measure expands abortion access by allowing physician assistants to perform medical and surgical abortions during the first trimester of pregnancy. Previously, only doctors and advanced practice registered nurses could perform the procedure in Hawaii.
It also allows minors to get abortions without the consent of a parent or guardian, and repeals a requirement that abortions be performed at a hospital or clinic. Doctors said the old law didn't account for medical abortions that can be carried out at a patient's home with medication prescribed remotely.
Idaho
Abortions are prohibited in Idaho once fetal cardiac activity is detected. They've effectively been banned in Idaho since August 2022. In January, the state Supreme Court dismissed a handful of legal challenges brought by Planned Parenthood and other organizations.
Idaho, like many other states, has several abortion laws on the books. One of the laws allows the potential family members of a fetus to sue a health care professional who performs an abortion.
State law also prohibits Idaho health care providers from issuing prescriptions for abortion medications that patients could pick up in other states, or even referring them to a health care provider across state lines for abortion services.
Illinois
Abortion remains legal in Illinois to the point of viability, and later to protect the patient's life or health.
In March, the state enacted sweeping reproductive health care legislation to protect out-of-state abortion seekers.
In addition to shielding reproductive health care patients and providers from legal action originating across state lines, the act also protects the Illinois licenses of health care providers licensed in multiple states who provide treatment legal in Illinois but may cost them their license in a state where it's not. The measure also prevents insurers from charging more for out-of-network care when in-network providers object to treatment on moral grounds.
In January, Planned Parenthood Illinois spokesperson Mary Jane Maharry said roughly 30% of its patients were from outside of Illinois, compared to about 6% before Roe was overturned.
Indiana
Abortion remains legal in Indiana up to 20 weeks, despite lawmakers passing a near-total abortion ban in August 2022.
A judge issued an injunction blocking Indiana's ban from taking effect while the legal challenges are heard in court.
READ MORE: Indiana doctor reprimanded for speaking publicly about 10-year-old girl's abortion
The Indiana law being challenged in court includes exceptions allowing abortions at hospitals in cases of rape and incest, before 10 weeks post-fertilization; to protect the life and physical health of the mother; and if a fetus is diagnosed with a lethal anomaly.
Iowa
On July 14, 2023, Gov. Kim Reynolds signed a fetal heartbeat abortion ban into law after the legislature convened a special session to pass the ban. The law bans abortions in Iowa after about six weeks of pregnancy, but a judge may put those restrictions on hold. 
Reynolds signed a similar fetal heartbeat abortion ban into law in 2019, but Iowa courts on June 16 ruled that the law is unconstitutional.
Kansas
Kansas continues to allow most abortions until the 22nd week of pregnancy. After that, abortion is allowed only to save a patient's life or to prevent "a substantial and irreversible physical impairment of a major bodily function."
Stricter laws are on hold after a 2019 state Supreme Court ruling that the state's constitution grants a fundamental right to abortion.
The Legislature put a proposed amendment on last August's ballot asking voters whether to lift that constitutional protection, which would have allowed lawmakers to greatly restrict or ban abortion. Voters soundly rejected the measure.
Kentucky
Abortion is banned in Kentucky except when it's carried out to save the life of the mother or to prevent disabling injury. It does not include exceptions for cases of rape or incest.
The state's trigger law was passed in 2019 and took effect when the Supreme Court overturned Roe v. Wade.
Voters in November rejected a ballot measure aimed at denying any state constitutional protections for abortion, but in February, the state's highest court refused to halt the near-total ban and sent the case back to a lower court for further consideration.
Louisiana
Louisiana law bans nearly all abortions. The only exceptions to the prohibition are if there is substantial risk of death or impairment to the patient in continuing the pregnancy and in the case of "medically futile" pregnancies — when the fetus has a fatal abnormality.
It's one of the strictest abortion bans in the country.
Republican lawmakers in Louisiana rejected legislation in May that would add exceptions in cases of rape and incest.
Maine
Maine's current laws allow abortions until a fetus becomes viable, which is generally considered to be about 24 weeks.
The governor has proposed a change to state law to allow abortion after fetal viability if it's deemed necessary by a physician. If it passes the Legislature, it would give the state one of the least restrictive abortion laws in the country. It was approved by a key committee on June 9 and is expected to pass the full Maine legislature.
Maryland
The right to abortion is protected in Maryland law, and voters will decide next year whether to enshrine the right to abortion in the Maryland Constitution.
The state approved legislation in 1991 to protect abortion rights if the Supreme Court allowed abortion to be restricted. That law was petitioned to the ballot and voters approved the right in 1992 with 62% of the vote. Advocates argue that adding the protection to the state constitution would make it even harder for opponents to try to strip away abortion rights in the future.
Massachusetts
Abortion is legal in Massachusetts until 24 weeks of pregnancy.
About a month after Roe v. Wade was overturned last year, the state's Republican governor signed a measure protecting abortion access.
The law protects abortion providers and people seeking abortions from actions taken by other states, including blocking the governor from extraditing anyone charged in another state unless the acts for which extradition is sought would be punishable by Massachusetts law.
In January, the state launched a hotline offering free legal advice to people seeking abortions in the state, as well as their health care providers and helpers.
Michigan
Abortion remains legal in Michigan through viability.
In November, a citizen-led initiative to enshrine abortion rights in the state's constitution received more signatures than any other ballot proposal in state history to put the question before voters. The vote made a 1931 law banning abortion unconstitutional and unenforceable.
Minnesota
Abortion remains legal in Minnesota through viability.
Abortions were protected under a 1995 Minnesota Supreme Court decision known as Doe v. Gomez, which held that the state Constitution protects abortion rights, and in January, the state's Democratic governor signed legislation cementing abortion rights even more.
While the new law had little further impact on access to abortion in Minnesota, the governor and sponsors of the bill said it provides a critical new layer of protection in case the composition of the state courts someday changes, as it did on the U.S. Supreme Court before it struck down Roe v. Wade.
Mississippi
Abortion is completely banned in Mississippi with few exceptions.
Mississippi's trigger law, passed in 2007, says abortion is legal only if the woman's life is in danger or if a pregnancy is caused by a rape reported to law enforcement. It does not have an exception for incest.
Missouri
A Missouri law outlawing most abortions took effect immediately following the Supreme Court's reversal of Roe v. Wade.
The 2019 Missouri law prohibits abortions "except in cases of medical emergency." Performing illegal abortions is punishable by 5 to 15 years in prison. There are no exceptions for rape or incest.
Missouri voters could decide on whether to restore abortion rights in the state if proposed constitutional amendments make it to the ballot next year.
Montana
Abortion is legal in Montana through viability, but the state's governor and GOP legislators are trying to ban the most commonly used abortion procedure after 15 weeks.
In May, a judge temporarily blocked the state from enforcing the ban on the use of dilation and evacuation abortions until the legal challenges from Planned Parenthood can be heard.
In November, voters in Montana rejected a ballot measure that would have raised the prospect of criminal charges carrying up to 20 years in prison for health-care providers unless they take "all medically appropriate and reasonable actions to preserve the life" of an infant born alive, including in the rare case of a birth after an abortion.
Nebraska
Abortion is banned after 12 weeks of pregnancy in Nebraska.
The state's governor signed the new restrictions into law on May 22, nearly a year after Roe v. Wade was overturned.  
Nebraska had not passed a new abortion ban since 2010, when it became the first state to limit the procedure at around 20 weeks of pregnancy. The 12-week ban includes exceptions for rape, incest and to save the life of the mother.
Nevada
A pregnancy in Nevada can be terminated during the first 24 weeks, and after that to preserve the life or health of the pregnant person.
On May 31, Nevada's Joe Lombardo became one of the first Republican governors to enshrine protections for out-of-state abortion patients and in-state providers.
The legislation codifies an existing executive order from former Gov. Steve Sisolak last year — who lost reelection to Lombardo — that bars state agencies from assisting in out-of-state investigations that could lead to the prosecution of abortion patients who travel to Nevada. It also ensures medical boards and commissions that oversee medical licenses do not discipline or disqualify doctors who provide abortions.
Lombardo said he would respect the will of voters who codified abortion rights up to 24 weeks in a 1990 referendum vote.
New Hampshire
Under a law that went into effect in 2022, abortion is allowed until 24 weeks of pregnancy, later for the health or life of the patient or if the fetus has been diagnosed with "abnormalities incompatible with life."
New Jersey
Abortion remains legal in New Jersey at all stages of pregnancy.
A week after the Supreme Court's ruling, the state's governor signed into law two bills aimed at protecting the right to abortion for out-of-state residents and barring extradition to states that have prohibited the procedure.
New Mexico
Abortion remains legal in New Mexico, even in the third trimester.
Democratic New Mexico Gov. Michelle Lujan Grisham signed a bill in April that protects providers of abortions from related prosecution, professional disciplinary action or extradition attempts by out-of-state interests.
A companion abortion-rights bill signed in March guarantees access to reproductive health care in response to a string of anti-abortion ordinances by cities and counties in eastern New Mexico where opposition to abortion access runs deep.
New York
In New York, abortion remains legal through viability, about 24-26 weeks.
Last year, the state's Democrat-controlled Assembly and Gov. Kathy Hochul took steps to increase abortion rights in the weeks before and after Roe v. Wade was overturned.
One of the newer laws protects abortion providers from arrest, extradition and legal proceedings in other states by forbidding New York state and local courts and law enforcement agencies from cooperating in most scenarios.
Under another law, people could sue for unlawful interference with their right to reproductive health care when other people or entities bring civil or criminal charges against them for seeking, accessing or providing abortions.
Another measure prevents insurers from taking action against New York health care providers who perform reproductive services that are illegal elsewhere.
In January, a new law took effect, requiring private insurers that cover births to also cover abortion services, without requiring co-payments or co-insurance.
North Carolina
Abortion is banned at 20 weeks of pregnancy in North Carolina, but on July 1, legislation banning most abortions after 12 weeks is set to become law.
The state's Democratic governor vetoed the new abortion limits, but GOP lawmakers had the three-fifths majority needed to override the veto in May.
The new restrictions will include rape or incest exceptions through 20 weeks of pregnancy and exceptions for "life-limiting" fetal anomalies during the first 24 weeks. An existing exception for when the life of the pregnant woman is in danger will remain.
North Dakota
Abortion is banned in North Dakota with very limited exceptions.
The state's governor signed the law, one of the strictest in the country, in April. It outlaws all abortions except in cases where women could face death or a "serious health risk" or pregnancies caused by rape and incest, but only in the first six weeks, when many women often don't know they are pregnant.
A former North Dakota abortion provider has filed a lawsuit challenging the restrictions. It's still pending in court.
Ohio
Abortion is legal in Ohio up to 20 weeks' gestation because a court has blocked a near-ban on the procedure while a lawsuit unfolds.
Abortion rights groups are working to put forward a ballot measure in November that would permanently enshrine a right to abortion in the state constitution.
Oklahoma
Abortion is illegal in Oklahoma with limited exceptions.
Oklahoma's law, enacted in 1910, makes it a felony crime punishable by up to five years in prison for anyone to perform an abortion or help a woman obtain an abortion unless it is "necessary to preserve her life."
The state's Supreme Court has struck down other abortion laws that require a "medical emergency" before a doctor can perform an abortion, ruling women have a right to abortion when pregnancy risks their health, not just in a medical emergency.
Oregon
Abortion remains legal in Oregon at any stage in pregnancy.
According to the Guttmacher Institute, an abortion rights think tank, Oregon has the most protective abortion rights in the nation.
Democratic lawmakers in Oregon have approved a measure to shield abortion patients and providers from lawsuits originating in states where abortion is restricted, but Republicans have blocked the bill with a six-week walkout that halted the legislative session.
Pennsylvania
Abortion is legal through 24 weeks of pregnancy in Pennsylvania.
Republican-led efforts to restrict abortion in the state have so far been defeated by Democrats who have a narrow majority in the state House. Democratic Gov. Josh Shapiro, who was elected in the November midterms after Roe v. Wade was overturned, has said he will veto any legislation that he views as undermining abortion rights.
Rhode Island
Abortion is legal in Rhode Island through viability, about 24-26 weeks. A 2019 law enshrined abortion protections in the state.
State agencies are also prohibited from cooperating with other states' investigations into people who travel to Rhode Island for abortions or health care providers that perform them.
South Carolina
Abortion remains legal in South Carolina through 20-22 weeks, but a new law that's on hold by the courts would ban most abortions in the state at around six weeks of pregnancy.
The new abortion law, which is pending court review, would restore a 2021 ban that took effect when the U.S. Supreme Court overturned Roe v. Wade last year. The ban was overturned by South Carolina's highest court because it violated the state Constitution's right to privacy.
The state has seen the number of abortions climb sharply as other Southern states passed near-total bans. Before the overturn of Roe, less than 1 in 10 abortions in South Carolina were performed on people who lived out of state. Now, that figure is near 50% and the number of abortions each month has at least tripled, according to state health data.
South Dakota
South Dakota is one of 13 states that bans all abortions except to save the life of the pregnant person. There are no exceptions for cases of rape or incest.
The South Dakota law was passed in 2005 and took effect when Roe was overturned.
Tennessee
Abortions are illegal in Tennessee with very few exceptions.
When the state's trigger law took effect post-Roe, it not only banned all abortions, but also included an "affirmative defense" for doctors, meaning that the burden was on the physician to prove that an abortion was medically necessary — instead of requiring the state to prove the opposite.
In April, the state's governor signed a narrow exemption allowing doctors to use "reasonable medical judgment" when determining an abortion is necessary to prevent the death of a pregnant patient or to prevent irreversible, severe impairment of a major bodily function. The exemption also adds language that doctors may provide abortion services for ectopic pregnancies and miscarriages. There is no exception for rape and incest.
Texas
Abortion is banned in Texas with very few exceptions. A 2021 law bans abortions once fetal cardiac activity can be detected, normally around six weeks.
In March, five women who said they were denied abortions even when pregnancy endangered their lives filed a lawsuit against Texas over its abortion ban.
The group wants clarification of the law, which they say is written vaguely and has made medical professionals wary of facing liability if the state does not consider the situation a medical emergency.
Utah
Abortion remains legal through 18 weeks of pregnancy in Utah, but a law on hold by the courts could ban abortion clinics statewide.
The ban on clinics is Utah lawmakers' latest effort to restrict abortions and came less than a year after Roe v. Wade was overturned. That decision triggered two previously passed laws — a 2019 ban on abortion after 18 weeks and a 2020 ban on abortions regardless of trimester, with several exceptions including instances of risk to maternal health as well as rape or incest reported to the police.
The state Planned Parenthood affiliate sued over the 2020 ban. Last July, a judge delayed implementing it until legal challenges could be resolved. The 18-week ban has since been de facto law.
If the clinic ban takes effect, the delicensing of clinics will transition most abortions to hospitals, which generally do not specialize in low-cost outpatient abortions, including providing the abortion pill. In Utah, clinics provide 95% of abortions.
Vermont
Abortion is legal in Vermont at all stages of pregnancy.
The Vermont Legislature passed a law guaranteeing abortion rights in 2019. At the same time, the state began the process of amending the constitution. The proposal was passed by two consecutively elected Legislatures and approved by voters on Nov. 8.
Vermont's reproductive rights amendment goes beyond guaranteeing a woman's right to an abortion by including the right to access family planning services and contraception
Virginia
Abortion is legal until the start of the third trimester in Virginia. An abortion is allowed in the third trimester only if three physicians certify that the mother's mental or physical health is at serious risk.
In January, Senate Democrats in Virginia defeated several bills that would have restricted abortion access in the state, including a proposed 15-week ban.
Virginia has some of the most permissive abortion laws in the South.
Washington
Abortion remains legal in Washington through viability, about 24-26 weeks. Abortion rights in Washington are protected by state law.
A new law signed by the state's governor in April blocks states from using Washington-run courts or judicial processes to enforce their bans — things like warrants, subpoenas, extradition requests or other court orders. The Washington law responds to states such as neighboring Idaho that made it illegal for an adult to help a minor get an abortion without parental consent.
West Virginia
Abortion is banned at all stages of pregnancy in West Virginia.
The state's governor signed the ban into law in September. An abortion provider in West Virginia filed a lawsuit challenging the new statute, but the suit was dropped a couple of months later.
The ban has exemptions for medical emergencies and for rape and incest victims until eight weeks of pregnancy for adults and 14 weeks for those under the age of 18. Victims must report their assault to law enforcement 48 hours before the procedure. Minors can report to the police or a doctor, who then must tell police.
Wisconsin
Abortion providers are not offering abortions in Wisconsin while the question of whether abortion is legal there remains under judicial review.
Wisconsin adopted a ban on abortion except to save the mother's life in 1849, a year after the territory became a state. The trigger law took effect after Roe v. Wade was overturned.
The state's Supreme Court is hearing a lawsuit challenging the state's 174-year-old law. Abortion providers have opted not to offer services amid legal uncertainty.
Wyoming
Abortion remains legal in Wyoming through viability, about 24-26 weeks.
The Legislature passed a ban that prohibits abortion at all stages of pregnancy except in cases of rape or incest that's reported to police, or to save a woman's life, but it's not being enforced while it's under judicial review.
An amendment in the Wyoming Constitution says adults have a right to make their own health care decisions. The ban Republicans enacted states that abortion is not health care.
The Associated Press contributed to this report.