Polk suspects called 911 to ask deputies for help moving items from home they were burglarizing, officials say
POINCIANA, Fla. - Two people in Poinciana were arrested after one of them made a 911 call to get help with moving their belongings from a home they were burglarizing, according to the sheriff's office.
Officials said no one spoke on the other end of the call. Polk County deputies responded to the house and, at first, thought no one was inside. They found an unlocked sliding glass door in the back and entered.
Then, they found a male and female suspect, identified as 23-year-old Martin Gonzalez-Garcia and 22-year-old Ashializ Roldan-Oscasio. It turned out deputies were searching for Gonzalez-Garcia after identifying him from a security video as a burglary suspect at a Dollar General store in Kissimmee. They said he took several items earlier in the day.
According to deputies, the couple said they were staying in the residence because they needed to find a place to stay for the night. 
READ: 2 business partners shot, killed each other in Lakeland, Polk sheriff says
"Post Miranda, Martin stated on a recorded statement he did commit the burglary at the Dollar General because he needed to get items to sell it to make money," according to his arrest affidavit. "Martin stated he knew what he did was wrong, but needed the money. Martin stated he knew the residence was not his and did not have permission to be in, but had to get inside to get out of the cold."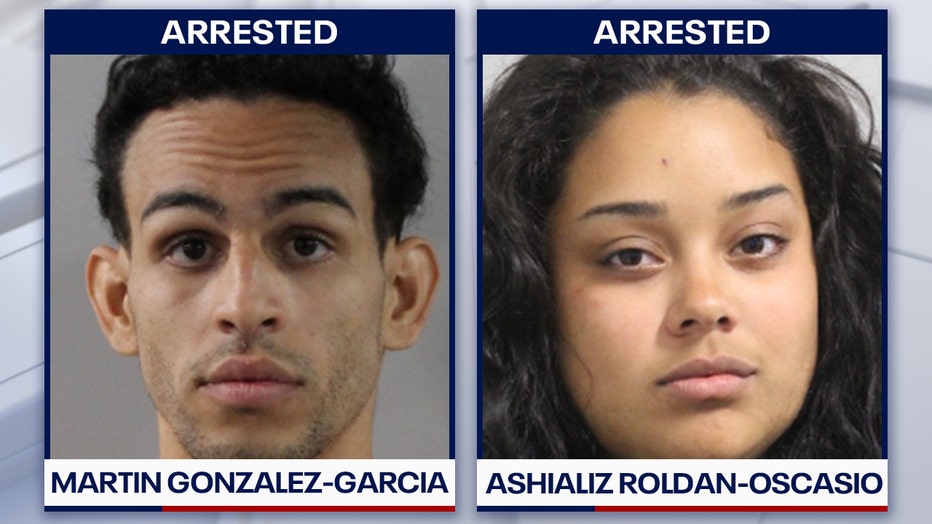 The home is located along Cardinal Court. Deputies said they spoke with the realtor agent, who stated he didn't give the suspects permission to be inside the residence and he didn't know either one of them.
READ: Lakeland couple's engagement ring found more than 20 years after it was flushed down the toilet
While talking to deputies, Roldan-Oscasio told them that she had called 911 for the purpose of having law enforcement help them move their belongings from the house they burglarized, according to the agency. They also wanted to get a ride to the airport, so they could spend the weekend in New York.
"Deputies DID help them with their belongings, and DID give them a ride, but it wasn't to the airport … it was to the Polk Pokey," the sheriff's office said in a Facebook post. "And they are welcome to stay there all weekend long. The Polk Pokey is much better than New York anyway."
Gonzalez-Garcia was charged with burglary and theft related to the store and also burglary of a residence. Roldan-Oscasio was charged with burglary of a residence. They are also facing charges of possession of cannabis and drug paraphernalia.
Deputies said neither have medical marijuana cards.