Pennsylvania man wins 2nd $50,000 lottery prize from same scratch-off game
What's better than winning the lottery? 
Winning the lottery twice in one month. 
That's the wildest dream come true for a Pennsylvania man who's struck lucky twice now on $20 scratch-off tickets from Maryland. 
The 53-year-old Hanover man works construction that often causes him to visit Maryland, according to lottery officials, and so he routinely buys lottery tickets in both states. 
But it's the ones in Maryland that have given him quite the return.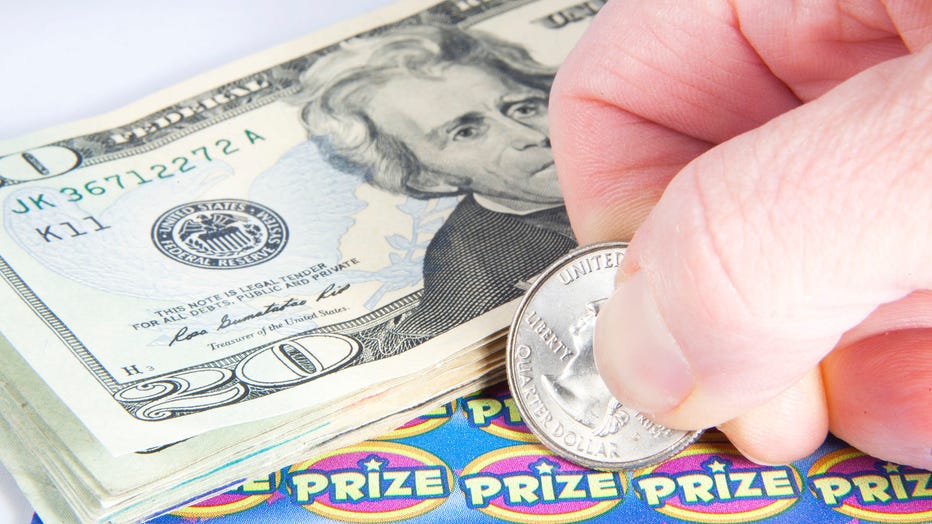 File image of a hand holding a quarter on a scratcher ticket with a pile of bills on top.
"I buy a ticket or two at least once a week, either at home or down here," he explained. "All my lottery luck seems to be in Maryland, however."
He says he picks scratch-off tickets randomly, and was going through his latest trio of tickets when he realized he'd won again. 
He'd already tossed the first two tickets in the trash because they were non-winners. 
"I was about to drop the third – the $50,000 Cash ticket – into the can when I saw the message on the scanner," he said.
"I thought maybe I'd won $5,000. Having won the game's top prize just last month, there wasn't the tiniest sliver of a thought that it'd be $50,000."
But it was – again. 
This lucky ticket was sold at a High's store in Upperco, Maryland, which is about 30 miles northeast of Baltimore. 
RELATED: Florida mom wins $2 million lottery prize after taking out life savings to help daughter battling cancer
The $50,000 Cash game debuted in December in the state with an unusually large number of top prizes – 160. Subtracting the Hanover man's two wins, 110 top prizes remain unclaimed along with 119 of the game's $5,000 second-tier prizes, according to lottery officials in Maryland.