Oreo, Nintendo team up with cookies inspired by Super Mario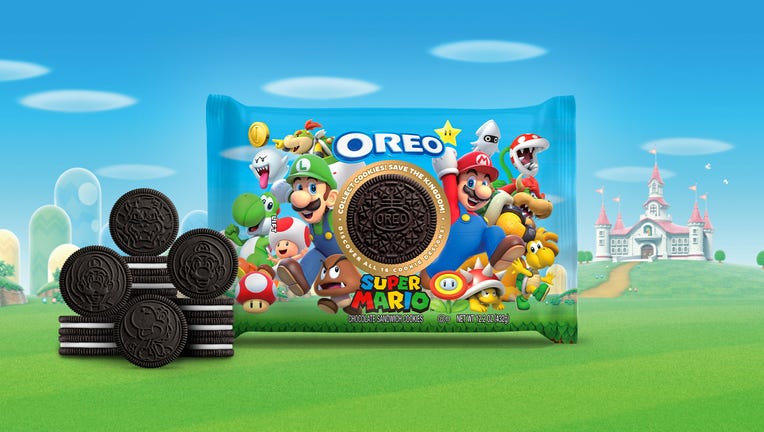 article
Here we go! Oreo and Nintendo are teaming up to release limited-edition cookies inspired by the world of Super Mario.
According to a press release published Monday, the Oreo x Super Mario cookies feature 16 unique embossments of iconic characters and power-ups including Mario, Luigi, a Super Star, Bowser Jr. and Toad.
"Oreo is always looking to bring new offerings to our fans and we are thrilled to unveil this super partnership with the iconic Super Mario franchise," said Vishnu Nair, senior brand manager at OREO. "There are so many playful synergies between Oreo and Super Mario, it was a no-brainer for us to team up to connect fans of all ages through this delightfully playful cookie collaboration."
According to Oreo, Princess Peach is deliberately missing, and the cookie giant is calling on superfans to participate in a social media challenge to stop Bowser from taking over her castle.
The company instructs fans to stack as many hero-embossed cookies on top of a Bowser cookie as possible on the rim of a glass of milk until Bowser is defeated (or the cookies fall into the milk). 
"We hope to unite cookie lovers and Super Mario enthusiasts alike with this playful mission, inspired by a storyline fans know all too well," added Nair. "We may even reveal a surprise as a thank you to those who successfully defeat Bowser and save the kingdom... Fans will have to wait and see!"
RELATED: National Mario Day: How a Seattle man inspired the name of Nintendo's most iconic character
The Oreo x Super Mario cookies are available for pre-sale now and will begin rolling out at retailers nationwide starting Monday, July 10 for a limited time.
This collaboration follows the release of the "Super Mario Bros. Movie" that was released in April. The animated offering from Universal and Illumination powered up its opening week with $204.6 million in its first five days in 4,343 North American theaters, including $146.4 million over the weekend, according to studio estimates. 
RELATED: 'The Super Mario Bros. Movie' smashes at the box office
With an estimated $173 million in international earnings and a global total of $377 million, "Mario" broke records for video game adaptations (passing "Warcraft's" $210 million) and animated films ("Frozen 2's" $358 million).
Meanwhile, other food companies have followed suit, creating tie-ins and partnerships with new movies. 
Earlier this month, McDonald's unveiled new toys inspired by Disney's new live-action remake of "The Little Mermaid."
The new "Little Mermaid" Happy Meal features under-the-sea and on-land characters such as title character Ariel, Eric, Sebastian, and Flounder. 
This story was reported from Los Angeles. The Associated Press, Kelly Hayes contributed.