'The Little Mermaid' McDonald's Happy Meal toys are here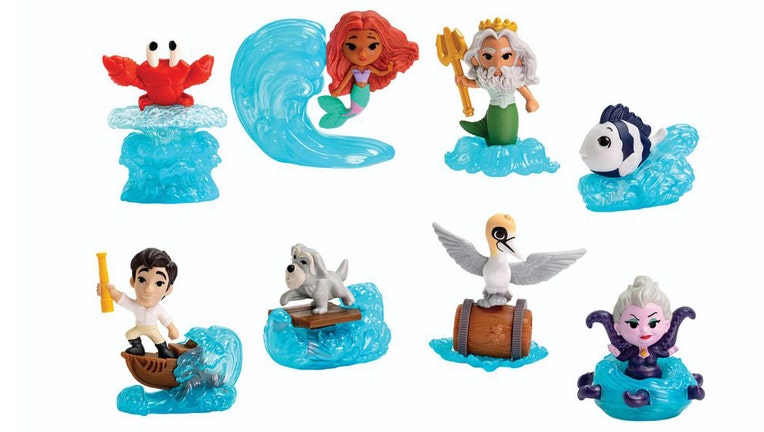 article
CHICAGO - On the heels of a splashy opening weekend at the box office, McDonald's has unveiled new toys inspired by Disney's new live-action remake of "The Little Mermaid."
The new "Little Mermaid" Happy Meal features under-the-sea and on-land characters such as title character Ariel, Eric, Sebastian, and Flounder. 
McDonald's said the lineup of collectible toys will be available for a limited time and while supplies last at U.S. restaurants. 
Disney's new remake of its 1989 animated classic, which stars Halle Bailey as mermaid Ariel and Melissa McCarthy as her sea witch nemesis Ursula, easily outswam the competition over Memorial Day weekend. The film brought in $95.5 million on 4,320 screens in North America, according to studio estimates released Sunday.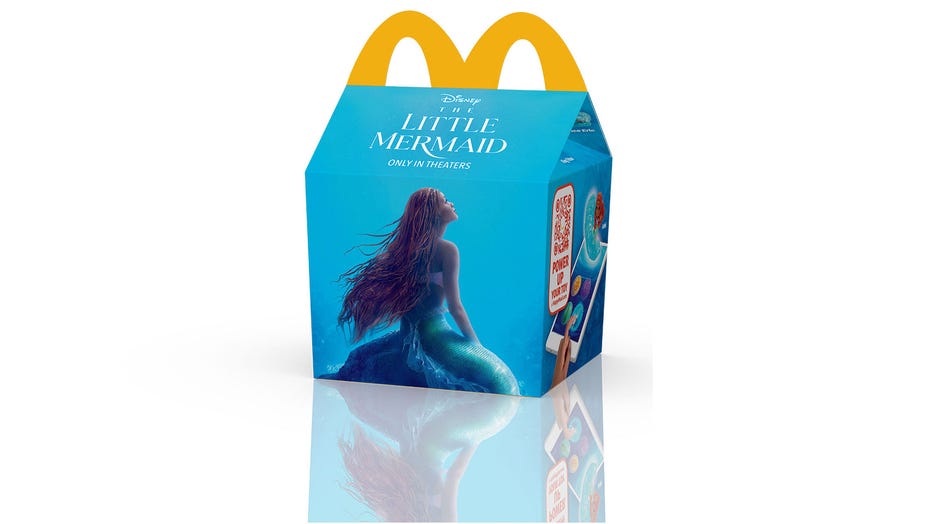 The new "Little Mermaid" Happy Meal will be available for a limited time and while supplies last. (Credit: Provided/McDonald's)
The performance of "The Little Mermaid" also represents something of a bounce-back for Disney's animated-to-live-action remakes, and makes it likely they will keep coming indefinitely. Poor reception and the pandemic had some recent reboots either performing poorly or skipping theatrical releases for Disney +, including "Dumbo," "Mulan" and "Pinocchio."
"It works as long as the movies deliver," Paul Dergarabedian, senior media analyst for Comscore, told the Associated Press. "It's great for Disney to be able to go to their archive by reviving these titles that started off as huge hits in the animated realm."
The movie appears to have been well-received by moviegoers, too, earning a 95% audience score on Rotten Tomatoes. However, critics were more lukewarm with a 68% score. 
In her review, Lindsey Bahr of The Associated Press called it "a somewhat drab undertaking with sparks of bioluminescence" that like too many of the Disney remakes "prioritized nostalgia and familiarity over compelling visual storytelling." She said Bailey, half of the sister R&B duo Chloe x Halle, still shone with a "lovely presence" and "superb voice."
Directed by Rob Marshall with a reported budget of $250 million before marketing, "The Little Mermaid" tells the story of a yearning, wayward daughter who cuts a devil's deal to swap her fins for a pair of legs. 
It features the songs from Alan Menken and Howard Ashman, including "Part of Your World" and "Under the Sea," that helped the original film spark a Disney animation renaissance in the 1990s.
RELATED: 'Iron Man,' 'When Harry Met Sally,' 'Little Mermaid' added to National Film Registry
This story was reported from Cincinnati. The Associated Press contributed.