'The Little Mermaid' sings at the box office with $95.5 million opening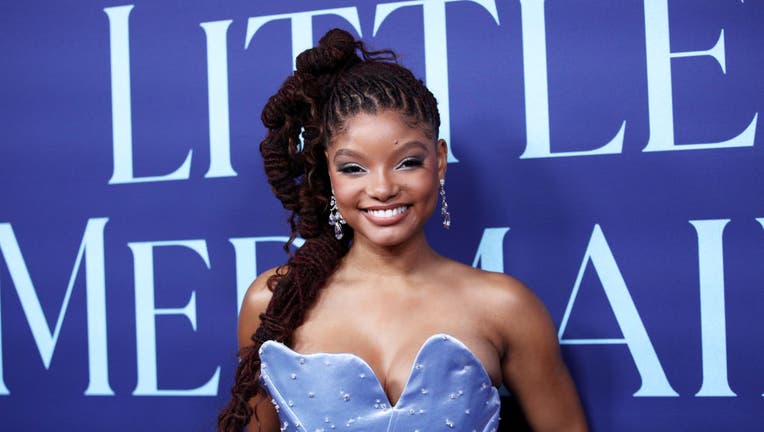 article
LOS ANGELES (AP) - "The Little Mermaid " made moviegoers want to be under the sea on Memorial Day weekend.
Disney's live-action remake of its 1989 animated classic easily outswam the competition, bringing in $95.5 million on 4,320 screens in North America, according to studio estimates Sunday.
And Disney estimates the film starring Halle Bailey as the titular mermaid Ariel and Melissa McCarthy as her sea witch nemesis Ursula will reach $117.5 million by the time the holiday is over. It ranks as the fifth biggest Memorial Day weekend opening ever.
It displaces "Fast X" in the top spot. The 10th installment in the "Fast and Furious" franchise starring Vin Diesel has lagged behind more recent releases in the series, bringing in $23 million domestically for a two-week total of $108 million for Universal Pictures.
RELATED: Walt Disney Company cancels relocation of thousands of California workers to Orlando's Lake Nona
In its fourth weekend, Disney and Marvel's " Guardians of the Galaxy Vol. 3 " made an estimated $20 million in North America to take third place. It's now made $299 million domestically.
The performance of "The Little Mermaid" represents something of a bounce-back for Disney's animated-to-live-action remakes, and makes it likely they will keep coming indefinitely. Poor reception and the pandemic had some recent reboots either performing poorly or skipping theatrical releases for Disney +, including "Dumbo," "Mulan" and "Pinocchio."
"It works as long as the movies deliver," said Paul Dergarabedian, senior media analyst for Comscore. "It's great for Disney to be able to go to their archive by reviving these titles that started off as huge hits in the animated realm."
The opening puts it in the top tier of Disney's remakes, with a similar performance to 2019′s "Aladdin," though it was well short of 2017′s "Beauty and the Beast," which opened to more than $170 million, and 2019′s "The Lion King," which brought in more than $190 million in its first weekend.
Audiences thought it delivered. The film had an A CinemaScore, and according to exit polling had more ticket buyers between ages 25 and 34 than children, suggesting nostalgic adults were essential.
RELATED: Star Wars: Galactic Starcruiser resort permanently shutting down this fall, Disney says
"The multi generational component of this cannot be overstated," Dergarabedian said.
Critics were more lukewarm. The movie is currently at 67% on Rotten Tomatoes. In her review, Lindsey Bahr of The Associated Press called it "a somewhat drab undertaking with sparks of bioluminescence" that like too many of the Disney remakes "prioritized nostalgia and familiarity over compelling visual storytelling."
She said Bailey, half of the sister R&B duo Chloe x Halle, still shone with a "lovely presence" and "superb voice."
Directed by Rob Marshall with a reported budget of $250 million before marketing, "The Little Mermaid" tells the story of a yearning, wayward daughter who cuts a devil's deal to swap her fins for a pair of legs. It features the songs from Alan Menken and Howard Ashman, including "Part of Your World" and "Under the Sea," that helped the original film spark a Disney animation renaissance in the 1990s.
Fourth place went to Universal's "The Super Mario Bros. Movie," which keeps reaching new levels in its eighth weekend. Now available to rent on VOD, it still earned $6.3 million in theatres. Its cumulative total of $559 million makes Mario and Luigi the year's biggest earners so far.
Comics couldn't stand up to Ariel as the week's other new releases sank.
"The Machine," an action comedy starring stand—up comedian Bert Kreischer, finished fifth with $4.9 million domestically. And " About My Father," the broad comedy starring stand-up Sebastian Maniscalco and Robert De Niro, was sixth with $4.3 million.
It's not clear whether "The Little Mermaid" will have legs — or fins — going forward. Next week brings the release of animated "Spider-Man: Across the Spider-Verse," with "Transformers: Rise of the Beasts" arriving the following week.
Estimated ticket sales for Friday through Sunday at U.S. and Canadian theaters, according to Comscore. Final domestic figures will be released Monday.
1. "The Little Mermaid," $95.5 million.
2. "Fast X," $23 million.
3. "Guardians of the Galaxy Vol. 3," $20 million.
4. "The Super Mario Bros. Movie," $6.3 million.
5. "The Machine," $4.9 million.
6. "About My Father," $4.3 million.
7. "Kandahar," $2.4 million.
8. "You Hurt My Feelings," 1.4 million.
9. "Evil Dead Rise," $1 million.
10. "Book Club, The Next Chapter," $920, 000.