October 2023 full 'Hunter's Moon' to light up sky this weekend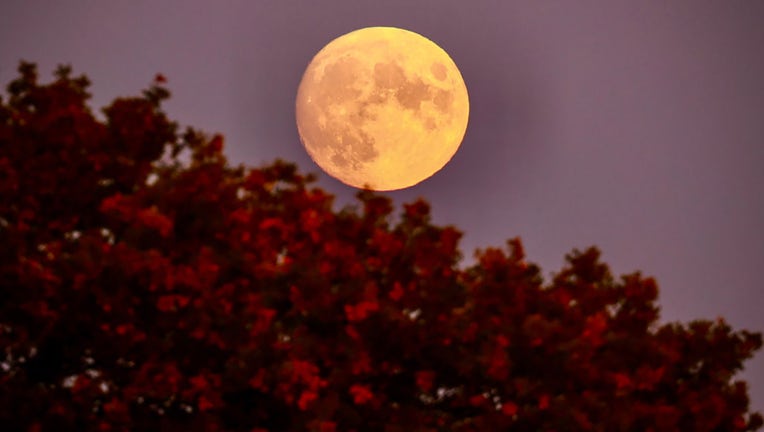 article
The end of October will bring the full Hunter's Moon, treating sky watchers to a spooky celestial sight as Halloween festivities get underway here on Earth. 
Here's what you need to know about October's full moon. 
RELATED: Halloween horror: Bone-chilling blast of cold air to arrive in time for trick-or-treating
Why is it called the full Hunter's Moon?
A full moon occurs when the Moon is opposite the Sun in its orbit around Earth, and the nearside of the Moon is fully illuminated, NASA explains. 
Many cultures in history have named full moons to mark the passage of time. October's upcoming full moon is commonly referred to as the full Hunter's Moon, a name inspired by hunters preparing for the cold winter months by going hunting, according to Farmer's Almanac. 
"This is because animals were beginning to fatten up in preparation for the winter season. Moreover, since fields had recently been cleared out under the Harvest Moon, hunters could easily spot deer and other animals that had come out to search for remaining scraps," the Farmer's Almanac says. "Additionally, foxes and wolves would also come out to prey on these animals."
When to see the full Hunter's Moon in October 2023
The Hunter's Moon rises around the same time for several nights, so sky watchers can begin keeping an eye out on Friday, Oct. 27.
It will reach peak illumination at 4:24 p.m. ET on Saturday, Oct. 28, according to Farmer's Almanac.
"It will be below the horizon, so wait until sunset to watch it rise and take its place in the sky," it adds.
RELATED: A brief history of loving (and hating) candy corn
October 2023 lunar eclipse 
This full moon is also a partial lunar eclipse, an imperfect alignment of the Sun, Earth and Moon that results in the Moon passing through only part of Earth's umbral shadow, NASA says. The shadow grows – and then recedes – without ever entirely covering the Moon, the space agency adds.
But only those in Europe, Africa, Asia, and Australia, will be able to see the partial lunar eclipse on Oct. 28. 
The next lunar eclipses visible from North America will be a penumbral lunar eclipse on March 25, 2024, and a partial lunar eclipse on Sept. 18, 2024, according to NASA.
Most recently, millions of people across the Americas were treated to a similar spectacular show, when a rare "ring of fire" eclipse moved into place. 
RELATED: Southwest offers flights to view 2024 total solar eclipse from the sky
This story was reported from Cincinnati.