Netflix password-sharing crackdown prompts awkward account breakups
Netflix's recent changes to its password-sharing regime have prompted awkward conversations across America as families divvy up the streaming service's scarce slots for friends or family members who still want to share their accounts and will now pay the price for that convenience.
Before the password-sharing crackdown, Netflix told investors last year that there are more than 100 million households – which the company defines as people living under the same roof – accessing the streaming service using an account that doesn't belong to a member of their household.
Since the crackdown began in May, account holders have had to determine whether they will allow fellow streamers to utilize the one or two password-sharing slots available for a fee, and if so, who would remain on the account. For Netflix fans with larger numbers of account hangers-on, the situation has prompted negotiations and compromise.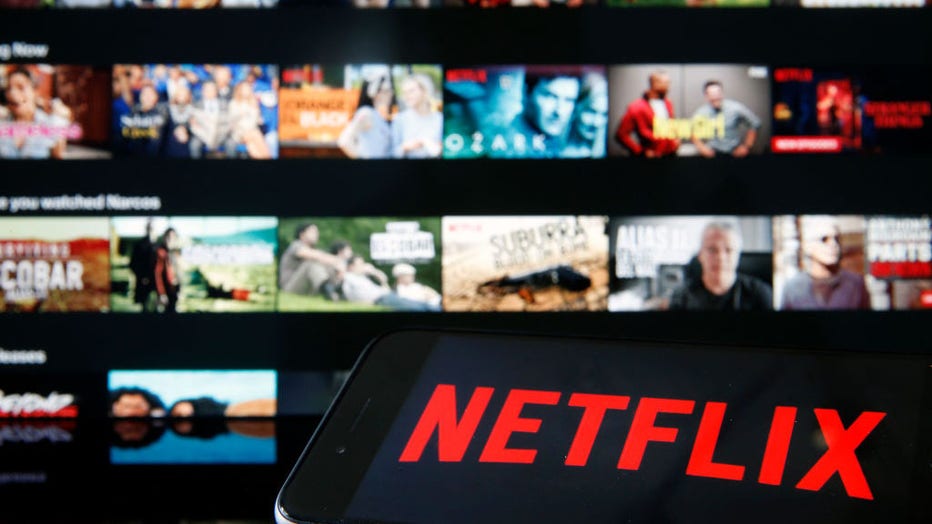 In this photo illustration, the Netflix media service providers logo is displayed on the screen of an iPhone in front of a television screen on March 28, 2020. (Photo Illustration by Chesnot/Getty Images)
BLOCKBUSTER POKES FUN AT NETFLIX OVER PASSWORD-SHARING CRACKDOWN
The Wall Street Journal chronicled the Bryan family of Knoxville, Tennessee, which opted against allowing any of their three adult children to remain on the family account given Netflix only allows a maximum of two account sharing slots. 
Instead, the father offered up a Microsoft Office family plan to allow the three children to make use of programs like Excel, PowerPoint and Word that, while possibly less entertaining than streaming Netflix, could otherwise prove useful.
"He was like, 'this might make you feel better,'" Chloe Bryan, the daughter, told the Journal. She noted in the report that she is planning to return to the streaming service with her own account soon.
NETFLIX SUBSCRIPTIONS JUMP, PASSWORD CRACKDOWN PAYS OFF
Netflix's changes to its account-sharing policies allow users with the standard $15.49 per month plan to pay an extra $7.99 to allow one other person to share their account, while the premium plan that costs $19.99 grants an extra sharing slot.
Amid the password-sharing crackdown, Netflix created a profile transfer feature that lets formerly freeloading users transfer their viewing profile and preference from the once-shared account to one of their own.
The feature allows a primary account holder to transfer the profile and viewing history to the newly-independent subscriber's account so they don't have to figure out how far along they were in streaming a given series or reconstruct their watch list from scratch.
After the streaming service put its new password-sharing policies in place, it saw a jump in new subscriptions from May 25 to May 28, which was the largest for any four-day period since Antenna began tracking Netflix's subscriber growth in 2019. Over the two-day period of May 26-27, Netflix reportedly saw 100,000 daily sign-ups.