MLB warns batters may not attempt to trick pitchers into clock violations
NEW YORK - Teams were warned by Major League Baseball on Wednesday that batters may not attempt to deceive pitchers into quick-pitch violations.
"In recent days, we have seen batters attempt to induce pitchers to violate the pitch timer regulations by creating the appearance that they are in the batter's box and alert to the pitcher with more than eight seconds remaining on the clock when, in actuality, they have not fully entered the batter's box," MLB senior vice president Michael Hill wrote in a two-page memo to general managers, assistant general managers and field managers.
After getting ahead 0-1 in the count during the ninth inning Saturday, Boston closer Kenley Jansen was called for a violation for starting his delivery while St. Louis' Willson Contreras had his right foot in the batter's box and his left foot outside. Jansen followed with a pair of balls that pushed the count to 3-1, then was called for another quick-pitch violation, resulting in a walk.
"The batter's purpose with such an approach is to deceive the pitcher into beginning his windup or coming set before the batter is fully in the batter's box and alert to the pitcher," Hill wrote in the memo, a copy of which was obtained by The Associated Press.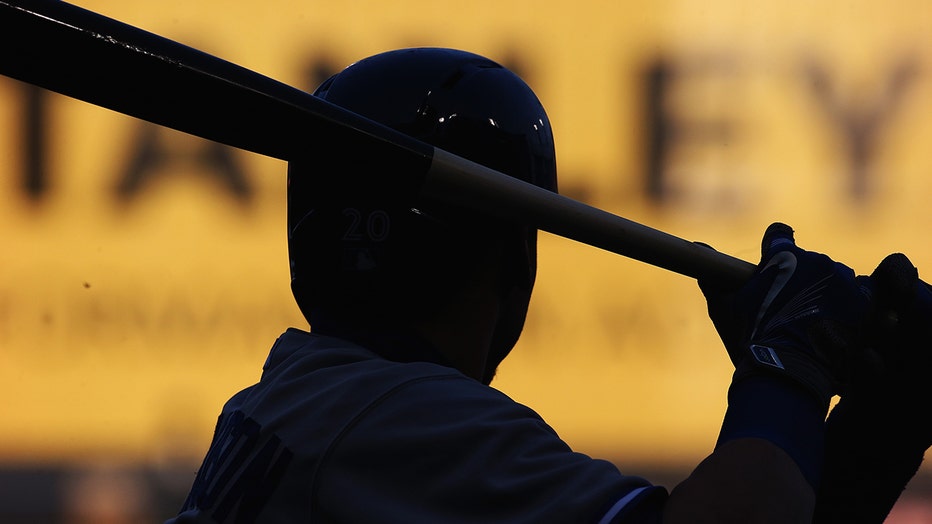 Player prepares to bat on July 7, 2015. (Credit: Jonathan Daniel/Getty Images)
"We have advised umpires that conduct by batters designed to deceive a pitcher into beginning their windup or coming to the set position early — including pretending to be in the batter's box and alert to the pitcher — constitutes circumvention under the pace of game regulations."
"Pitchers must continue to be aware of the position of the batter, and identify when the batter is appropriately in the batter's box and alert to the pitcher before the pitcher begins the windup or comes set," Hill added. "However, if the umpire determines that a batter appears alert to the pitcher and prepared to hit a pitch with more than eight seconds remaining on the timer, but is deliberately keeping one or both feet outside of the batter's box, the umpire will not call a violation on the pitcher, but rather will issue a warning to the batter for his deceptive behavior."
RELATED: World's top 50 highest-paid athletes break numerous records
Additional similar conduct by the batter would result in a violation on the batter and a strike called.
"Clubs that have multiple players who repeatedly engage in this type of behavior will be subject to discipline," Hill wrote.
Hill's memo was the eighth in a series of clarifications issued by MLB since spring training.
Jansen was happy to hear about this one.
"It's great that MLB is just policing that," he said Wednesday night in Boston. "I'm seeing the hitter with his bat on his shoulder looking at me, so I thought he was ready.
"If they're going to play tricks with one foot in and one foot out, it's hard to dictate," he added. "It's great to see that they clarified that and make the rule a little better so it doesn't have to cost another pitcher out there in high-leverage situations games like it cost me. It irritates me a little bit and next thing you know, you don't have room for error and you've got two guys on base, the tying run at first. That's what happened."
Contreras was told about the clarification, too.
"I said the same thing earlier — call it the Willson rule," he said in St. Louis. "It's a good call. When I do it, it's like I'm saying I'm ready, but I'm really not.
"It's a huge change from the pitcher's view. It's not about me — it's about MLB."
___
AP freelance writers Maureen Mullen and Steve Overbey contributed to this report.