Maui wildfires: Number of people missing drops to 66, governor says
HONOLULU - One month after the deadliest U.S. wildfire in more than a century leveled the historic town of Lahaina, Hawaii Gov. Josh Green said Friday that the number of missing has dropped to 66, the confirmed death toll remains at 115 and authorities will soon escort residents on visits to their property.
Tens of millions of dollars in aid will make its way to families and businesses as they recover, Green said, and beginning Oct. 8, travel restrictions will end and West Maui will reopen to visitors.
"If we support Maui's economy and keep our people employed, they will heal faster and continue to afford to live on Maui," Green said.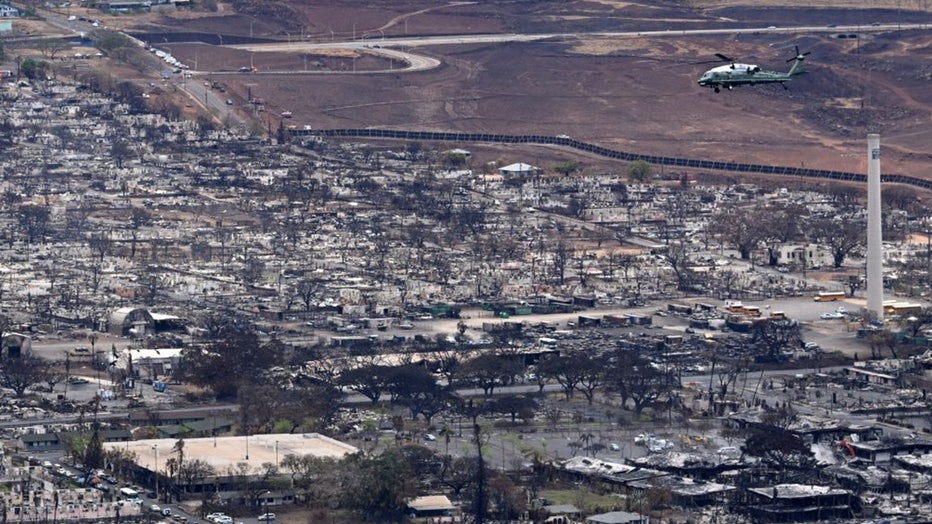 FILE - Marine One, carrying US President Joe Biden, flies above wildfire damage in Lahaina on the island of Maui, in Hawaii on August 21, 2023.  ( MANDEL NGAN/AFP via Getty Images)
Donations from around the world have poured in to the American Red Cross, the Hawaii Community Foundation, the Maui United Way and other organizations, Green said, and he has authorized $100 million from the federal Temporary Assistance for Needy Families program "to support what others donate, magnifying the power of their generosity."
The government is also making $25 million available to help businesses survive, distributed in grants of $10,000 to $20,000, he said.
The Aug. 8 fire started in the hills above the historic oceanfront town. Within hours it spread through single-family homes and apartment buildings, quaint city streets, art galleries and restaurants, destroying more than 2,000 structures. Dozens of people fled to the ocean seeking refuge from the flames. The blaze is estimated to have caused $5.5 billion in damage.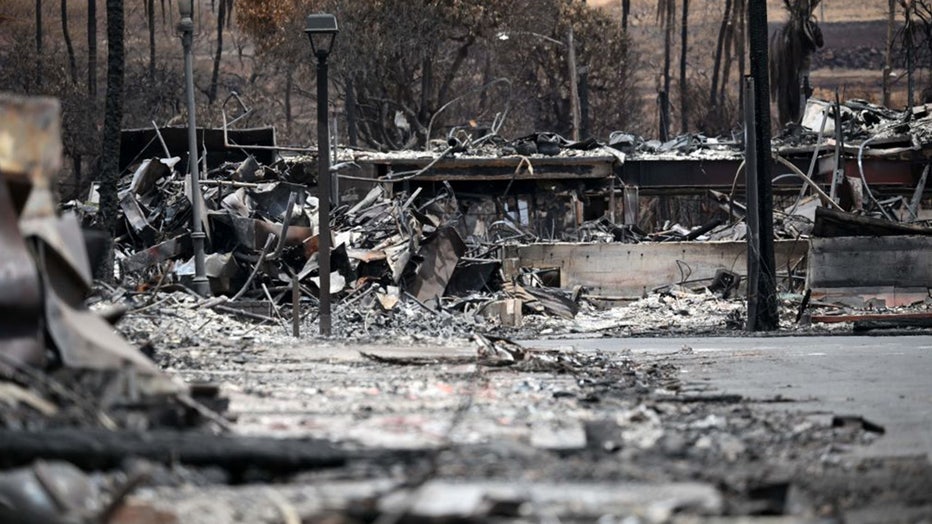 FILE - Fire damage is pictures as US President Joe Biden (out of frame) visits to an area devastated by wildfires in Lahaina, Hawaii on August 21, 2023. (MANDEL NGAN/AFP via Getty Images)
The new tally of 66 people still missing represents a significant drop from a week earlier, when authorities said 385 remained unaccounted for.
So far, Maui police have released the names of 55 of the dead. Of those, 22 were in their 70s, with another 13 in their 60s. There was one listed victim under the age of 10.
With about half the deceased still unidentified, Green said he expected there to be significant overlap between the names on the missing list and remains that have already been recovered. Therefore, he said, he did not expect the death toll to rise considerably.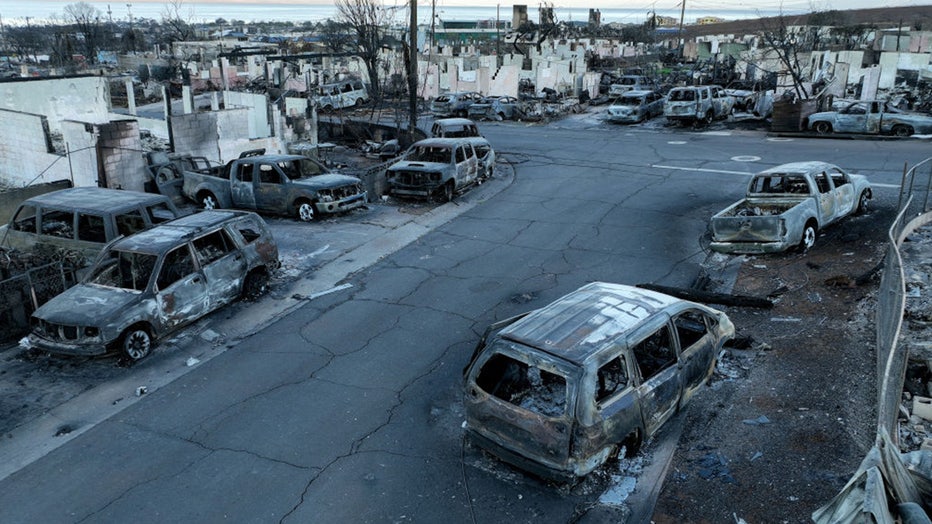 FILE - In an aerial view, burned cars and homes are seen in a neighborhood that was destroyed by a wildfire on August 18, 2023 in Lahaina, Hawaii. (Justin Sullivan/Getty Images)
"We're starting to see that the universe of 115 fatalities is about where we are," Green said. "There may be some additional fatalities as we go through the next month."
The Maui Police Department said Friday that in addition to the 66 people listed by the FBI as unaccounted for, there are 80 additional names of potentially missing people that the agency is vetting for credibility. In those cases, no information was provided for the reporting party or the reporting party was not available to provide further details.
The governor said that in the coming weeks, authorities will begin to schedule supervised visits for residents to return to and view their properties. People will have to be careful as they visit, he said, because the ash is toxic.