Man who opened emergency door on South Korea flight said he felt suffocated
A passenger who opened an emergency exit door during a flight in South Korea told police that he felt suffocated and tried to get off the plane quickly as it approached landing, reports said Saturday.
Twelve people were slightly injured when the man opened the door of the Asiana Airlines Airbus A321 on Friday, causing air to blast inside the cabin. The plane, which was flying to the city of Daegu from the southern island of Jeju, landed safely.
The man was detained by police in Daegu for allegedly violating the aviation security law. If convicted, he could face up to 10 years in prison.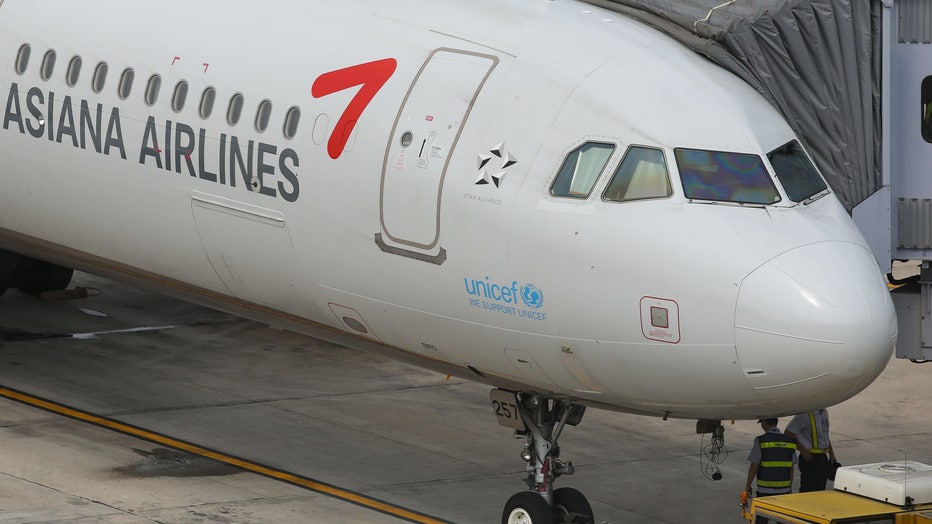 Asiana Airlines Airbus (Photo by Nicolas Economou/NurPhoto via Getty Images)
The 33-year-old told police that he had wanted to get out of the plane because he was feeling suffocated, Yonhap news agency reported, citing police.
Yonhap said the man told police he had suffered stress after losing his job recently.
Other South Korean media carried similar stories on the man's motive. The reports said Daegu police requested a warrant to formally arrest him.
RELATED: Passenger detained at LAX after opening emergency exit door of plane
Calls to Daegu police were unanswered early Sunday. Reached by The Associated Press earlier, Daegu police officers refused to provide details about the man, citing privacy issues.
The plane was carrying 194 people including teenage athletes on their way to a track and field competition. The man pulled the door open when the plane was reaching the Daegu airport at an altitude of 700 feet (213 meters).
The people who were taken to hospitals were mainly treated for minor problems such as breathing difficulties.