Disgraced sports doctor Larry Nassar stabbed multiple times at Florida prison
WASHINGTON - Disgraced sports doctor Larry Nassar, who was convicted of sexually abusing Olympic and college female gymnasts, was stabbed multiple times by another inmate at a federal prison in Florida that is experiencing staffing shortages.
The attack happened Sunday at United States Penitentiary Coleman, and Nassar was in stable condition on Monday, two people familiar with the matter told The Associated Press.
One of the people said Nassar had been stabbed in the back and in the chest. The two officers guarding the unit where Nassar was held were working mandated overtime shifts because of staffing shortages, one of the people said.
The people were not authorized to publicly discuss details of the attack or the ongoing investigation and spoke to the AP on the condition of anonymity.
RELATED: 'We have been failed': Simone Biles testifies about FBI's Larry Nassar investigation | LiveNOW from FOX
Nassar is serving decades in prison for convictions in state and federal courts. He admitted sexually assaulting athletes when he worked at Michigan State University and at Indianapolis-based USA Gymnastics, which trains Olympians. Nassar also pleaded guilty in a separate case to possessing images of child sexual abuse.
The federal Bureau of Prisons has experienced significant staffing shortages in the last few years, an issue thrust into the spotlight in 2019 when the convicted financier Jeffrey Epstein took his own life at a federal jail in New York.
An Associated Press investigation in 2021 revealed nearly one third of federal correctional officer positions were vacant nationwide, forcing prisons to use cooks, teachers, nurses and other workers to guard inmates. The staffing shortages have hampered the response to emergencies at other prisons, including suicides.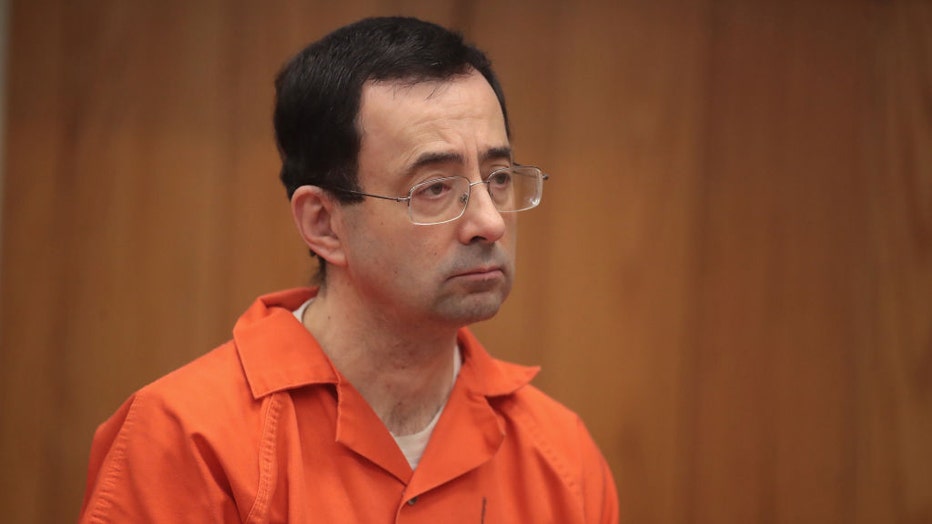 Larry Nassar stands as he is sentenced by a judge for three counts of criminal sexual assault in Eaton County Circuit Court on February 5, 2018 in Charlotte, Michigan. (Scott Olson/Getty Images)
Other AP investigations have revealed sexual abuse and criminal conduct, among other problems, at the Bureau of Prisons — the Justice Department's largest agency, with more than 30,000 employees, 158,000 inmates and an annual budget of about $8 billion.
The bureau's new leader, Colette Peters, was brought in last year to reform the crisis-plagued agency. She has vowed to reform archaic hiring practices and bring new transparency. But problems have persisted, as shown by the the recent suicide of Ted Kaczynski, known as the "Unabomber,″ at a federal lockup in North Carolina.
On Sunday, one of the officers in Nassar's unit was working a third straight shift — a 16-hour day, one of the people familiar with the matter said. The other officer was on their second straight shift, the person said.
Rachael Denhollander, the first woman to publicly accuse Nassar, tweeted Monday that none of the women she spoke with are rejoicing that Nassar was attacked. "We're grieving the reality that protecting others from him came with the near-certainty we would wake up to this someday."
RELATED: US gymnast, Larry Nassar survivor Maggie Nichols testifies on Capitol Hill | LiveNOW from FOX
Another victim, Sarah Klein, said the stabbing forces her and others to relive their abuse and trauma "at the hands of Nassar and the institutions, including law enforcement, that protected him and allowed him to prey on children."
"I want him to face the severe prison sentence he received because of the voices of survivors. I absolutely do not support violence because it's morally wrong and death would be an easy out for Nassar," Klein said an emailed statement.
More than 150 women and girls testified during the 2018 sentencing of Nassar, who molested athletes under the guise of medical treatment. Some of them testified that — over the course of more than two decades of sexual abuse — they had told adults, including coaches and athletic trainers, what was happening but that it went unreported.
More than 100 women, including Olympic gold medalist Simone Biles, collectively are seeking more than $1 billion from the federal government for the FBI's failure to stop Nassar after agents became aware of allegations against him in 2015. He was arrested by Michigan State University police in 2016, more than a year later.
The Justice Department's inspector general said in July 2021 that the FBI made "fundamental" errors in investigating the sexual abuse allegations against Nassar and did not treat the case with the "utmost seriousness." More athletes said they were molested before the the FBI swung into action.
USA Gymnastics had conducted its own internal investigation, and the organization's then-president, Stephen Penny, reported the allegations to the FBI's field office in Indianapolis. But it took months before the bureau opened a formal investigation.
The FBI acknowledged conduct that was "inexcusable and a discredit" to America's premier law enforcement agency.
Michigan State, which was accused of missing chances over many years to stop Nassar, agreed to pay $500 million to more than 300 women and girls who were assaulted by him. USA Gymnastics and the U.S. Olympic and Paralympic Committee made a $380 million settlement.
In June 2022, the Michigan Supreme Court rejected a final appeal from Nassar. Attorneys for Nassar said he was treated unfairly in 2018 and deserved a new hearing, based on vengeful remarks by Ingham County Judge Rosemarie Aquilina, who called him a "monster" who would "wither" in prison like the wicked witch in "The Wizard of Oz."
The state Supreme Court said that Nassar's appeal was a "close question" and that it had "concerns" over the judge's conduct. But the court also noted that Aquilina, despite her provocative comments, stuck to the sentencing agreement worked out by lawyers in the case.
Sisak reported from New York.