Jimmy Hoffa case: A look back at his infamous disappearance
Since his disappearance in 1975, the story of Jimmy Hoffa has become one of the most famous unsolved mysteries in American history.
Hoffa went missing on July 30, 1975, in Michigan where he was set to have a meeting at the Machus Red Fox restaurant in Oakland County's Bloomfield Township. After he made a phone call to his wife informing her that he had been stood up, he was never seen again.
Even after nearly half a century, his case continues to fascinate the masses with movies, documentaries and new information being released by authorities about Hoffa's possible whereabouts.
Who was Jimmy Hoffa?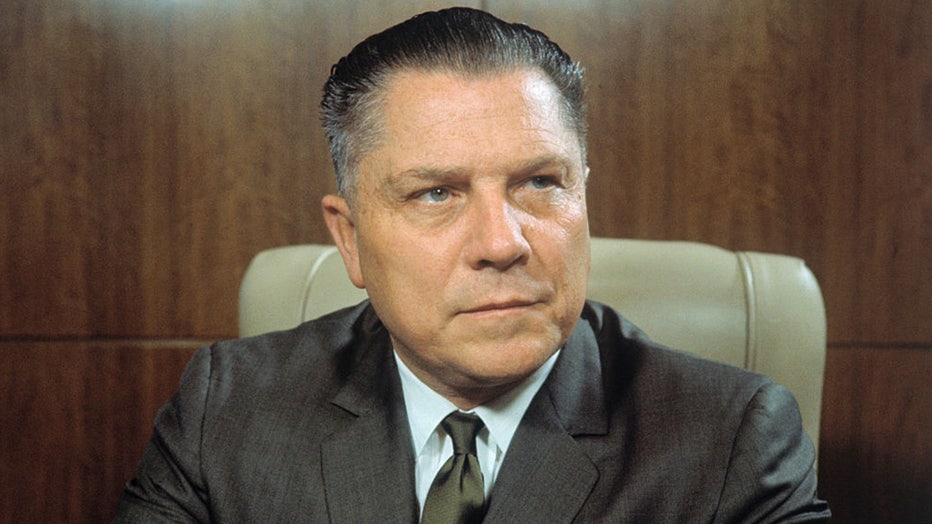 Closeups of James Hoffa, president of the teamsters union in April 1966 (Getty Images)
James Riddle Hoffa was one of America's most prominent labor organizers. 
Born on Feb. 14, 1913, in Indiana, Hoffa and his family would move to Detroit's west side when he was about 11 years old, according to the Detroit Historical Society.
He dropped out of high school and went to work in a Kroger grocery store warehouse. There, he gained his passion for better working conditions and treatment and organized his first strike. He won.
Hoffa would go on to organize and lead the International Brotherhood of the Teamsters, of which he was elected president in 1957.
During his leadership, Hoffa managed to strike the National Master Freight Agreement which allowed hundreds and thousands of truck drivers to have standardized protections and benefits, according to the Teamsters website.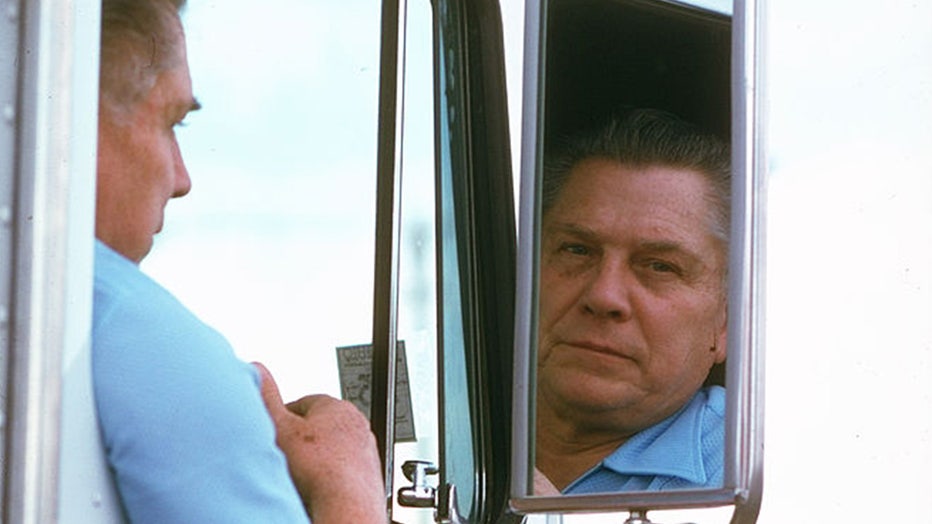 Former Teamster boss Jimmy Hoffa driving truck, looking at his reflection in rearview mirror (Lynn Pelham/Getty Images)
This agreement made way for similar deals for other workers within the Teamsters union, which grew to become the largest union in the U.S.
RELATED: Decades later: A look back at the infamous O.J. Simpson police chase
When did Jimmy Hoffa go missing?
On July 30, 1975, Hoffa was set to meet with reputed Detroit mob enforcer Anthony "Tony Jack" Giacalone and alleged New Jersey mob figure Anthony "Tony Pro" Provenzano, who was also a volatile and feared capo in the Genovese crime family.
Their meeting spot was the Machus Red Fox restaurant in Bloomfield Township.
Hoffa left his home at about 1 p.m. and met with a friend before arriving at the restaurant at 2 p.m.
James R. Hoffa was officially declared a missing person 7/31 by his family and speculation that he was kidnapped or slain swept the Teamsters Union he once ruled with an iron fist. Hoffa was last seen standing outside the Machus Red Fox Restaurant i
After waiting for about 15 minutes, Hoffa called his wife declaring that neither Giacalone nor Provenzano showed up.
The then-62-year-old Teamsters leader was never heard from or seen again.
Jimmy Hoffa's Mafia ties
It was known that Hoffa worked closely with the Mafia, specifically when it was advantageous for the Teamsters union and its members, according to the Belfer Center of Science and International Affairs at Harvard's Kennedy School.
Hoffa set up a pension fund for the union workers which amassed $2.2 billion, according to the U.S. Department of Justice.
Hoffa would regularly loan out money from this pension fund to the mob to help them finance their criminal enterprises, according to the Belfer Center.
But Hoffa's unsavory dealings with the mob did not go unnoticed and he went to prison in 1967 for various convictions including attempted bribery, jury tampering and fraud. He was sentenced to 13 years and served nearly five before his sentence was commuted by then-President Richard Nixon.
After his release, it was believed the Mafia did not want Hoffa in charge of the unions and, more importantly, the pension fund.
Hoffa allegedly threatened to expose the mob's ties to the unions if they continued to stonewall his attempts to regain control, which is what may have been the catalyst to his disappearance.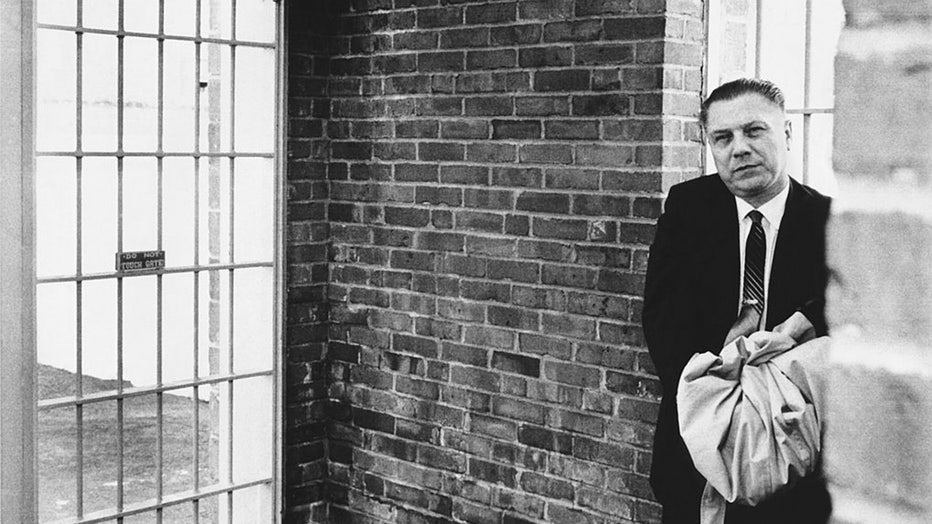 Handcuffed Teamster leader Jimmy Hoffa as he waits for the next door to open at Lewisburg Federal Prison where he will serve his eight year sentence, Lewisburg, Pennsylvania, Dec. 9, 1967. (Underwood Archives/Getty Images)
What happened to Jimmy Hoffa?
There are many theories about what happened to Hoffa after that fateful day in 1975.
Theory 1: Hoffa was killed by mobsters after his failed meeting at the Machus Red Fox restaurant on July 30, 1975, and his body was taken to the Central Sanitation facility in nearby Hamtramck and incinerated.
"There's a theory for every day of the week and then twice on Sunday, and most of it doesn't add up," Vince Wade, a veteran investigative reporter and documentary producer who spent most of his career covering crime and corruption in Detroit, told FOX TV Stations.  
"If you really look at it in terms of a hit job on somebody, the Mafia has the capability to completely get rid of a body so that it's never found again, if that's what they want to do," Wade said. "The Mafia, also on occasions, will have a hit guy come by and whack somebody on a sidewalk in front of a restaurant because they want to leave a message."
Theory 1, according to Wade, is one of the most widely believed and plausible.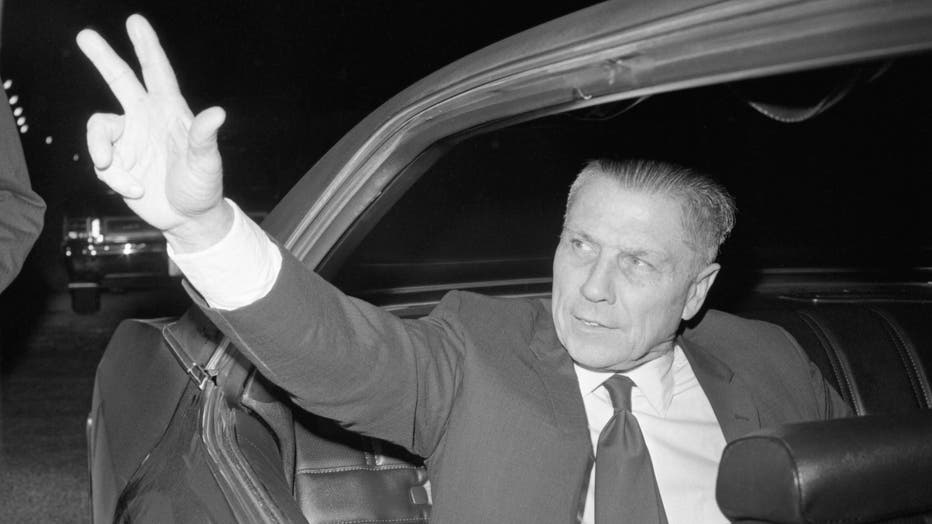 Former Teamster leader James Hoffa waves from the back seat of his car as he leaves the St. Louis airport for a family reunion over Christmas. (Photo by Bettmann Archive/Getty Images)
"Organized crime usually has some piece of the action on sanitation, on refuse collection and that gives them a perfect opportunity with these big sanitation yards to completely destroy a body," Wade suggested.
"That is one of the theories in the Hoffa case and it happens to be the one I subscribed to, so do a bunch of the investigators that were involved in the case," Wade revealed.
According to Wade, Central Sanitation, which was located on the edge of Detroit city limits, was allegedly owned by the mob.
Theory 2: Hoffa was killed and his body was transported to New Jersey and buried somewhere, most notably, under Section 107 of Giants Stadium in Rutherford. The stadium was demolished in 2010 and the Federal Bureau of Investigations never looked into the claim.
Theory 3: Hoffa was abducted by federal agents and dropped out of an airplane, possibly into one of the Great Lakes around Michigan.
Theory 4: Frank Sheeran, once an ally to the Mafia, killed Hoffa at a home in Detroit. This theory became the plot for the 2019 movie "The Irishman," which was also Sheeran's nickname.
Theory 5: Notorious New Jersey mob hitman Richard "The Iceman" Kuklinski killed Hoffa. Kuklinski then allegedly drove Hoffa's body from Michigan to New Jersey where he was dumped into a 50-gallon drum and set on fire.
RELATED: FBI: No evidence of Jimmy Hoffa found under New Jersey bridge
These are just a few theories that have surfaced since his disappearance, but there has been no evidence to prove them.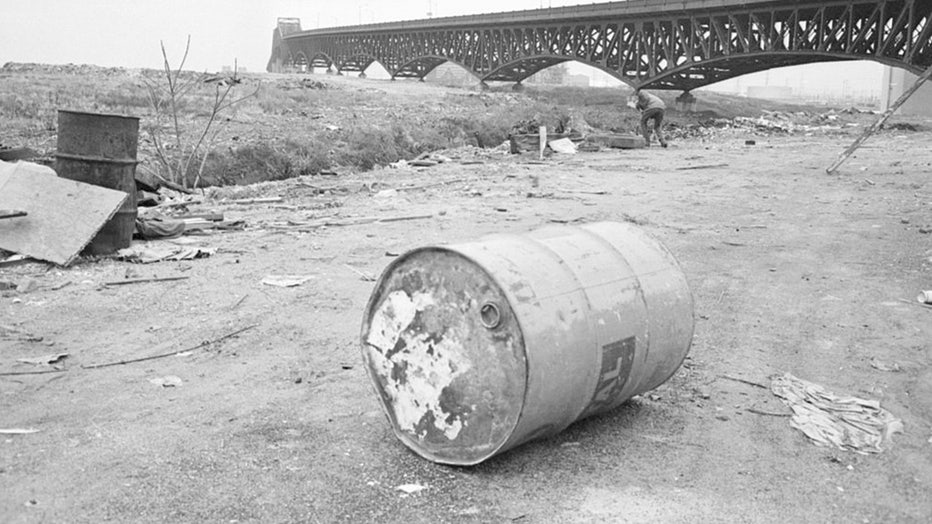 A 55-gallon drum of the type reportedly used to transport the body of former Teamster boss Jimmy Hoffa to New Jersey lies in the 47-acre landfill area in Jersey City where the FBI has obtained a search warrant to dig for a body. (Getty Images)
Detroit crime investigator Scott Burnstein, who has covered the case for decades and runs the website Gangstereport.com and hosts the "Original Gangsters" podcast, told FOX that he believes he has a solid idea as to where Hoffa was killed on July 30.
After almost two decades of compiling information from documents he obtained throughout his time investigating Mafia crimes and creating relationships with federal officials who worked closely on the Hoffa case, Burnstein said he believes Hoffa was killed at the home of mob soldier named Carlo Licata.
"I would say that it's 99% certain that when Hoffa left the parking lot of the Red Fox restaurant in Bloomfield Township, he was taken about two miles north, driving on Telegraph Road, to the Long Lake intersection and was most likely killed at a location that was known as the 'House on the Hill,' owned by a mob soldier by the name of Carlo Licata," Burnstein said.
The infamous "House on the Hill" was a location Hoffa was very familiar with, Burnstein said, where many meetings took place between Hoffa and Mafia bosses.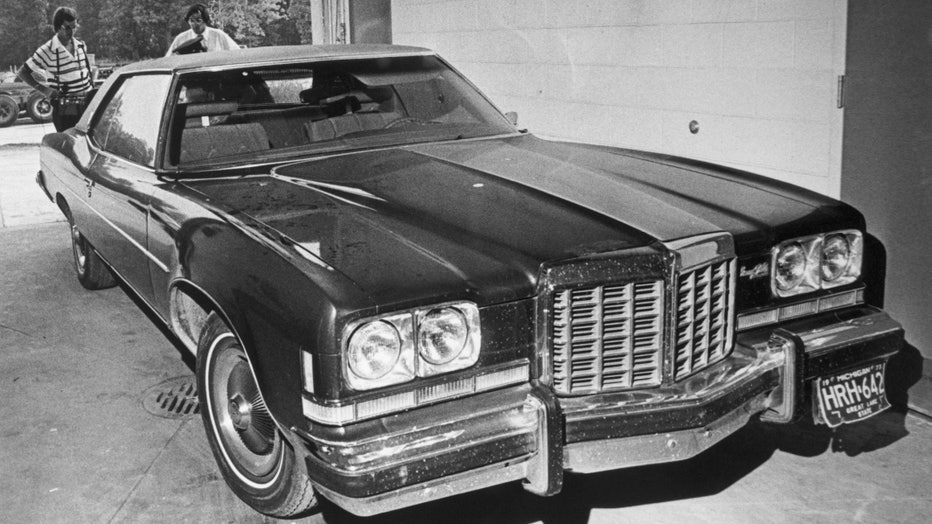 Jimmy Hoffa's car, a 1974 Pontiac, was found abandoned in a shopping center lot outside the Machus Red Fox restaurant (Getty Images)
"I believe [Hoffa] was kidnapped by Tony's brother, Billy Giacalone, the only suspect that was not on the radar for law enforcement," Burnstein continued.
It is the belief of Burnstein that Hoffa was killed by a then-up-and-coming mob soldier from Detroit named Anthony "Tony" Palazzolo.
Palazzolo allegedly used his role in Hoffa's murder to climb the mob ranks and was eventually made consigliere, which is the third-in-command in the family of Mafia bosses, according to Burnstein.
But like with many theories, Burnstein said he will leave his belief up for debate, just like with many others regarding Hoffa's death.
Despite never finding his remains, Hoffa was officially declared dead on July 30, 1982, but the search continues.
The Associated Press and FOX News contributed to this report. This story was reported from Los Angeles.