IHOP introduces the pancake taco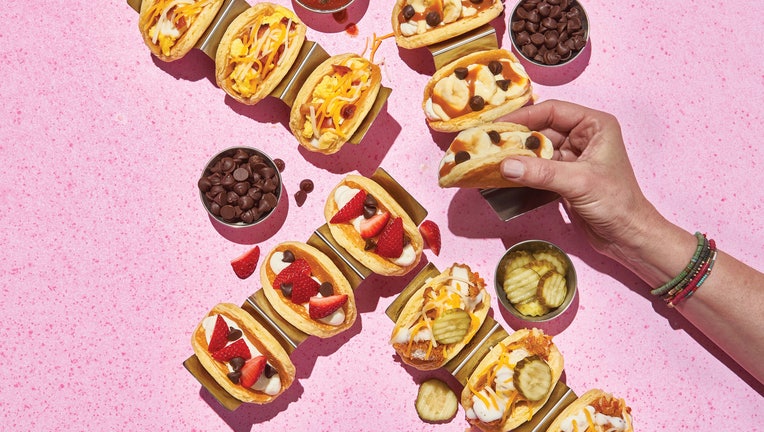 article
Is it a pancake – or a taco? The answer is yes.
Handheld pancakes are the new craze coming to IHOP restaurants nationwide. IHOP announced this week that it's introducing both savory and sweet "pancake taco" options to its menu for a limited time.
Inspired by last summer's "choco-pancake," the restaurant says pancake tacos "bring to life a dish that leverages our best-selling pancakes in an innovative way that is both fun and different to deliver guests a unique dining experience."
READ MORE: Would you try a McFlurry hash brown sandwich? It's the latest social media trend
"These handheld pancake creations lean into our breakfast equity while giving everyone a choice on sweet or savory – or both – to enjoy during all dayparts," the company says.
Pancake Taco lineup
Pancake tacos come in four flavors:
Fresh Strawberry Cheesecake Pancake Taco: Sliced strawberries and cheesecake mousse inside a folded silver dollar pancake.
Caramel Banana Pancake Taco: Cheesecake mousse drizzled with vanilla sauce & dulce de leche caramel sauce topped with sliced bananas inside a folded silver dollar pancake.
Breakfast Pancake Taco: Scrambled eggs, hickory-smoked bacon, jack & cheddar cheese blend and white cheese sauce inside a folded silver dollar pancake.
Country Chicken and Gravy Pancake Taco: Crispy chicken, shredded hashbrowns, and country gravy inside a folded silver dollar pancake.
Pancake Tacos are on the menu through July 30.