Harry Styles hit in the eye by hurled object during concert, in latest incident of recent trend
Harry Styles showed visible discomfort after an object hit him directly in the eye while he was onstage in Vienna performing his Love on Tour concert, extending a troubling trend where artists, including Bebe Rexha, Kelsea Ballerini, and Pink have had objects thrown at them.
In a fan-captured video the former One Direction member is seen strutting down the runway with his microphone when an unknown object is launched at his eye.
Styles, 29, winces in pain and bends over, covering his eye with his hands.
Walking down the stage, the "Adore You" singer continued to rub his agitated eye.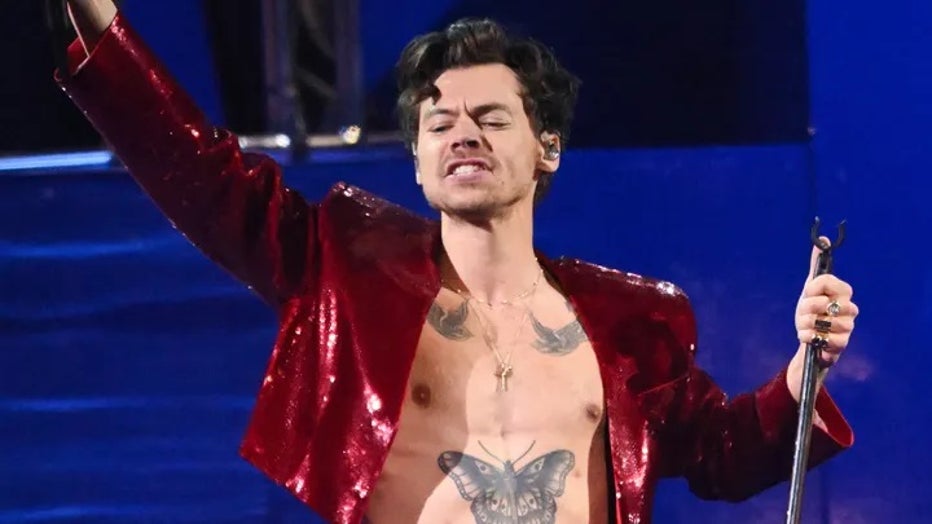 Harry Styles was hit by an unknown object while onstage in Vienna, following several similar incidents with other musical artists. (Karwai Tang/WireImage/Getty Images)
ADELE WARNS FANS 'I'LL F---ING KILL YOU' IF THEY THROW ANYTHING AT HER FOLLOWING DANGEROUS CONCERT TREND
A representative for Styles did not immediately return Fox News Digital's request for comment on the singer's status.
This is not the first time Styles has been hit with an object - having most recently been hit by a bouquet of flowers back in June.
He was also hit in the groin with an apparent bottle last year.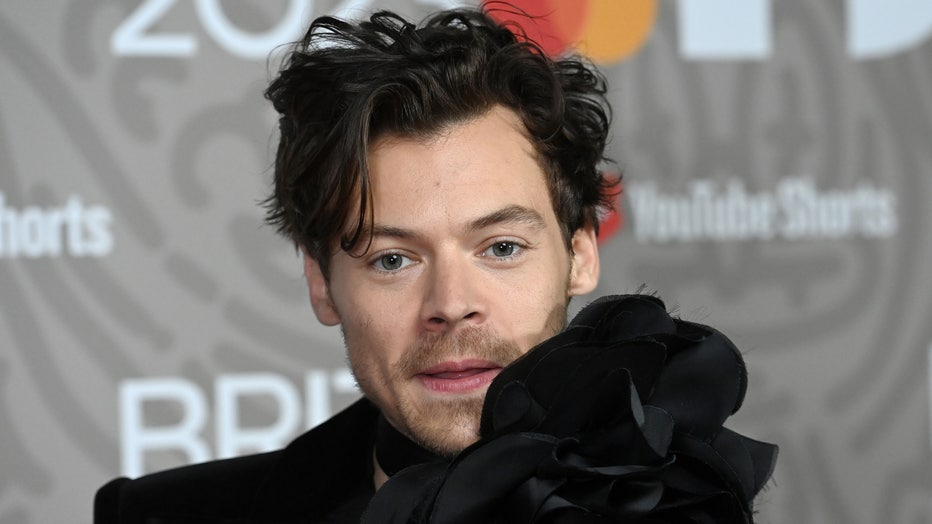 Harry Styles attends The BRIT Awards 2023 at The O2 Arena on February 11, 2023 in London, England. (Photo by Dave J Hogan/Getty Images)
Headliners have recently been plagued with similar, unfortunate events in the past few weeks.
The issues began last month in New York, when Rexha was first hit in the face with a cellphone, resulting in the arrest of a man and the singer getting stitches in New York City.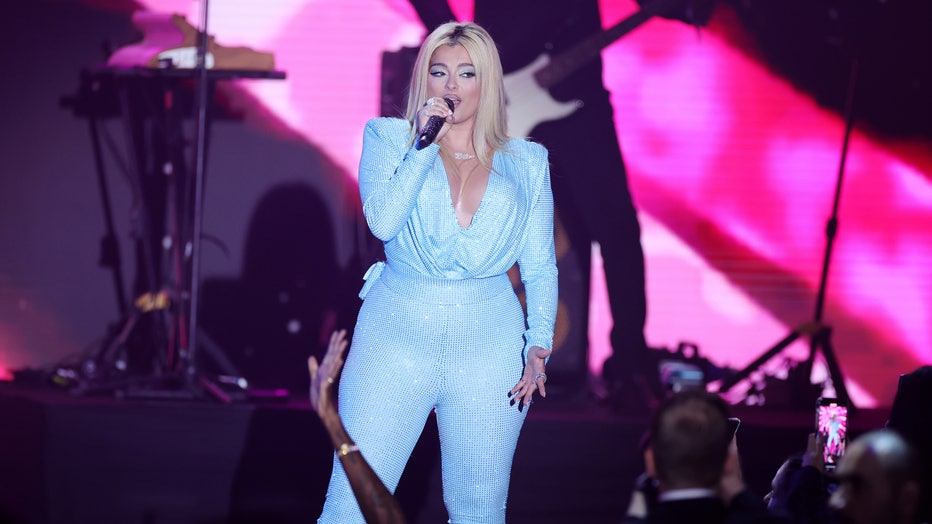 Bebe Rexha attends the amfAR Cannes Gala 2023 at Hotel du Cap-Eden-Roc on May 25, 2023 in Cap d'Antibes, France. (Photo by Andreas Rentz/amfAR/Getty Images for amfAR)
BEBE REXHA HOSPITALIZED AFTER BEING STRUCK BY CELL PHONE DURING CONCERT, SUSPECT ARRESTED
The "I'm Good (Blue)" singer gave fans a glimpse of her injuries, sharing pictures to Instagram.
"I'm good," she cheekily commented, despite having a bruised face. 
In London at British Summer Time's Hyde Park Festival two weeks ago, Pink was the recipient of a peculiar gift — a bag of human ashes.
In a fan-recorded video, Pink is seen picking up a plastic bag that landed on stage - full of some substance - in the middle of her performance of "Just Like a Pill."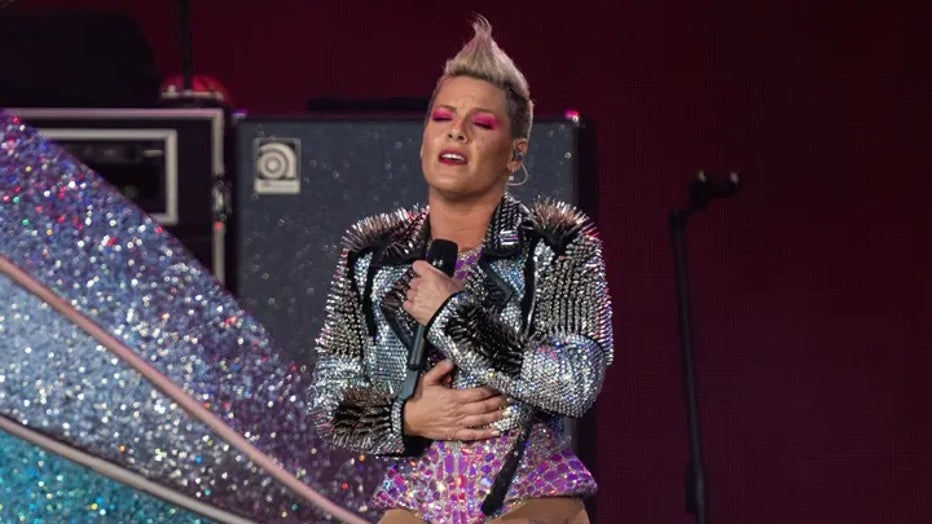 While performing at British Summer Time's Hyde Park Festival in London, Pink was tossed a bag full of ashes. (Lorne Thomson/Redferns)
"Is this your mom?" the stunned singer asked, speaking directly to a member of the audience. "I don't know how to feel about this," she continued in bemusement, placing the bag down by a speaker before continuing on with her song.
Last week, Ballerini was the victim of a similar incident, most similar to Styles'. The country star was singing her song, "If You Go Down," when she was hit in the eye by a bracelet. 
Turning her head and eventually her entire body away from the audience, Ballerini was quickly attended to by one of her band members. After several moments, Ballerini eventually walked off-stage.
Upon returning, she implored fans to please say something if they do not feel safe among the crowd.
"If you ever don't feel safe, please let someone around you know. There's security everywhere tonight. If anyone's pushing too much or you just have that gut feeling or anything — always flag it. Don't throw things, you know?" she added. "I always want shows of mine — every show for every artist — but I'm in control of this one, I just want it to be a safe place for everyone. We have little kids here. Will you help me do that tonight, please?" she asked her audience.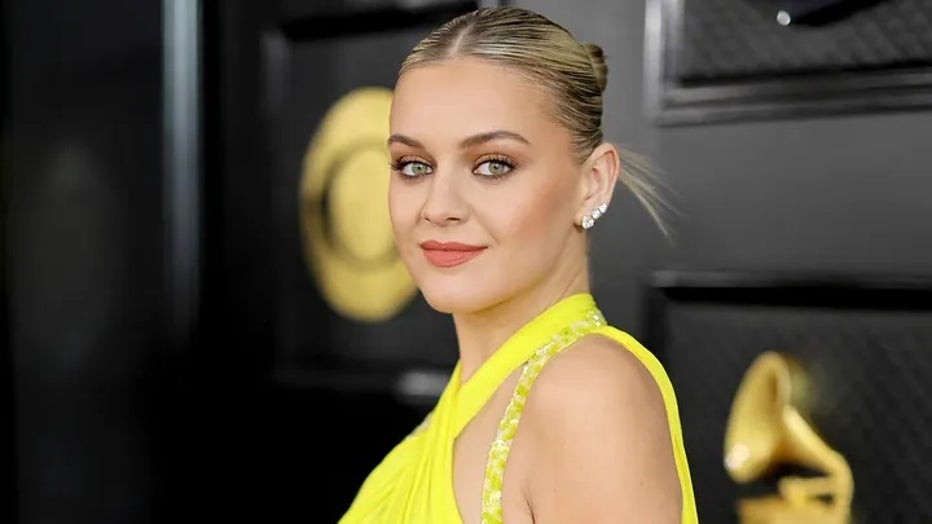 Kelsea Ballerini was trolled on Instagram later for how she handled being hit in the face by an object. (Neilson Barnard/Getty Images for The Recording Academy)
She later took to her Instagram story to elaborate on what happened, writing, "I'm fine. Someone threw a bracelet, it hit me in the eye, and it more so just scared me than hurt me. We all have triggers and layers of fears way deeper than what is shown, and that's why I walked offstage to calm down and make sure myself, band and crew, and the crowd all felt safe to continue. That's all I ever want, is for shows to feel like a safe place for us all."
She also clapped back after a troll in the comments section posted,, "Stitches is the bar. No stitches. No post," referencing the incident with Rexha.
Ballerini wrote along with a screenshot of the comments, "also just gonna leave this right here. a sad, scary world we live in."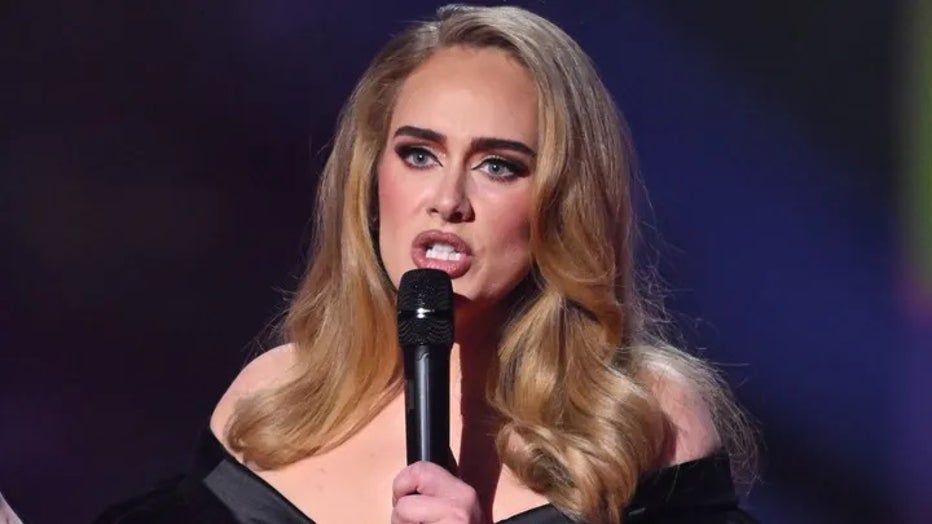 Adele addressed the recent trend of concert-goers throwing objects at performers while they are on stage. She warned they should not do that - particularly to her. (Karwai Tang/WireImage)
Just last weekend, Adele addressed proper concert etiquette, warning fans to not try anything with her.
"Have you noticed how people are like forgetting f---ing show etiquette at the moment because [they're] throwing s--- on stage? Have you seen them," Adele told her Caesars Palace audience at her Weekends with Adele residency in a fan-recorded video.
"I f---ing dare you. Dare you throw something at me and I'll f---ing kill you," she cautioned the crowd while toting a T-shirt gun in her arms and firing it off into the audience with gusto.
In the words of Styles, "Maybe we can find a place to feel good and we can treat people with kindness."