Eye drops sold at Walmart added to FDA's list of potentially harmful products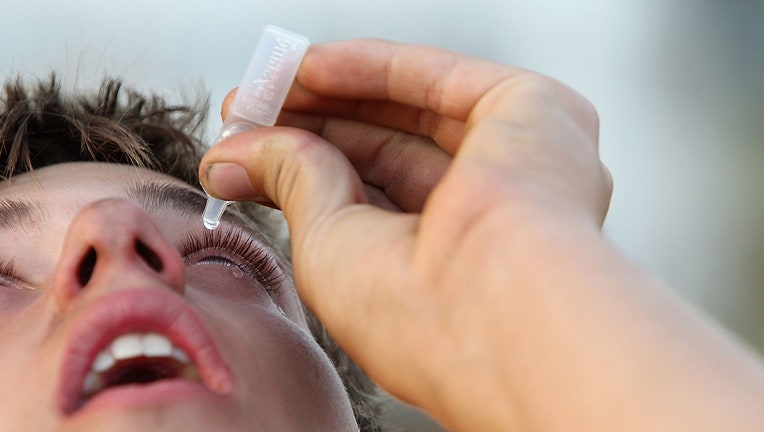 article
Eye drops sold at Walmart are being added to the Food and Drug Administration's (FDA) list of potentially dangerous products. 
Consumers are now being told to avoid the Equate Hydration PF Lubricant Eye Drop 10 mL, which is already being removed from Walmart store shelves and its online marketplace, due to the potential risk of eye infections that could lead to partial or complete vision loss, according to an updated notice from the FDA. 
Last week, federal health regulators first warned consumers to either avoid or throw out 26 other products that were meant to treat dry or irritated eyes after an investigation revealed that there were "insanitary conditions" in the manufacturer's facility, potentially contaminating the products that are intended to be sterile.
EYE DROPS SOLD AT CVS, RITE AID, TARGET COULD CAUSE EYE INFECTIONS AND VISION LOSS, FDA SAYS
There were also positive bacterial test results from environmental sampling of critical drug production areas in the facility, the FDA said. The agency hasn't disclosed what bacteria was found and hasn't tied this warning to the prior outbreak of antibiotic-resistant bacteria pseudomonas aeruginosa linked to eye products from Global Pharma Healthcare. 
Walmart said in a statement that it takes the "quality and safety standards seriously for all our suppliers" and that its working with the manufacturer.
On top of removing the item from stores, Walmart also implemented a sales block at its registers to prevent any future purchases.
The 26 previously listed products were marketed under the brands CVS Health, Leader (Cardinal Health), Rugby (Cardinal Health), Rite Aid, Velocity Pharma and Target's Up & Up brand. 
CVS, Rite Aid and Target were already in the process of removing the products from store shelves and their online marketplaces when the warning was posted last week. However, regulators cautioned that "products branded as Leader, Rugby and Velocity may still be available to purchase in stores and online."
The FDA didn't specify the manufacturer, but several companies noted that Velocity Pharma supplied the products.  
There haven't been any reports of eye infections related to these products to date. However, consumers who have signs or symptoms of an eye infection after using these products are told to seek medical care "immediately."
Symptoms to watch for 
Symptoms of an eye infection include irritated or red eyes; worsening pain in or around the eyes — even after contact lens removal; light sensitivity; sudden blurry vision; or unusually watery eyes or discharge, according to the Centers for Disease Control and Prevention. 
Patients are encouraged to report any adverse events or quality problems they have with any medicine to the agency's MedWatch Adverse Event Reporting program.
In the meantime, CVS, which immediately pulled products supplied by Velocity Pharma within the CVS Health Brand Eye Products portfolio after being notified by the FDA, is offering consumers a refund for the product. 
RELATED: FDA issues warning over several eyedrop products due to infection risk
"We're committed to ensuring the products we offer are safe, work as intended and satisfy customers, and are fully cooperating with the FDA on this matter," a CVS spokesperson told FOX Business. 
Cardinal Health told FOX Business that it placed all identified impacted eye drop products in its inventory on hold, and is working with Velocity Pharma and the FDA to initiate a recall of all impacted Rugby Laboratories and Cardinal Health Leader branded eye drop products. 
"We are working with Velocity Pharma, the supplier of the impacted eye drop products, to gain additional insight regarding the unsanitary conditions identified by the FDA at the manufacturing facility," Cardinal Health said in a statement. 
Target, Rite Aid and Velocity Pharma did not immediately respond to FOX Business' request for comment.