Elon Musk suggests tweets will now be called 'X's' amid Twitter rebrand
Billionaire Elon Musk suggested Monday that tweets will be called "X's" amid the platform's rebrand.
"So now that Twitter has been rebranded to X, what are tweets called now?" Sawyer Merritt said in a tweet.
Musk replied: "X's."
"Instead of retweet, what's the new name? ReX'd?" asked Tesla Owners Silicon Valley on the platform.
"That whole concept should be rethought," Musk said.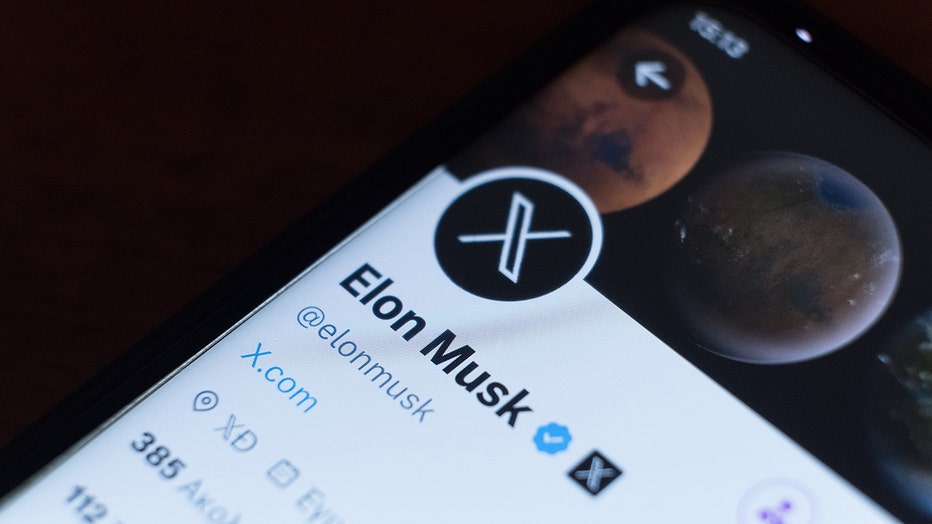 Elon Musk's Twitter with the new X is seen on a smartphone screen in Athens, Greece on July 25, 2023. (Credit: Nikolas Kokovlis/NurPhoto via Getty Images)
Musk's replies came as social media users reacted to design changes – including replacing the classic bird logo with the Musk X logo.
While revisions led to some harsh reaction – and the platform Mastodon trending once again – the bird logo remains on Twitter's mobile version for now. 
"[S]oon we shall bid adieu to the twitter brand and, gradually, all the birds," Musk tweeted on Sunday.
Others were less concerned by updates.
"Twitter could rebrand to a donkey and I'd still scroll for 6 hours a day," Jonah Katz, an X engineer, said.
"We rebranded to a Shiba Inu dog for a while. No impact," Musk told Katz. 
The Tesla chief explained further in a separate exchange that Twitter was acquired by his X Corp. to "ensure freedom of speech" and "as an accelerant for X, the everything app." 
RELATED: Elon Musk unveils new black and white X logo to replace Twitter's blue bird
"This is not simply a company renaming itself, but doing the same thing. The Twitter name made sense when it was just 140 character messages going back and forth – like birds tweeting – but now you can post almost anything, including several hours of video," Musk said. 
In the coming months, Musk said the company would add "comprehensive communications and the ability to conduct your entire financial world."
"The Twitter name does not make sense in that context, so we must bid adieu to the bird," he explained.
Twitter CEO Linda Yaccarino wrote in a series of tweets that the new logo represents "the future state of unlimited interactivity — centered in audio, video, messaging, payments/banking — creating a global marketplace for ideas, goods, services and opportunities."
A worker removes letters from the Twitter sign that is posted on the exterior of Twitter headquarters on July 24, 2023, in San Francisco. Workers began removing the letters from the sign outside Twitter headquarters less than 24 hours after CEO Elon Musk officially rebranded Twitter as "X" and has changed its iconic bird logo, the biggest change he has made since taking over the social media platform. San Francisco police halted the sign removal shortly after it began. | Getty Images
The Twitter headquarters building had an "X" projected on the side on Monday night. This comes after San Francisco police reportedly halted efforts to take down Twitter signage from the building, according to Insider.