DOJ says it won't charge Pence over handling of classified documents
WASHINGTON - The Department of Justice has informed former Vice President Mike Pence 's legal team that it will not pursue criminal charges related to the discovery of classified documents at his Indiana home.
The department sent a letter to Pence's attorney Thursday informing his team that, after an investigation into the potential mishandling of classified information, no criminal charges will be sought. A Justice Department official confirmed the authenticity of the letter, which was obtained by The Associated Press.
The news comes days before Pence is set to launch his campaign for the Republican nomination for president in Iowa Wednesday — a race that will put him in direct competition with his old boss, former President Donald Trump.
No evidence has ever emerged to suggest that Pence intentionally hid documents from the government or even knew they were in his home, so there was never an expectation that he would face charges. But that decision and timing were nonetheless welcome news for the former vice president and his political team as he prepares to enter the crowded GOP primary field and contrast himself with Trump.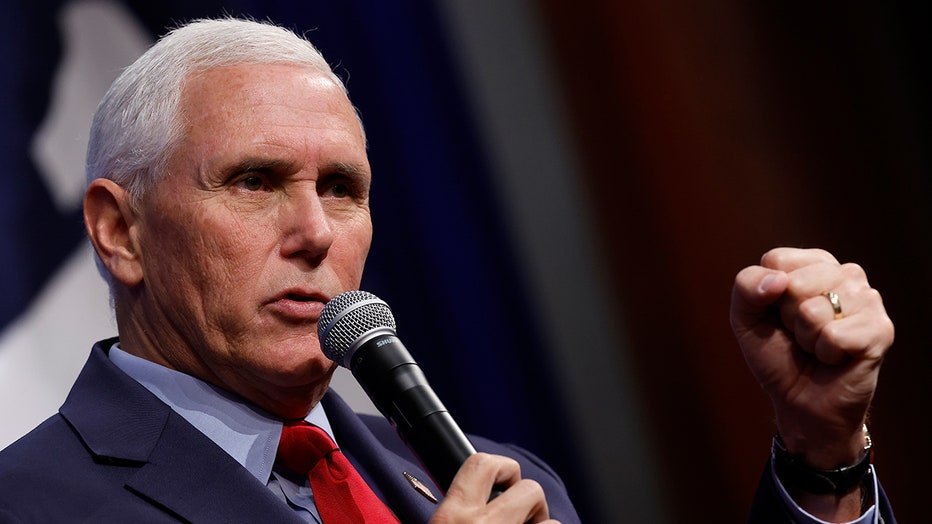 Former Vice President Mike Pence speaks during an event to promote his new book at the conservative Heritage Foundation think tank on October 19, 2022 in Washington, DC. (Credit: Chip Somodevilla/Getty Images)
Attorney General Merrick Garland had named a special counsel to oversee the Justice Department's investigation into the discovery of hundreds of documents with classified markings at Trump's Mar-a-Lago home just three days after the former president formally launched his 2024 campaign — an acknowledgment of the high political stakes. A special counsel was also put in place to investigate classified documents found at President Joe Biden's home in Delaware and at an unsecured office in Washington dating from his time as vice president.
About a dozen documents with classified markings were discovered at Pence's home in January after he asked his lawyers to perform a search of his vice presidential belongings "out of an abundance of caution" after the Biden discovery. The items had been "inadvertently boxed and transported" to Pence's home at the end of the last administration, Pence's lawyer, Greg Jacob, wrote in a letter to the National Archives.
RELATED: FBI finds new classified document in Mike Pence's home
The FBI then discovered an additional document with classified markings at the Indiana house during its own search the following month.
Pence has said repeatedly that he was unaware of the documents' existence, but that "mistakes were made " in his handling of classified material.
Beyond Pence, the two Justice Department special counsels are continuing to investigate the handling of classified documents by both Trump and Biden.
The status of the Biden documents investigation is unclear, but the Trump investigation has shown signs of winding down. Prosecutors appear close to a decision on whether to bring criminal charges against the ex-president or anyone else.
The team led by special counsel Jack Smith has brought a broad cross-section of witnesses before a federal grand jury investigating Trump, including former and close aides to Trump. The investigation has centered on not only whether Trump illegally possessed roughly 300 documents marked as classified but also on whether he obstructed government efforts to secure their return.
The Biden and Pence matters have always stood apart, factually and legally, from the Trump investigation because in both of those cases, aides proactively disclosed the discovery of classified documents to the Justice Department and facilitated their return.
Trump resisted months of demands to return classified documents taken with him from the White House to his Florida residence after the end of his term. After coming to suspect that more classified documents remained at the property, despite a subpoena and a visit by investigators, the FBI returned last August with a search warrant and recovered about 100 additional documents marked as classified, including at the top-secret level.
Trump insists he did nothing wrong.