Calf born with unique smiley face marking finds forever home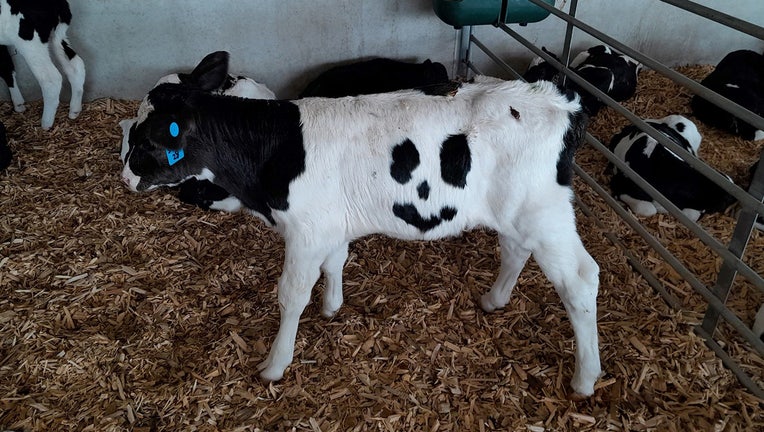 article
It's likely safe to say this calf is "Happy" to find his forever home. 
Happy the calf was born on the Bellbrook Holsteins farm in Ripplebrook, in West Gippsland, Australia, on March 10 and was considered extra special, not only because he is cute, but he has three spots on his side that form the shape of a smiley face. 
"We've seen some number sevens or love hearts on the head and a few strange markings, but we've never seen anything that resembles a smiley face before," Barry Coster, who owns Bellbrook Holsteins, told the Australian Broadcasting Corporation (ABC). 
Coster told ABC that he was out making his usual morning rounds when he discovered the uniquely-spotted calf and sent a picture to his wife, Megan, right away. 
Coster and his wife were originally going to keep Happy on their farm where he would become a lifelong lawnmower and pet, but this calf was destined for bigger things. 
So instead of living on the dairy farm with the Costers, Happy was purchased by Lardner Park for a donation of $10,000 to the local West Gippsland Hospital. 
Lardner Park is used as an event space for professional functions, festivals, concerts and more, according to the park's website. 
Not only will Happy get to enjoy his new home on the park's sprawling 300 acres, he's also got a brand new job as the park's mascot. 
"Happy has a lovely temperament and is a very active and attentive calf. He is feeding really well and seems well settled into his pen at Lardner Park. With approximately 40,000 to 50,000 patrons coming through the gates to see "Happy" this weekend, we know Happy will put a smile on everybody's face," Craig Debnam, Lardner Park's chief executive officer, told FOX TV Stations. 
This story was reported from Los Angeles.