Cake sold at Walmart recalled over undeclared allergen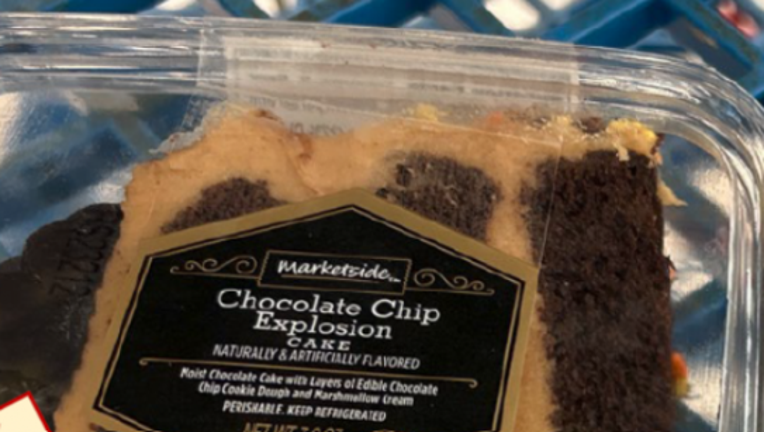 article
Cake slices sold at Walmart stores nationwide are being recalled because they have an undeclared allergen and could pose a serious risk to some customers, federal health officials warned. 
David's Cookies issued a recall after being alerted that 960 units of its Marketside Ultimate Peanut Butter Chocolate Cake slices were mislabeled as Marketside Chocolate Chip Explosion Cake slices, according to a notice posted by the Food and Drug Administration (FDA).
As a result, the label on the cake slices "does not depict peanut as a key ingredient and does not declare the peanut allergen warning on the label," the recall notice continued. 
OVER 58,000 POUNDS OF GROUND BEEF RECALLED DUE TO E.COLI CONCERNS
According to the Centers for Disease Control and Prevention (CDC), peanuts are among the eight foods or food groups that account for the most serious allergic reactions in the United States. 
The symptoms and severity of allergic reactions can be different for individuals. In some cases, people can have anaphylaxis, which is a sudden and severe allergic reaction that may cause death, according to the CDC. 
To date, there haven't been any illnesses or injuries associated with the recalled products, according to the recall. However, customers are urged to contact a physician if they have any concerns. 
The product was distributed in 7-oz., clear plastic packages that are marked with lot # BS23212 on the top of the package. 
CONAGRA BRANDS RECALLS OVER 245K POUNDS OF BANQUET FROZEN CHICKEN STRIPS MEALS AFTER PLASTIC CONTAMINATION
David's Cookies and Walmart worked in coordination to block all the Marketside Ultimate Peanut Butter Chocolate Cake and Marketside Chocolate Chip Explosion Cake from their distribution centers and store registers to prevent anyone from being able to purchase the products "until further investigation and resolutions have been completed." 
GET FOX BUSINESS ON THE GO BY CLICKING HERE
Walmart's distribution center that was distributing the mislabeled product has been identified. Both companies will continue to work together to prevent further shipments to stores, the notice continued. 
Read more of this story from FOX Business.