Help will be provided 'for as long as it takes' to recover from Maui wildfires, Biden says
SOUTH LAKE TAHOE, California - President Joe Biden on Monday told survivors of Hawaii's wildfires that the nation "grieves with you" and promised that the federal government will help Maui "for as long as it takes" to recover after touring damage caused by the deadliest wildfire in the United States in more than a century.
Biden arrived in Maui 13 days after the wildfires that have taken at least 114 lives ravaged the western part of the island. Standing near a severely burned 150-year-old banyan tree, the president acknowledged the "overwhelming" devastation but said that Maui would persevere through the tragedy.
"Today it's burned but it's still standing," Biden said of the tree. "The tree survived for a reason. I believe it's a very powerful symbol of what we can and will do to get through this crisis."
RELATED: Maui Humane Society overwhelmed after wildfire; how you can help
Biden and first lady Jill Biden got a close look at the devastation, seeing for themselves the hollowed homes, structures, charred cars and singed trees left in the wake of the blaze.
The Bidens lingered briefly on the tarmac after arriving at Kahului Airport to console Hawaii Gov. Josh Green and his wife Jaime Green as well as members of Hawaii's congressional delegation who came to the airport to greet them. The president and first lady embraced each of their greeters before boarding Marine One for an aerial tour of the damage.
They spent most of their visit in Lahaina, a historic town of 13,000 people that was virtually destroyed by the flames. His motorcade wound through the community of block upon block of hollowed out homes and structures, palm trees burnt to a crisp and endless debris.
The Bidens also met with first responders and were briefed by state and local officials about the ongoing response. They also took part in a blessing by island elders of his visit.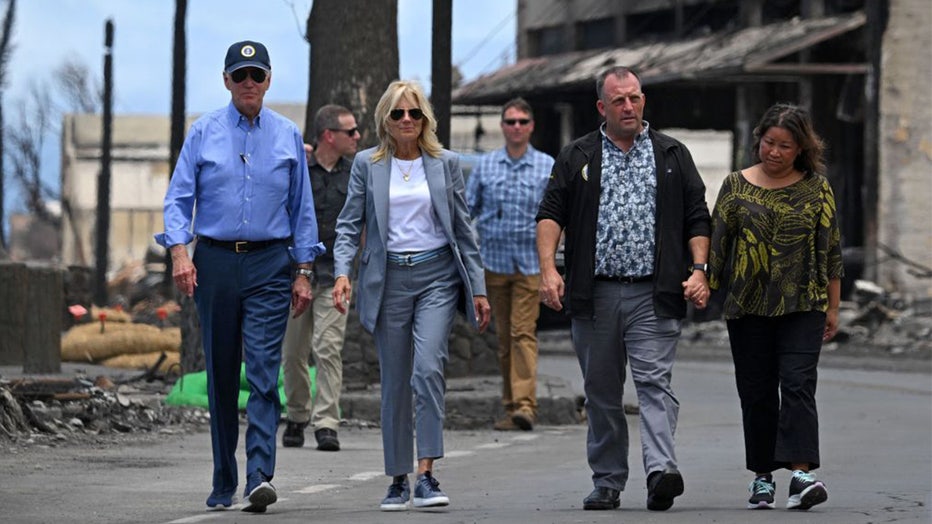 FILE - US President Joe Biden (L), US First Lady Jill Biden (R), Hawaii Governor Josh Green (2nd R) and Jaime Green, First Lady of Hawaii, take part in an operational briefing on response and recovery efforts following wildfires in Lahaina, Hawaii on (MANDEL NGAN/AFP via Getty Images)
The Bidens interrupted a weeklong vacation in the Lake Tahoe area for the five-hour flight to Lahaina.
The White House announced Monday that Biden has named Bob Fenton, a regional leader at the Federal Emergency Management Agency, to be the chief federal response coordinator for the Maui wildfires, ensuring that someone from his administration will be responsible for long-term recovery efforts. It will take years to rebuild Lahaina, where just about every building was obliterated.
"We're going to rebuild the way the people of Maui want to rebuild," said Biden, adding that his administration would be focused on respecting sacred lands, cultures and traditions.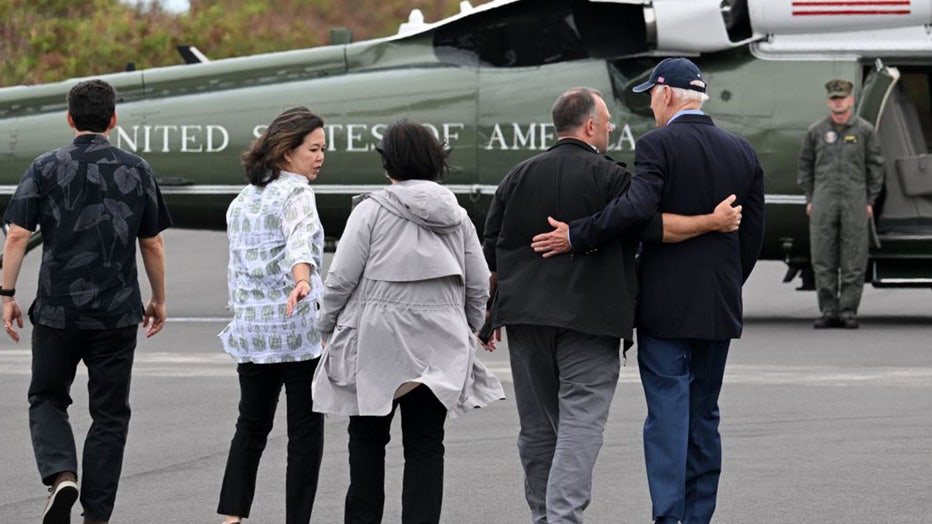 FILE - US President Joe Biden (R) embraces Hawaii Governor Josh Green (2nd R) upon arrival at Kahului Airport in Kahului, Hawaii, on August 21, 2023. (MANDEL NGAN/AFP via Getty Images)
Dozens gathered on the streets of Lahaina to watch Biden's motorcade wind its way through the streets. Some greeted the president enthusiastically, but others appeared to be waving their middle fingers at the motorcade. Other island residents held up signs urging Biden "to listen to the people of Lahaina" and to send more aid to the island.
During a community event at the Lahaina civic center, Biden praised the "remarkable resilience" among community members he had witnessed during his few hours on the ground.
RELATED: Identifying victims of Maui wildfires will be challenging as death toll climbs to 111
The president also spoke, as he often does when addressing communities impacted by tragedy, of understanding the personal weight of devastating loss and the slow and painful process of recovering. Biden's wife Neilia Hunter Biden and one-year-old daughter, Naomi, died in a car accident in 1972.
"When things look the most bleak, that's when we need faith," Biden said.
Biden has faced criticism from Republicans, including 2024 Republican frontrunner Donald Trump, for saying too little during the first days after the catastrophe. The White House, however, has pushed back against the criticism, saying the president kept in close touch with the governor and other emergency officials throughout the unfolding crisis.
Sen. Brian Schatz, D-Hawaii, said that as of Sunday about 85% of the affected area had been searched and nearly 2,000 people remained without power and 10,000 were without telecom connectivity. Water in parts of west Maui is not safe to drink.
Fire damage is seen from US President Joe Biden's motorcade on Front Street in Lahaina, Hawaii, on August 21, 2023. (MANDEL NGAN/AFP via Getty Images)
While immediate aid such as water, food and blankets has been readily distributed to residents, Schatz said cellphones, ID and other documents that people would need to help them enroll in longer-term aid programs were burned in the fires, adding more challenges to the application process.
During his tour, Biden walked down a road from which many Lahaina residents made their harrowing escape from the flames.
An army of search and rescue teams with dozens of dogs have blanketed the affected area to try to recover the remains of some 500 to 800 people who are unaccounted for, said White House homeland security adviser Liz Sherwood-Randall. Mayor Richard Bissen earlier Monday put the number of unaccounted for at 850. Sherwood-Randall added that the FBI has dispatched specialists to Maui to help assist the identification efforts.
She added that Biden, who has repeatedly visited communities ravaged by extreme weather disasters during his presidency, was focused during the visit "on the human experience," and is "very impatient with bureaucracy."
"How fast can we move to help people in need, and in particular, how can we help those in need who have the hardest time getting access to that help?" Sherwood-Randall said of Biden's focus.
RELATED: Elon Musk says SpaceX using Starlink to aid Maui wildfire recovery
More than 1,000 federal officials remain on the ground to respond to the wildfires in Hawaii, according to the White House. The administration has distributed more than $8.5 million in aid to some 8,000 affected families, including $3.6 million in rental assistance, said FEMA Administrator Deanne Criswell.
Schatz, who joined Biden on Monday, stressed that officials were "still responding to the disaster" and "we are not yet in a recovery phase."
"As bad as this looks, it's actually worse," he said in a phone interview on Sunday. "What you can't see is the damage to utility infrastructure. What you can't see is the thousands of kids who are trying to figure out how to go to school this fall. What you can't see is the first responders who went into the flames without regard for their own safety and had their own homes burned down."
___
Associated Press writers Aamer Madhani in Washington and Claire Rush in Portland, Ore., contributed to this report.