Identifying victims of Maui wildfires will be challenging as death toll climbs to 111
NEW YORK - The challenge is formidable: identifying the remains of more than 100 victims as agonized loved ones yearn for information about those missing in Maui after the United States' deadliest wildfire in more than a century.
It is a painstaking process, and one that other communities have endured following disasters and mass casualties. The advent of DNA technology and subsequent advances have provided powerful tools. But finding remains, zeroing in on genetic material or other clues and amassing the information needed to get a match still takes time — if certainty comes at all.
As Maui Police Chief John Pelletier said this week when asked about the death toll: "You want it fast ... We're going to do it right."
RELATED: Maui wildfires: Emergency services chief resigns as death toll rises to 111
Here's a look at how the work of identification unfolds.
What is known so far?
As of Thursday afternoon, the toll stood at 111, though the search continues, and Gov. Josh Green has warned scores more could be found. Maui County said nine victims have been identified. Officials have released five names while trying to reach families of the other four, but some other names have emerged from relatives.
How is the search being conducted?
Dozens of search-and-rescue dogs and hundreds of people were working to search devastated areas Thursday, the governor said in a video update. The federal government said it dispatched coroners, pathologists, technicians, X-ray units and other equipment to identify victims and process remains.
U.S. Department of Health and Human Services official Jonathan Greene said the work stood to be " very, very difficult " and called for patience, as have the police chief and others.
Charred remains of a burned neighbourhood is seen in the aftermath of a wildfire, in Lahaina, western Maui, Hawaii on August 14, 2023. (Photo by YUKI IWAMURA/AFP via Getty Images)
RELATED: Maui Humane Society overwhelmed after wildfire; how you can help
Rapid DNA-testing machines that were used after a 2018 blaze that largely destroyed Paradise, California, also are being put to work in Maui. The instruments, roughly the size of a large computer printer or microwave oven, were developed a decade or so ago and designed for use in the field. By automating a lot of steps that traditionally have been done manually in labs, they can produce a DNA profile in two hours, said Dr. Richard Selden, the founder and chief scientist of Longmont, Colorado-based manufacturer ANDE Corp.
But a DNA fingerprint isn't all it takes to make an identification.
How are remains identified and what are the obstacles?
In some situations, dental work, prosthetics, surgical implants, fingerprints, tattoos or other body markings can reveal a person's identity. But the heat and power of a wildfire can destroy these clues, and dental and medical records sometimes are unavailable or difficult to track down.
An intense fire also can leave remains too damaged for DNA extraction, though there have been scientific strides. New York City medical examiners, notably, have retested fragmentary remains of 9/11 victims as techniques evolved over the years and created new prospects for reading genetic code diminished by fire, sunlight, bacteria and more.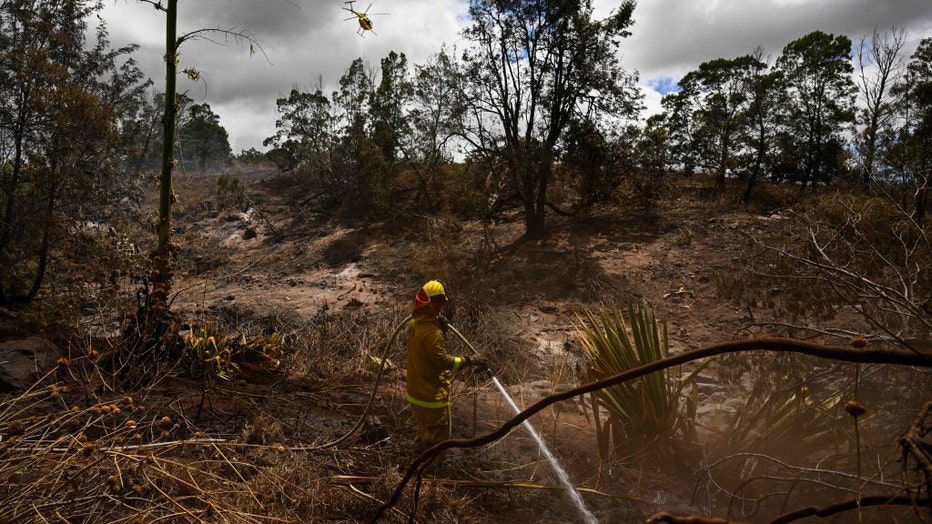 A firefighting helicopter makes a water drop as a Maui County firefighter extinguishes a fire near homes during the upcountry Maui wildfires in Kula, Hawaii on August 13, 2023. (Photo by PATRICK T. FALLON/AFP via Getty Images)
RELATED: Elon Musk says SpaceX using Starlink to aid Maui wildfire recovery
"What you typically expect in a wildfire is that you're going to have a range, and there are going to be some that are quite straightforward and some that are more challenging," Selden said.
Ultimately, the vast majority of the Paradise fire victims were identifiable via DNA, he said.
Getting and analyzing a victim's genetic material isn't the only hurdle. Authorities need something for comparison — a sample from the person when alive or, often, from their relations.
"There is something people can do: Their close relatives should donate their cheek swabs," Selden said. Maui officials have been urging likewise.
The American Red Cross is working with authorities to collect samples from family members and is helping them navigate the bureaucracy of making identifications, Red Cross official Brad Kieserman said.
How long might this take?
It took months to make positive identifications of some of the 85 Paradise fire victims and notify their relatives. After wildfires killed 24 people in northern California's Sonoma County the year before, most were identified within the first month, but the sheriff's office has said it took two months to finish the process.
The hijacked-plane terror attacks of Sept. 11, 2001, killed nearly 3,000 people at New York's World Trade Center, the Pentagon and a Pennsylvania field. The collapse of the trade center's burning twin towers left a vast number of tiny human remains amid ashes and debris. About 1,100 victims have yet to have any remains identified.
Associated Press writer Christopher Weber contributed from Los Angeles.