Women's World Cup: New Zealand out after 0-0 draw with Switzerland | July 30, 2023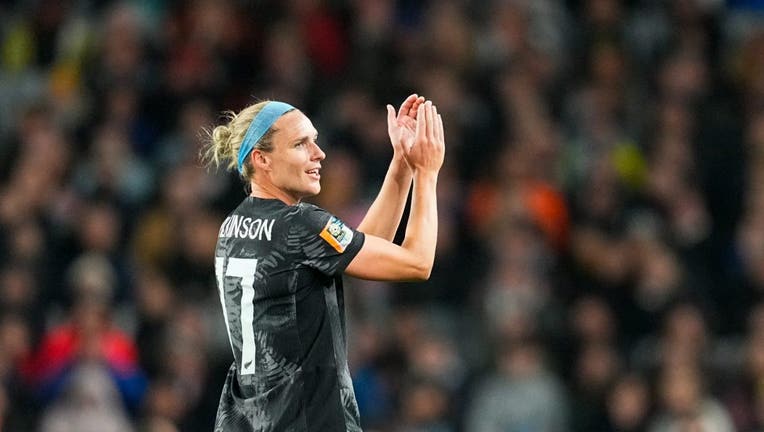 article
CHICAGO - The FIFA Women's World Cup only happens once every four years, and whether you're a soccer devotee or someone who just tunes in when the Cup comes around, you won't want to miss the action. Never fear: We've got you covered.
Every day through the Final on August 20, FOX Digital will be breaking down the details on all the can't-miss matches, players to watch and other essential details. What's next: the Football Ferns are set to make history – for better or worse.
Watch the 2023 FIFA Women's World Cup only on FOX and FS1.
Women's World Cup matches on July 30, 2023
Day 11 of the 2023 FIFA Women's World Cup features four matches.
For details on the results of concluded matches, scroll down to the 'Soccer spoilers' section. 
Match spotlight: Switzerland vs. New Zealand
In a mind-bending explainer on the various routes every Women's World Cup team can take to reach the round of 16, FOX Sports dropped this statistic, one that should be encouraging to fans of New Zealand's Football Ferns: "No host nation has ever gone out in the group stage, which bodes well for Australia, top of Group B, and New Zealand."
The Ferns already made history with their first match of the tournament, as Hannah Wilkinson's goal against the impressive team from Norway earned the co-host country its first-ever victory in a WWC match. But in their second match of the group stage, it was somebody else's turn, as the Philippines, which is making its Cup debut with the 2023 tournament, notched their first-ever goal in a 1-0 upset over New Zealand.
So it's all on the line for the NZ side with this third match. A victory against the Swiss sends them sailing into the round of 16 for the first time. They could still advance with a draw, given some specific conditions, but a loss means the end of the road, which would be another historic feat – but who wants to break new ground that way?
As for the Swiss, if they win this match, they win group A, and if they lose, there's still a chance of progressing to the next round. But Leah Walti and company won't want to leave things to chance. 
RELATED: 8 teams that could stop USWNT from three-peating at 2023 World Cup
Players to watch on July 30, 2023
New Zealand: Olivia Chance, midfielder
This outstanding contributor, who plays for Scottish club Celtic, is deeply committed to her team: FIFA notes that Chance has traveled "further than any other player in the world to represent her national team, clocking up more than 145,000 km [rougly 90,000 miles] across 12 trips between August and March alone."
Norway: Ada Hegerberg, striker
Hegerberg, one of soccer's biggest stars, returns to the Norwegian side after sitting out the 2019 cup. FOX Sports calls her "a contender for the Golden Boot" – but that all depends on whether or not she's fit to play. Hegerberg was pulled from play minutes before the start of Norway's group stage match against Switzerland; her return would bring a huge sigh of relief from Norwegian fans (and from people who like to watch people who are very good at soccer).
Philippines: Sarina Bolden, forward
FIFA calls this seasoned player a "cold-blooded goalscorer with razor-sharp instincts inside the box" with "impressive physical strength." She's also got something of a home-turf advantage: When not repping her home country, Bolden plays for Australia's Western Sydney Warriors; she scored the history-making goal in the team's exciting upset of host country New Zealand.
Switzerland: Leah Walti, midfield
The Swiss captain had to fight her way to this WWC appearance, thanks to a serious injury in May. But the Arsenal star is fit and ready to propel her team to victory; FIFA notes that as the "link-up player between defense and attack, it will be up to Walti to thread passes through to her team-mates as well as stymying opposition attacks before they happen in the middle of the park."
Morocco: Nouhaila Benzina, defender
When Nouhaila Benzina stepped onto the field for Morocco's first match of the Women's World Cup against Germany, she made history — and not just as a player for the first Arab or North African nation ever in the tournament. The 25-year-old defender was the first player to wear the Islamic headscarf at the senior-level Women's World Cup.
Where is the 2023 Women's World Cup taking place?
The eyes (and cameras) of the world have turned toward host countries Australia and New Zealand. 
In what time zone is the Women's World Cup taking place?
Well, there's more than one time zone involved, as the battles for the Cup will take place in 10 stadiums in two countries. But suffice it to say that you're looking at times that are anywhere from 12 hours (for matches in Perth, Australia) to 16 hours (all New Zealand-based matches) ahead of EST. 
That means some matches – like Nigeria vs. Canada, the first match of day two (July 21) – will be played early in the day locally but air on what's technically the evening before in the U.S. (in this case, July 20). Who said there's no such thing as time travel?
RELATED: Who could be the breakout star for this young, talented USWNT squad?
Where can you stream the FIFA Women's World Cup?
We're living in the future, baby! All matches will be live-streamed on FOXSports.com and via the FOX Sports app, and full replays will also be available. So if you're not into watching soccer at 3 a.m., you're covered! 
How can I watch the FIFA Women's World Cup on live TV?
The FIFA Women's World Cup will air on FOX and FS1. The complete schedule awaits your perusal at FOXSports.com. In addition to all FIFA Women's World Cup matches, head to your preferred FOX platform for game highlights, replays, stats, player stories, analysis and more. 
How does the elimination round work in the Women's World Cup?
Good question! As with the men's World Cup, it's a wee bit complicated. The 32 qualifying teams have been split into eight groups, each assigned a letter (A-H). In the first round, the groups compete against each other: each "side" (team) will participate in three in-group matches. A win is worth three points, a draw worth one point and a loss is worth (you guessed it) zero points. 
At the end of the round, the top two teams (as determined by point total) in each group proceed to the knockout round. That's 16 teams total. 
RELATED: 2023 Women's World Cup betting primer: How to bet on soccer
When does Team USA play next?
After their July 27 draw with the Netherlands, Alex Morgan, Lindsay Horan and company will square off against Portugal on August 1.
Soccer spoilers: today's results
South Korea vs. Morocco: Morocco's teams are getting used to upsetting higher-ranked opponents on soccer's biggest stage. Morocco beat South 1-0 in Adelaide to earn its first-ever Women's World Cup win on Sunday. The No. 72-ranked Atlas Lionesses are on debut at the global tournament and upset No. 17 South Korea behind a complete defensive performance. A glancing header from Ibtissam Jraïdi off a cross from Hanane Aït El Haj in the sixth minute was Morocco's first goal at the Women's World Cup. The Atlas Lionesses are still in contention for a spot in the knockout stage ahead of their last group game against No. 25 Colombia.
Norway vs. the Philippines: Sophie Roman Haug's three goals kick-started Norway's dormant offense and sparked a 6-0 win over the Philippines on Sunday that moved the Norweigians to the knockout stage of the Women's World Cup. The Philippines' debut run in the tournament came to an end as Norway scored early and often, netting three goals in the first 31 minutes. Norway's spot in the round of 16 was secured when Switzerland and New Zealand simultaneously played to a 0-0 draw and the Norwegians advanced on goal differential.
Switzerland vs. New Zealand: New Zealand outshot Switzerland and even moved goalkeeper Victoria Esson into an attack position several times but failed to break a 0-0 tie in the Women's World Cup. The draw gave Swiss the Group A win and moved them into the knockout round. The Football Ferns were eliminated from the tournament. New Zealand is the first host country to be eliminated in group play in Women's World Cup history. Switzerland also had a scoreless draw against Norway. The Swiss won Group A when it tied and the Norwegians shut out the Philippines 6-0.
Germany vs. Colombia: Manuela Vanegas has scored in the seventh minute of stoppage time as Colombia upset Germany 2-1 at the Women's World Cup. The defender headed in to settle a thrilling game and put her country on the brink of advancing to the knockout stage. Alexandra Popp had scored an 89th-minute penalty and seemed to have earned Germany a 1-1 draw after 18-year-old Linda Caicedo had struck a stunning opener for Colombia. But Vanegas came up with a late twist to huge celebrations among Colombia fans who dominated the Sydney Football Stadium crowd.
Watch this space!
Watch the 2023 FIFA Women's World Cup only on FOX and FS1.