Women's World Cup: England and Australia advance to the quarterfinals | August 7, 2023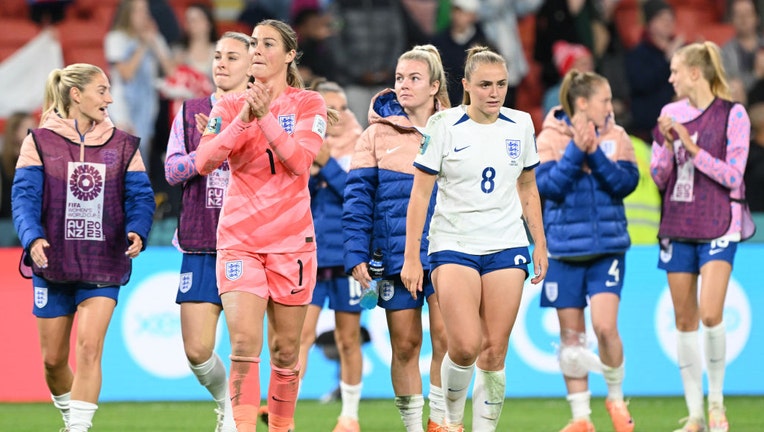 article
CHICAGO - The FIFA Women's World Cup only happens once every four years, and whether you're a soccer devotee or someone who just tunes in when the Cup comes around, you won't want to miss the action. Never fear: We've got you covered.
Every day through the Final on August 20, FOX Digital will be breaking down the details on all the can't-miss matches, players to watch and other essential details. What's next: England's Lionesses face an exciting Nigerian squad, and it's finally time for the Sam Kerr show to begin.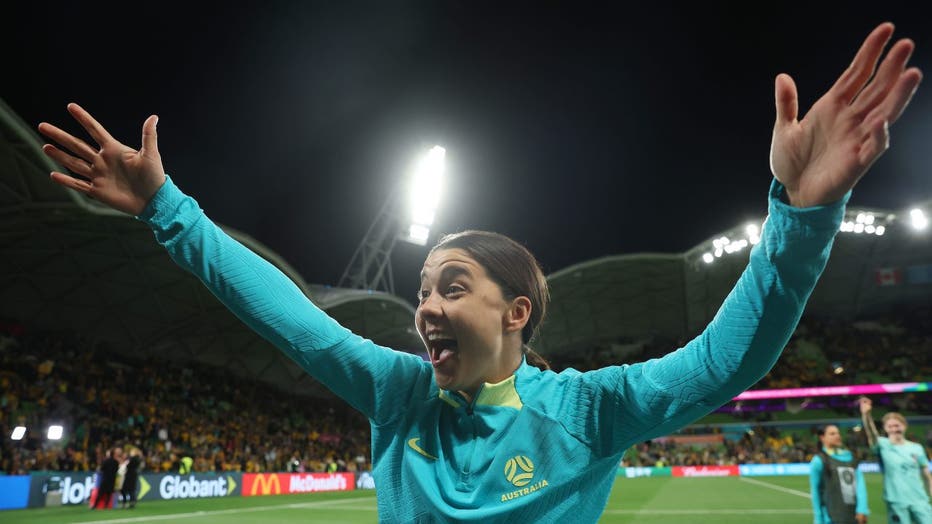 MELBOURNE, AUSTRALIA - JULY 31: Sam Kerr of Australia applauds fans after the team's 4-0 victory and qualification for the knockout stage following during the FIFA Women's World Cup Australia & New Zealand 2023 Group B match between Canada an
Watch the 2023 FIFA Women's World Cup only on FOX and FS1.
Women's World Cup matches on August 7, 2023
Day 19 of the 2023 FIFA Women's World Cup features two matches.
England (winner of group D)  vs. Nigeria Final score: England 4 Nigeria 2 (shootout/penalty kicks)
           Watch the replay of England vs. Nigeria here
Australia (winner of group B) vs. Denmark Final score: Australia 2 Denmark 0
           Watch the replay of Australia vs. Denmark here 
For details on the results of concluded matches, scroll down to the 'Soccer spoilers' section. 
RELATED: Women's World Cup power rankings: Sweden jumps into top 5 after eliminating USA
Match spotlight: England vs. Nigeria… but also Sam Kerr
Here's the deal: Odds are that both of these matches will be pretty thrilling. England has yet to lose a match in the tournament, and while its first two victories were somewhat less than resounding, it finished the group stage strong – and while it looked like they might be playing their first knockout match without superstar Keira Walsh (due to an injury sustained against Denmark in the team's second group-stage match), the Barcelona standout trained with her team on Sunday, so she might be in the mix after all. 
And the English will be facing one of the tournament's most exciting teams: Nigeria, who managed to upset host country Australia and hold Canada, the reigning Olympic champ, to a scoreless draw in the group stage. Oddsmakers are highly favoring the Brits, but hey, Canada and Australia were the odds-on favorites as well in those aforementioned matches. Outspoken coach Randy Waldrum and powerhouse forward Asisat Oshoala are not to be underestimated, so if you're looking for an upset (or an underdog to root for, now that the U.S. team is out of the tournament), this is the match for you.
But even if that's the match most interesting to you, you might want to make time for the second fixture of the day… because t's time for the Sam Kerr show to begin at last. 
RELATED: Australia star Sam Kerr says she'll play against Denmark in round of 16
Australia's captain (and one of soccer's biggest stars, regardless of gender), Kerr suffered a calf injury in training just prior to the beginning of the tournament. While she was fit for the Matildas' final group stage match against Canada, she remained on the bench, and her team made it through to the knockout stage without her on-pitch assistance.
But now it's time. Again, if the disappointing early exit of the U.S. team has left you in need of a roster to cheer on, you may want to consider the Matildas. The host country has never made it past the quarterfinals – their 2007 6th place finish is the high watermark for the team thus far – but with Kerr at the peak of her powers and a home crowd feverishly cheering them on, it's fair to say that the Aussies will be formidable. Plus, she does backflips! Who doesn't want to watch someone do backflips in celebration? 
Players to watch on August 7, 2023
England: Keira Walsh, midfielder
This Barcelona star (she recently moved over from Manchester City for a record-smashing fee) is an intelligent and highly tactical player FIFA calls "the beating heart of the England midfield." She's formidable on defense but her quick thinking helped seal England's EURO win with a crucial pass to teammate Ella Toone. She's a world-class, top-tier player. Here's hoping she's healthy enough to play.
Nigeria: Asisat Oshoala, forward
The player FIFA calls "Africa's all-time female GOAT" is not one to sleep on: the versatile Barcelona superstar and Ballon d'Or nominee has championship wins in her past, determination to spare and a mighty skill set. She'd been named CAF African Women's Footballer of the Year a record five times, and FIFA notes that she's somehow averaged roughly a goal per game in her four-plus seasons in Barcelona. Coach Randy Waldrum put it this way to FIFA: "When you have Oshoala, you have a chance against any team."
RELATED: Golden Boot race tracker: 2023 Women's World Cup top scorers
Australia: Sam Kerr, striker
The captain of Australia's Matildas is a soccer giant: She's a LEGO! She made the cover of the FIFA video game series (the first woman to do so)! She's made celebratory backflips iconic! And per FIFA, she's one of only three players to have scored more than three goals in a Women's World Cup game, racking up four goals in a match against Jamaica in the 2019 cup. There are few players in the world this exciting – or this much fun to watch.
Denmark: Pernille Harder, midfielder/forward
One of the world's most exciting players when fit, Harder is back after an injury and is ready to rocket Denmark out of the group stage. FOX Sports notes that "the 30-year-old, Denmark's all-time scoring leader, averages a goal every other game at the international level."
What teams are still in the 2023 Women's World Cup?
Advanced to quarterfinals
Spain
The Netherlands
Japan
Sweden
England
Australia
Still to play in round of 16
France
Morocco
Colombia
Jamaica
What teams have been eliminated in the knockout phase of the 2023 Women's World Cup? 
Switzerland
South Africa
Norway
United States
Nigeria
Denmark
Where is the 2023 Women's World Cup taking place?
The eyes (and cameras) of the world have turned toward host countries Australia and New Zealand. 
In what time zone is the Women's World Cup taking place?
Well, there's more than one time zone involved, as the battles for the Cup will take place in 10 stadiums in two countries. But suffice it to say that you're looking at times that are anywhere from 12 hours (for matches in Perth, Australia) to 16 hours (all New Zealand-based matches) ahead of EST. 
That means some matches – like Nigeria vs. Canada, the first match of day two (July 21) – will be played early in the day locally but air on what's technically the evening before in the U.S. (in this case, July 20). Who said there's no such thing as time travel?
RELATED: Who could be the breakout star for this young, talented USWNT squad?
Where can you stream the FIFA Women's World Cup?
We're living in the future, baby! All matches will be live-streamed on FOXSports.com and via the FOX Sports app, and full replays will also be available. So if you're not into watching soccer at 3 a.m., you're covered! 
How can I watch the FIFA Women's World Cup on live TV?
The FIFA Women's World Cup will air on FOX and FS1. The complete schedule awaits your perusal at FOXSports.com. In addition to all FIFA Women's World Cup matches, head to your preferred FOX platform for game highlights, replays, stats, player stories, analysis and more. 
How does the knockout phase work in the Women's World Cup?
Good question! It's a lot simpler than the knockout phase. From here on out, every match is a "get it done or go home" situation – a loss means it's the end of the line. 
But what does that mean in a sport that often ends in a tie, and in a tournament that's seen plenty of them? It still means every showdown is a must-win – it's just that the matches will last longer. Here's the exact rule, per FIFA: 
"In the knockout stages, if a match is level at the end of normal playing time, extra time shall be played. Extra time shall consist of two 15-minute periods, with an interval not exceeding five minutes before the first period of extra time begins and a short drinks break (interval) not exceeding one minute at half-time. The players shall remain on the pitch during both of these intervals. 
"If the score is still level at the end of extra time, kicks from the penalty mark shall be taken to determine the winner, in accordance with the procedure specified in the Laws of the Game."
In short, play continues for up to another 30 minutes, and if it's still tied at the end of that half-hour, it's time for penalty-kick-a-palooza.
RELATED: 2023 Women's World Cup betting primer: How to bet on soccer
When does Team USA play next?
In the Women's World Cup? 2027. 
Soccer spoilers: today's results
Australia vs. Denmark: Sam Kerr made her return to competition late in the match after being sidelined with an injury before the start of the tournament. To the delight of the home crowd, the star striker wasted no time getting back into the swing of things, but earlier goals from Caitlin Foord and Hayley Raso were enough to send the Matildas to the quarterfinals.
England vs. Nigeria: The match was ultimately decided by a penalty shootout in which four clutch goals by England triumphed over Nigeria's two.  As if the shootout was not dramatic enough – the most memorable moment of the night came late in the match when England star Lauren James was ejected after receiving a red card for stepping on the back of Nigeria's Michelle Alozie. Her removal left England with only 10 available players as the match entered extra time.  But England was able to eke out the win in the end.
Watch the 2023 FIFA Women's World Cup only on FOX and FS1.