Women's World Cup: The third-place game was a can't-miss match | August 19, 2023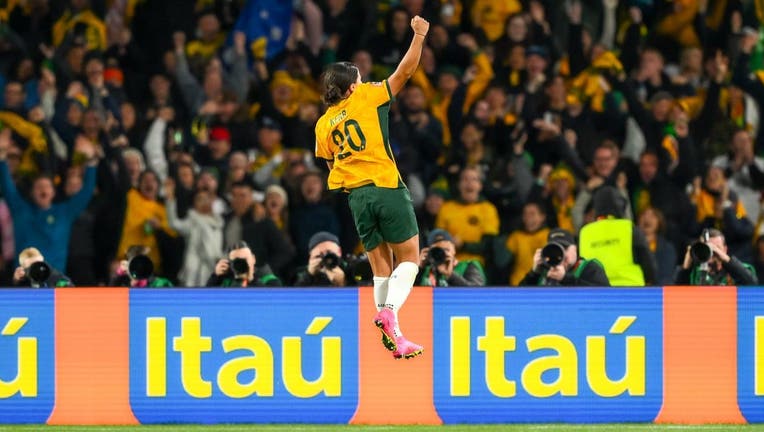 article
CHICAGO - The FIFA Women's World Cup only happens once every four years, and whether you're a soccer devotee or someone who just tunes in when the Cup comes around, you won't want to miss the action. Never fear: We've got you covered.
Every day through the Final on August 20, FOX Digital will be breaking down the details on all the can't-miss matches, players to watch and other essential details. What's next: Before we get to the Final, two incredible teams will battle it out to see who gets to be second-runner up.
Watch the 2023 FIFA Women's World Cup only on FOX and FS1.
Women's World Cup matches on August 19, 2023
Australia (winner of group B) vs. Sweden (winner of group G), 4 a.m. (FOX, FOX Sports app)
RELATED: Australia captivated a nation and inspired next generation: 'This is not the end'
Third-place game: Everything you need to know
How is third place determined?
Great news, sports fans – third place is decided with another match! The teams defeated in their semifinal matches will go head-to-head on Saturday, August 19; the winner gets the honor of being second runner-up. 
What teams are in the World Cup third-place game? 
Sweden
Australia
Why you should watch
If you've been following the Women's World Cup, you already know the answer to this question: These two teams have been among the most exciting and entertaining to watch in the tourney. Now, Australia's Matildas and their adoring home crowd will take on the giant-killing Swedish side, whose masterful set-pieces helped them to take out some of the world's best teams (including the U.S.) en route to the semifinal. 
Add in some global superstars and fresh new faces, and you've got a recipe for a can't-miss match. Set your coffeemaker and tune in to see hometown heroines Hayley Raso and Mary Fowler (Australia), golden boot contender Amanda Ilestedt (Sweden), world-class forward Stina Blackstenius (Sweden) and the great Sam Kerr (Australia) duke it out one last time this tournament, only on FOX.
When is the Women's World Cup Final?
Sunday, August 20
England (winner of group D) vs. Spain (runner-up of group C), 6 a.m. (FOX, FOX Sports app)
RELATED: Women's World Cup final preview: Why England vs. Spain is the right matchup
Third Place Game: Players to watch
Australia: Sam Kerr, striker
The captain of Australia's Matildas is a soccer giant: She's a LEGO! She made the cover of the FIFA video game series! She's made celebratory backflips iconic! And per FIFA, she's one of only three players to have scored more than three goals in a Women's World Cup game, racking up four goals in a match against Jamaica in the 2019 cup. There are few players in the world this exciting – or this much fun to watch.
Also of note: Hayley Raso, whose three goals so far put her in the race for the Golden Boot.
Sweden: Stina Blackstenius, striker
"I always say that one of my best defenders is our center forward," FIFA quotes coach Peter Gerhardsson as saying of this versatile Arsenal star. The player that soccer's governing body calls "the most potent attacker in Sweden's senior side" has dealt with some injuries of late, but "if she can arrive at the Women's World Cup fit and firing, Sweden's opponents are all but certain to suffer the consequences."
Also of note: Amanda Ilestedt's four goals of the tournament made her a frontrunner for the Golden Boot. However, Japan's Hinata Miyazawa scored fives times in four games and leads the Golden Boot race headed into the Final – even with Japan's elimination in the quarterfinal round.
RELATED: Golden Boot race tracker: 2023 Women's World Cup top scorers
Spoilers: Who won third place in Women's World Cup?
Sweden won another bronze medal at the Women's World Cup with Fridolina Rolfo and Kosovare Asllani scoring in a 2-0 win over co-host Australia. The Swedes extended their perfect record in third-place matches to four with the victory in Brisbane on Saturday. 
A Matildas squad that captivated the host nation during its run to the semifinals ended the tournament with back-to-back losses. 
Rolfo's penalty in the 30th minute gave Sweden a 1-0 lead at halftime and Asllani's strike in the 62nd sealed the win. 
Who is in the Women's World Cup Final?
Spain
England
Where is the 2023 Women's World Cup taking place?
The eyes (and cameras) of the world have turned toward host countries Australia and New Zealand. 
RELATED: Marta leaves door open to playing for Brazil in 2024 Olympics
In what time zone is the Women's World Cup taking place?
Well, there's more than one time zone involved, as the battles for the Cup will take place in 10 stadiums in two countries. But suffice it to say that you're looking at times that are anywhere from 12 hours (for matches in Perth, Australia) to 16 hours (all New Zealand-based matches) ahead of EST. 
That means some matches – like Nigeria vs. Canada, the first match of day two (July 21) – will be played early in the day locally but air on what's technically the evening before in the U.S. (in this case, July 20). Who said there's no such thing as time travel?
RELATED: World Cup NOW: Sweden falls short again in quest to win World Cup
Where can you stream the FIFA Women's World Cup?
We're living in the future, baby! All matches will be live-streamed on FOXSports.com and via the FOX Sports app, and full replays will also be available. So if you're not into watching soccer at 3 a.m., you're covered! 
How can I watch the FIFA Women's World Cup on live TV?
The FIFA Women's World Cup will air on FOX and FS1. The complete schedule awaits your perusal at FOXSports.com. In addition to all FIFA Women's World Cup matches, head to your preferred FOX platform for game highlights, replays, stats, player stories, analysis and more. 
RELATED: 2023 Women's World Cup betting primer: How to bet on soccer
When does Team USA play next?
In the Women's World Cup? 2027. 
Watch the 2023 FIFA Women's World Cup only on FOX and FS1.