2023 Women's World Cup: How to watch, time zone math, superstars and more questions answered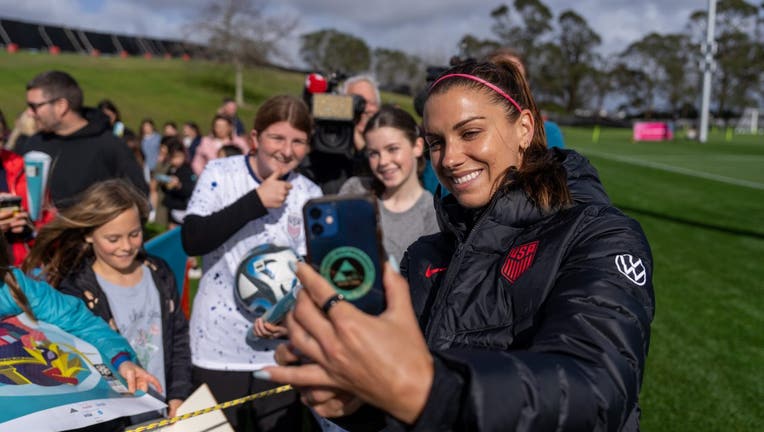 article
CHICAGO - The 2023 FIFA Women's World Cup is one of the biggest and most exciting sporting events of the year. For a month this summer, some of the world's greatest athletes will compete to make history, each hoping to take the Cup back to the country they call home.
Better still, it's likely to be especially exciting for U.S. fans, as the U.S. National Women's Team could be headed for a third consecutive Cup victory. That's right, there's a three-peat in the making – and you can watch all the action on FOX. Read on for answers to all the big Women's World Cup questions.
This post will be updated regularly. Check back for more! 
When is the Women's World Cup?
One of the world's biggest sporting events, this year's FIFA Women's World Cup (the ninth in history) kicks off July 20 and will be played through August 20. 
Where is the 2023 Women's World Cup taking place?
The eyes (and cameras) of the world will turn toward host countries Australia and New Zealand. 
In what time zone is the Women's World Cup taking place?
Well, there's more than one time zone involved, as the battles for the Cup will take place in 10 stadiums in two countries. But suffice it to say that you're looking at times that are anywhere from 12 hours (for matches in Perth, Australia) to 16 hours (all New Zealand-based matches) ahead of EST. 
That means some matches – like Nigeria vs. Canada, the first match of day two (July 21) – will be played early in the day locally but air on what's technically the evening before in the U.S. (in this case, July 20). Who said there's no such thing as time travel?
Where can you stream the FIFA Women's World Cup?
We're living in the future, baby! All matches will be live-streamed on FOXSports.com and via the FOX Sports app, and full replays will also be available. So if you're not into watching soccer at 3 a.m., you're covered! 
RELATED: Who could be the breakout star for this young, talented USWNT squad?
How can I watch the FIFA Women's World Cup on live TV?
The FIFA Women's World Cup will air on FOX and FS1. The complete schedule awaits your perusal at FOXSports.com. In addition to all FIFA Women's World Cup matches, head to your preferred FOX platform for game highlights, replays, stats, player stories, analysis and more. 
Who is playing in the first match of the 2023 FIFA Women's World Cup? 
Co-host country New Zealand's squad, a.k.a. the Football Ferns, will square off against Norway (and legendary player-turned-coach Hege Riise) on July 20. If you're watching live, make sure to have the coffee ready – kickoff is at 3 a.m. EST. 
Norway's had some struggles in recent years, but Riise and her crew seem poised for a comeback. One of only four teams to win the WWC, the team will be hunting to reclaim the cup for the first time since their triumph in 1995.
New Zealand, on the other hand, are looking to make history. With five World Cup appearances under their belt, the Ferns have yet to bring home a win. They'll want to capitalize on the home-turf advantage – and on the skills and smarts of midfielder Olivia Chance.
Also on day one: Australia vs. Ireland (6 a.m. EST). The first match of the next day will be airing while it's still the 20th stateside, however, so look for Nigeria to square off against Canada at 10 p.m. CST. All three matches will be airing on FOX (see local listings). 
RELATED: 8 teams that could stop USWNT from three-peating at 2023 World Cup
When does Team USA play its first match?
Great news for fans – this match airs in primetime! At 9 p.m. EST on Friday, July 21 Megan Rapinoe, Rose Lavelle, Alex Morgan and company will begin the battle for a Women's World Cup three-peat (USWNT won in 2015 and 2019, bringing the team's grand total of WWC championships to four). They'll face off against Vietnam and their superstar striker Huynh Nhu, as the team makes its first-ever Women's World Cup appearance.
How many teams are in the Women's World Cup?
This year, 32 teams will compete for the Cup. It's the first time that many teams have taken the pitch – when the tournament was first played in 1991, 12 teams competed, before growing to 16 (in 1999) and then 24 (in 2015). The 32 teams have been divided into eight groups.
In what group is Team USA competing?
The U.S. Women's National Team (USWNT) will compete in Group E, alongside Vietnam, the Netherlands and Portugal.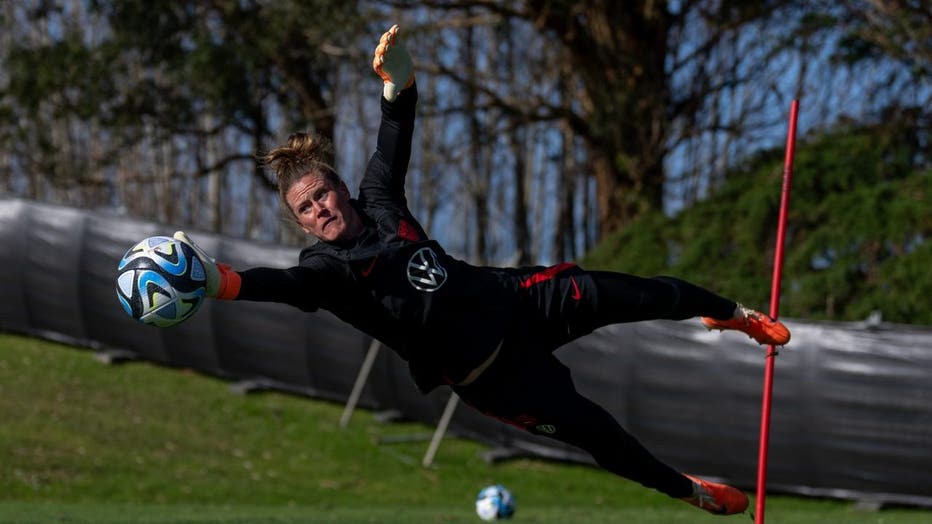 AUCKLAND, NEW ZEALAND - JULY 17: Alyssa Naeher #1 of the United States makes a save during a USWNT training session at Bay City Park on July 17, 2023 in Auckland, New Zealand. (Photo by Brad Smith/USSF/Getty Images for USSF) (Getty Images)
How does the elimination round work in the Women's World Cup?
Good question! As with the men's World Cup, it's a wee bit complicated. The 32 qualifying teams have been split into eight groups, each assigned a letter (A-H). In the first round, the groups compete against each other: each "side" (team) will participate in three in-group matches. A win is worth three points, a draw worth one point and a loss is worth (you guessed it) zero points. There are tiebreaker rules – more on that later.
At the end of the round, the top two teams (as determined by point total) in each group proceed to the knockout round. That's 16 teams total. 
What about the rest of the tournament? 
In the first knockout round, all the teams that took first in their group will face a second-place finisher from another group. For example, the first-place team from Group B (Australia, Republic of Ireland, Nigerian and Canada) will square off against the second-place team from Group D (England, Haiti, Denmark and China). That will bring the field down to eight countries.
After that, it's a pretty straightforward bracket! Continuing with this example, the winner of the 1st-B and 2nd-D match will play the winner of the match between 1st-F and 2nd-H, and that round (the quarterfinal) brings the total number of teams to four. Then one more knockout round (the semi-final) determines which teams will compete in the FIFA Women's World Cup Final.
There's also a match to determine third place, in which the eliminated teams from the semi-final round go toe-to-toe (or foot-to-foot). If you want more details, FIFA's got 'em. 
RELATED: In bid for World Cup three-peat, USWNT aims for soccer's most elusive feat
About those tiebreaker rules…
Well, it's complicated. But if two or more teams are tied at the end of the group stage, the first step is to compare goal difference, after which they move on to the number of goals scored. If it's still a tie after that, FIFA looks at the points, goal difference and goals scored in only the matches between the teams concerned. There are further criteria after that, but the odds of additional steps being needed are very, very low – but FIFA has all the details if you're curious.
How is the U.S. team predicted to do?
Very well! As of this writing, FOX Bet has USWNT as the favorite to win it all (+250).
RELATED: 2023 Women's World Cup betting primer: How to bet on soccer
What are the teams to watch in this year's FIFA Women's World Cup?
Sure, the U.S. is on a quest for a three-peat, but they've been dealing with injuries and will take the pitch as a somewhat new squad (of the 23 players on the roster, 10 will be making their Women's World Cup debut). The 2019 champs will need to best some excellent teams en route to the final. 
Keep an eye on Canada (Group B), the reigning Olympic champion, as well as England (Group D), Brazil (Group F), host country Australia (Group B), Spain (Group C), Germany (Group H) and France (Group F). 
And while the odds of a side winning it all in its first Women's World Cup appearance might be long, those hoping for a Cinderella story might want to follow debut teams from Haiti (Group D), Portugal (Group E), Republic of Ireland (Group B) and Zambia (Group C). 
What are the odds on the FIFA Women's World Cup?
As of this writing, FOX Bet has the U.S. as the team to beat (+250), followed by England (+350), Spain (+450), Germany (+650) and France (+1,000).
Who's on the roster for Team USA?
Nine veterans, including the retiring Megan Rapinoe, will take the pitch alongside 14 newcomers. Of that seasoned nine, only five were members of both the 2015 and 2019 championship squads: Rapinoe, Alyssa Naeher, Kelley O'Hara, Julie Ertz and co-captain Alex Morgan. 
Here's the full roster, per FIFA: 
Goalkeepers: Aubrey Kingsbury, Casey Murphy, Alyssa Naeher.
Defenders: Alana Cook, Crystal Dunn, Emily Fox, Naomi Girma, Sofia Huerta, Kelley O'Hara, Emily Sonnett.
Midfielders: Savannah DeMelo, Julie Ertz, Lindsey Horan, Rose Lavelle, Kristie Mewis, Ashley Sanchez, Andi Sullivan.
Forwards: Alex Morgan, Megan Rapinoe, Trinity Rodman, Sophia Smith, Alyssa Thompson, Lynn Williams.
Who are the captains of Team USA?
They should both be familiar faces to fans: midfielder Lindsey Horan and forward Alex Morgan will lead the U.S. in its hunt for that third consecutive World Cup victory.
Who are the players to watch?
From the U.S. squad, Alex Morgan is likely to make her fourth WWC appearance a memorable one, while rising superstar Sophia Smith may be one of the most exciting players in the tournament – not bad for a 22-year-old.
Internationally, Chelsea striker Sam Kerr should provide the Australian team with some fireworks. Also keep an eye out for Japanese midfielder Yui Hasegawa, Norwegian powerhouses Ada Hegerberg and Caroline Graham Hansen, Spain's Aitana Bonmati and England's Keira Walsh, among others.
And last but far from least, legendary Brazilian footballer Marta will be making her sixth Women's World Cup appearance – and, like Megan Rapinoe, she's announced that the 2023 Cup will be her last. She has yet to win it all for Brazil, however, and that sets the stage for a possible Lionel Messi-esque storybook triumph. 
Who won the last FIFA Women's World Cup?
The U.S., of course! And the one before that, too! Let's all chant it together: Three-peat! Three-peat! Three-peat!
How often is the Women's World Cup played? 
Like the men's World Cup, the WWC only comes around every four years.
How long has the Women's World Cup been around?
The WWC was first played in 1991, when the U.S. team earned the first of its four victories to date. 
How much are FIFA Women's World Cup tickets?
Well, if you're talking about a match in New Zealand, you've got a shot at getting a ticket for free. But if you're buying, expect to pay anywhere from $7 (for a child's ticket for the group stage or the third-place match) to $80 (for an adult "category 1" ticket to the Final). That, and the cost of airfare. (Hint: it costs a lot to fly all the way Down Under.)
Watch the 2023 FIFA Women's World Cup only on FOX and FS1.