Mark Zuckerberg says 'it's time to move on' from Elon Musk proposed cage fight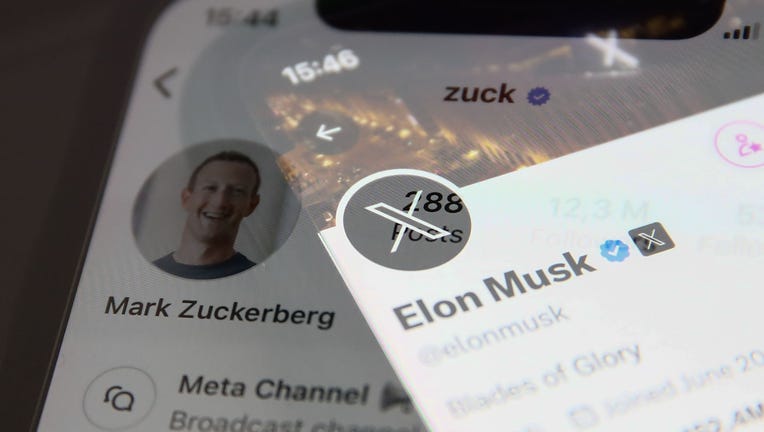 article
Talk of the big fight of summer appears to be dwindling down. 
Mark Zuckerberg says it's "time to move on" from trying to arrange the proposed cage match between him and Elon Musk, saying Musk "isn't serious."
"I think we can all agree Elon isn't serious and it's time to move on," Zuckerberg wrote Sunday on Threads. "I offered a real date. Dana White offered to make this a legit competition for charity. Elon won't confirm a date, then says he needs surgery, and now asks to do a practice round in my backyard instead.
"If Elon ever gets serious about a real date and official event, he knows how to reach me. Otherwise, time to move on. I'm going to focus on competing with people who take the sport seriously."
Musk hasn't responded to Zuckerberg's latest position, but the event's fruition did seem more promising over the weekend when Musk shared some new details on X, formerly known as Twitter.
"The fight will be managed by my and Zuck's foundations (not UFC). Livestream will be on this platform and Meta. Everything in camera frame will be ancient Rome, so nothing modern at all. I spoke to the PM of Italy and Minister of Culture. They have agreed on an epic location," he said. 
Italy's Culture Minister Gennaro Sangiuliano said in a statement that he had spoken to Musk about hosting a "large charitable and historically evocative event".
But remember, Musk had previously said, too, that the date was "still in flux" due to a scheduled MRI and potential surgery. 
So Zuckerberg apparently didn't take the Italian angle seriously.
RELATED: Elon Musk says he might need surgery before proposed 'cage fight' with Mark Zuckerberg
Talk of an in-person fight started in June, when Musk, who owns X, responded to a tweet about Meta preparing to release a new Twitter rival called Threads. He took a dig about the world becoming "exclusively under Zuck's thumb with no other options" — but then one Twitter user jokingly warned Musk of Zuckerberg's jiu jitsu training.
"I'm up for a cage match if he is lol," Musk wrote. After Zuckerberg appeared to agree to the proposal, Musk proposed the Vegas Octagon.
RELATED: Zuckerberg shows off ripped physique on Instagram after Musk challenges him to cage match
Whether or not Musk and Zuckerberg actually make it to the Las Vegas ring – or any venue, for that matter – has yet to be seen — especially as Musk often tweets about action prematurely or without following through, as Zuckerberg has alluded to. 
But, even if their cage match agreement is all a joke, the banter gained attention. An endless chain of memes and posts to "choose your fighter" sprung up in response.
This story was reported from Detroit. The Associated Press and FOX Business contributed.