Wendy's launches Pumpkin Spice Frosty just in time for fall
DUBLIN, Ohio - As autumn quickly approaches, Wendy's is launching two new seasonal drinks to its menu. 
The fast food giant announced Wednesday that it will be releasing a Pumpkin Spice Frosty and Pumpkin Spice Frosty Cream Cold Brew nationwide beginning September 12 for a limited time.
According to Wendy's, the Pumpkin Spice Frosty merges the same creamy, texture Frosty fans know with hints of pumpkin and a blend of spices including cinnamon and nutmeg. 
"Wendy's is helping turn our fans' cravings into reality this fall by introducing our new Pumpkin Spice Frosty," said Lindsay Radkoski, the U.S. chief marketing officer for Wendy's. "From our summertime Strawberry Frosty to last year's holiday Peppermint Frosty, and now our fall Pumpkin Spice Frosty, we are all about meeting our Frosty fans where they are by bringing familiar, and iconic, seasonal flavors to the menu. We can't wait for our fans to get their hands on this new go-to sweet treat this fall."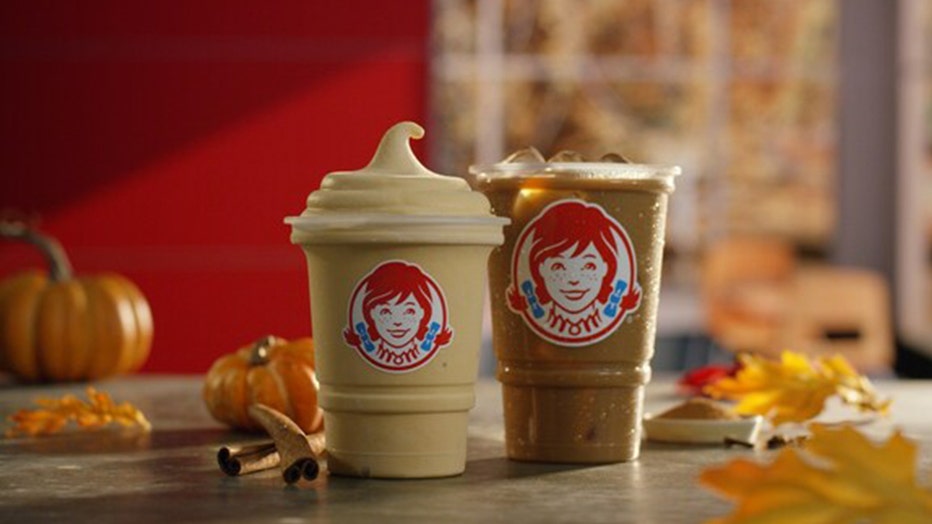 Wendy's new Pumpkin Spice Frosty and Pumpkin Spice Frosty Cream Cold Brew (Credit: Wendy's)
In addition, the Pumpkin Spice Frosty Cream Cold Brew features cold-brewed coffee with classic Frosty creamer swirled over ice.
"We're always looking for ways to provide fans the familiar flavors they love with a Wendy's twist, and that's exactly how the new Pumpkin Spice Frosty Cream Cold Brew came to be," John Li,  the company's global vice president of culinary innovation, said. "We took the iconic pumpkin spice flavor that fans look forward to every year and blended it with our tried-and-true Frosty creamer, for a fall experience fans can't find anywhere else."
RELATED: Wendy's adds nacho sandwiches, queso fries to menu to celebrate football season
Beginning on Sept. 13, Uber One members can also buy a Pumpkin Spice Frosty, get one free and get a free medium fry. 
Last month, the fast food giant added a Loaded Nacho Cheeseburger, Loaded Nacho Chicken Sandwich and Queso Fries to its menu in anticipation for football season.
This story was reported from Los Angeles.