Wendy's adds nacho sandwiches, queso fries to menu to celebrate football season
DUBLIN, Ohio - To celebrate the launch and kickoff of football season, Wendy's is serving up new flavor-packed menu items. 
Starting today, the fast food giant will add a Loaded Nacho Cheeseburger, Loaded Nacho Chicken Sandwich and Queso Fries to its menu. 
The new Loaded Nacho Cheeseburger features the experience of a nacho platter inside a burger, according to the company. The burger includes roasted poblano queso, spicy corn and tortilla strips, a spicy chipotle sauce and a jalapeño cheddar bun. 
For those who are 'team chicken', you can substitute in a Loaded Nacho Chicken Sandwich for game day.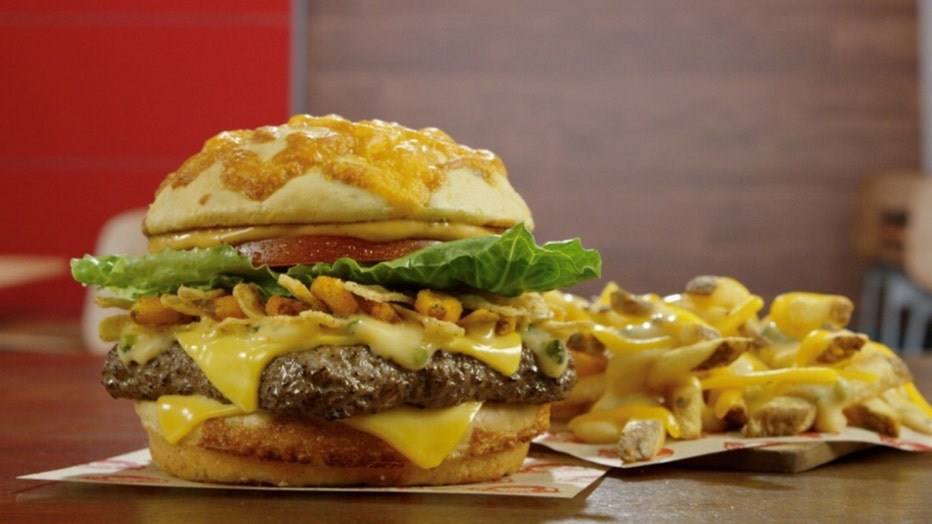 Wendy's new menu items featured:The Loaded Nacho Cheeseburger and Queso Fries. (Credit: Wendy's)
"At Wendy's, we are dedicated to creating exceptional, craveable experiences for our passionate fans, and our talented culinary team continues to deliver time and time again with our stacked Made to Crave roster," said Lindsay Radkoski, the U.S. chief marketing officer at Wendy's. "The new Loaded Nacho Cheeseburger pays homage to two American tailgating classics – cheeseburgers and nachos – and will have fans leaving the other guys behind and making the transfer to Wendy's this season."
Wendy's also announced the launch of its Queso Fries, which include their signature fries topped with roasted poblano queso.
RELATED: Chipotle customer reveals how she gets extra food for under $10: 'The bowl will be gigantic'
"We're always looking to push the envelope with our signature Hot and Crispy Fries to give our fans layers of delicious flavors combined with the crispiness you won't find anywhere else," John Li, the global vice president of culinary innovation at Wendy's said. "Our new Queso Fries are the perfect crispy complement to our Loaded Nacho Sandwich, delivering fans a classic tailgating experience, bite after bite."
You can find these new menu items at your local Wendy's. 
DashPass members can also order any of these items for free with a minimum order of $20 or more, excluding taxes and fees, from August 31 until September 3.
This story was reported from Los Angeles.