Tyre Nichols' death: Federal charges filed against 5 former officers
MEMPHIS, Tenn. (AP) - Five former Memphis police officers were charged Tuesday with federal civil rights violations in the beating death of Tyre Nichols as they continue to fight second-degree murder charges in state courts arising from the killing.
Tadarrius Bean, Desmond Mills, Demetrius Haley, Emmitt Martin and Justin Smith were indicted in U.S. District Court in Memphis. The four-count indictment charges them with deprivation of rights under the color of law through excessive force and failure to intervene, and through deliberate indifference; conspiracy to witness tampering; and obstruction of justice through witness tampering.
The charges come nine months after the violent beating during a Jan. 7 traffic stop near Nichols' Memphis home, in which they punched, kicked and slugged the 29-year-old with a baton as he yelled for his mother. Nichols died at a hospital three days later. The five former officers, all Black like Nichols, have pleaded not guilty to state charges of second-degree murder and other alleged offenses in the case.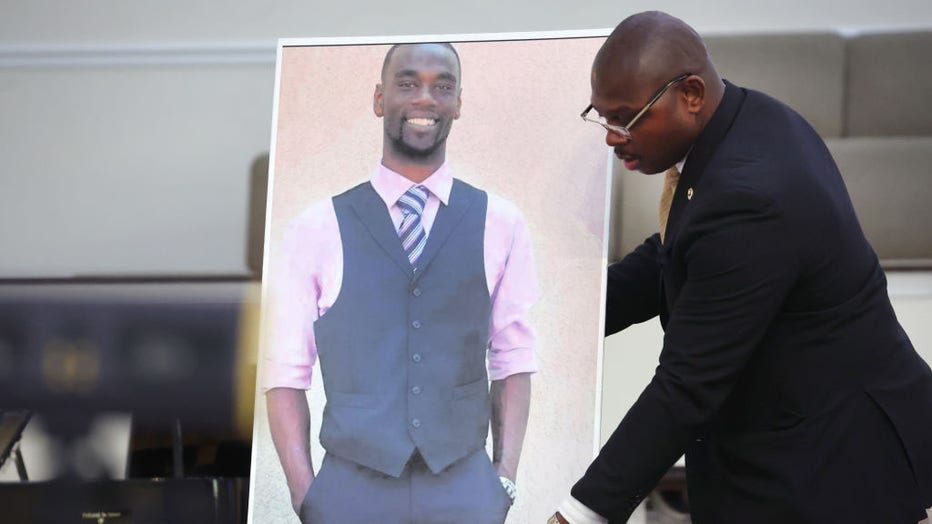 A photo of Tyre Nichols is positioned prior to a press conference on January 27, 2023 in Memphis, Tennessee. Tyre Nichols, a 29-year-old Black man, died three days after being severely beaten by five Memphis Police Department officers during a traff
"We all heard Mr. Nichols cry out for his mother and say 'I'm just trying to go home,'" Attorney General Merrick Garland said in a video statement after the indictment. "Tyre Nichols should be alive today."
RELATED: Tyre Nichols' autopsy report shows he died from blunt force trauma, DA's office tells family
U.S. Attorney Kevin Ritz in West Tennessee said at an afternoon news briefing that the state and federal cases are on separate tracks. Ritz declined to predict how quickly they would proceed.
Kristen Clarke, who leads the U.S. Department of Justice's civil rights division, said at the appearance that the five former officers used excessive force, failed to advise medical personnel about Nichols' injuries and conspired to cover up their misconduct.
"In our country, no one is above the law," she said, adding she met earlier Tuesday with Nichols' mother and stepfather.
Caught on police video, the Nichols beating was one in a string of violent encounters between police and Black people that sparked protests and renewed debate about police brutality and police reform in the U.S.
Nichols' mother, RowVaughn Wells, said she was surprised that the federal charges "happened so quickly." The investigation that led to the indictment was announced in the weeks after the Jan. 7 beating death.
She said her son was a "free spirit."
"He should be here today," she said during a news conference at a Memphis church. "Because of those five officers, he's not."
Attorneys for several of the former officers said the indictment was no surprise, and some added that their clients will defend themselves against the charges.
The indictment says the officers failed to tell dispatchers, their supervisor and emergency medical technicians they knew Nichols had been hit repeatedly, trying to cover up their use of force and shield themselves from criminal liability.
Additionally, the indictment alleges instances where the officers used their body cameras to limit what evidence could be captured at the scene: Martin moved his body camera where it wouldn't show video of the beating; Haley and Smith activated theirs only after the assault; and Haley and Mills took theirs off when emergency medical personnel were on the scene.
At the arrest scene, the officers afterward discussed hitting Nichols with "straight haymakers," even as Nichols' condition deteriorated and he became unresponsive, the indictment said. Nichols could be seen on police video on the ground, slumped against a police car.
The indictment accuses the officers of gathering after the beating and saying, among other things, that "I thought when he wasn't going to fall, we about to kill this man." The indictment does not specify which officer made that statement.
The indictment also alleges the officers falsely stated Nichols actively resisted arrest at the beating scene and that he grabbed on Smith's protective vest and pulled on the officers' duty belts.
RELATED: Police supervisor in Tyre Nichols' death retired with benefits before firing
A hearing was set for Friday morning in a federal lawsuit filed by Nichols' mother against the five ex-officers, the city of Memphis and its police department. The former officers then have a scheduled appearance Friday afternoon in state court.
The Justice Department announced an investigation in July into how Memphis Police Department officers use force and conduct arrests, one of several "patterns and practices" investigations it has undertaken in other U.S. cities.
In March, the Justice Department said it was conducting a separate review concerning use of force, de-escalation strategies and specialized units in the Memphis Police Department.
The officers were part of a crime-suppression team that officials disbanded after Nichols' death. However, members of that "Scorpion" unit have been moved to other teams.
Elsewhere, a federal civil rights case was filed last year against four Louisville, Kentucky, police officers over a drug raid that led to the death of Breonna Taylor, a Black woman whose fatal shooting helped fuel racial justice protests that swept the nation in 2020. In Minneapolis, former police officers were convicted of violating the civil rights of George Floyd, whose death sparked those protests. Former officer Derek Chauvin was sentenced to 21 years after pinning Floyd to the pavement for more than nine minutes as the Black man pleaded, "I can't breathe."
Mattise reported from Nashville, Tennessee. Lindsay Whitehurst contributed from Washington.